*This post may contain affiliate links. As an Amazon Associate we earn from qualifying purchases.
It's your responsibility to plan a retirement party at your office, and you are looking for new and exciting retirement party themes that aren't "Happy Trails to You." Whether it's a funny and over the top shindig or a small and informal affair, planning the office retirement party doesn't have to be difficult.
Not all retirement party themes need to focus on "The End." In fact, many office retirement parties are celebrations of all the accomplishments the retiree has achieved during their career. Or, the party can be all about the great things the guest of honor is going to accomplish in this next chapter.
How to Plan an Office Retirement Party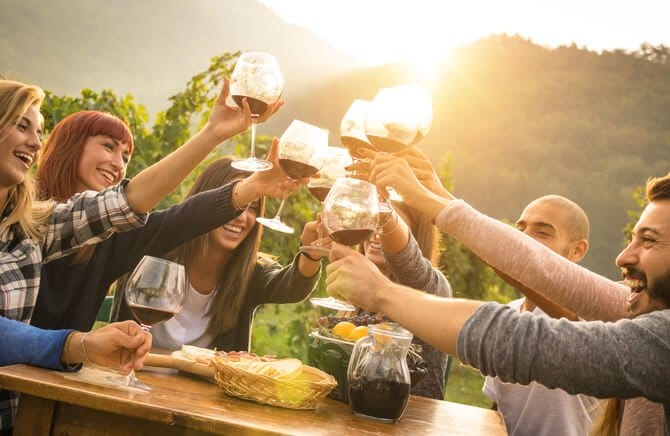 While some people like surprises, not every guest of honor does. When choosing retirement party themes, start by figuring out what the guest of honor would appreciate. Take into account their likes and dislikes. Ask yourself if they want a huge send off or if they would prefer a quiet celebration.
Don't be afraid to include the guest of honor in these discussions. Sometimes it's better to ask than to assume. Ask if they want their past accomplishments highlighted or if they would rather focus on their future. Will the retiree want to make a speech? Ask if he or she will be comfortable with others making speeches, especially the boss.
Who to Invite
Of course, you should invite current co-workers. But, it's also a nice touch to include the family if you can. If you have a large budget and can swing it, it can also be a fun surprise to include past co-workers and even former bosses.
Choosing Where to Have the Retirement Party
Once you've figured out what kind of party to have your budget, of course, will be an important factor in choosing a date and time for the party. Whether you have a large or small budget and guest list, consider something other than cake in the breakroom or renting a ballroom. Non-traditional venues can include:
The skybox of a sporting event
A local park
Someone's house
A favorite bar
What Should Happen at the Party
While not every party will be the same, most retirement parties have one or two speeches that honor the retiree. Bosses, coworkers and even family could be extended the opportunity to toast the guest of honor. But, make sure you remind each speaker to be brief and to keep it clean. This is a work function, after all. If the guest of honor is so inclined, allow them a few moments at the mic as well.
Most retirement parties include a group gift. Because this is a retirement party, try to avoid work themed gifts that may no longer be useful. While a gold watch or a plaque is a "traditional" gift, why not also consider having guests create a scrapbook page with their favorite memory about the retiree or the best piece of advice the honoree ever shared. If you know what the retiree does as a hobby, perhaps a non-traditional hobby-related gift is a better choice than the traditional. Whatever budget you are able to come up with to purchase a gift for the retiree, make sure the gift reflects the value of that person to your organization over the years.
Personal gifts from coworkers don't need to be big, fancy or expensive. It should be something meaningful and personal to the retiree.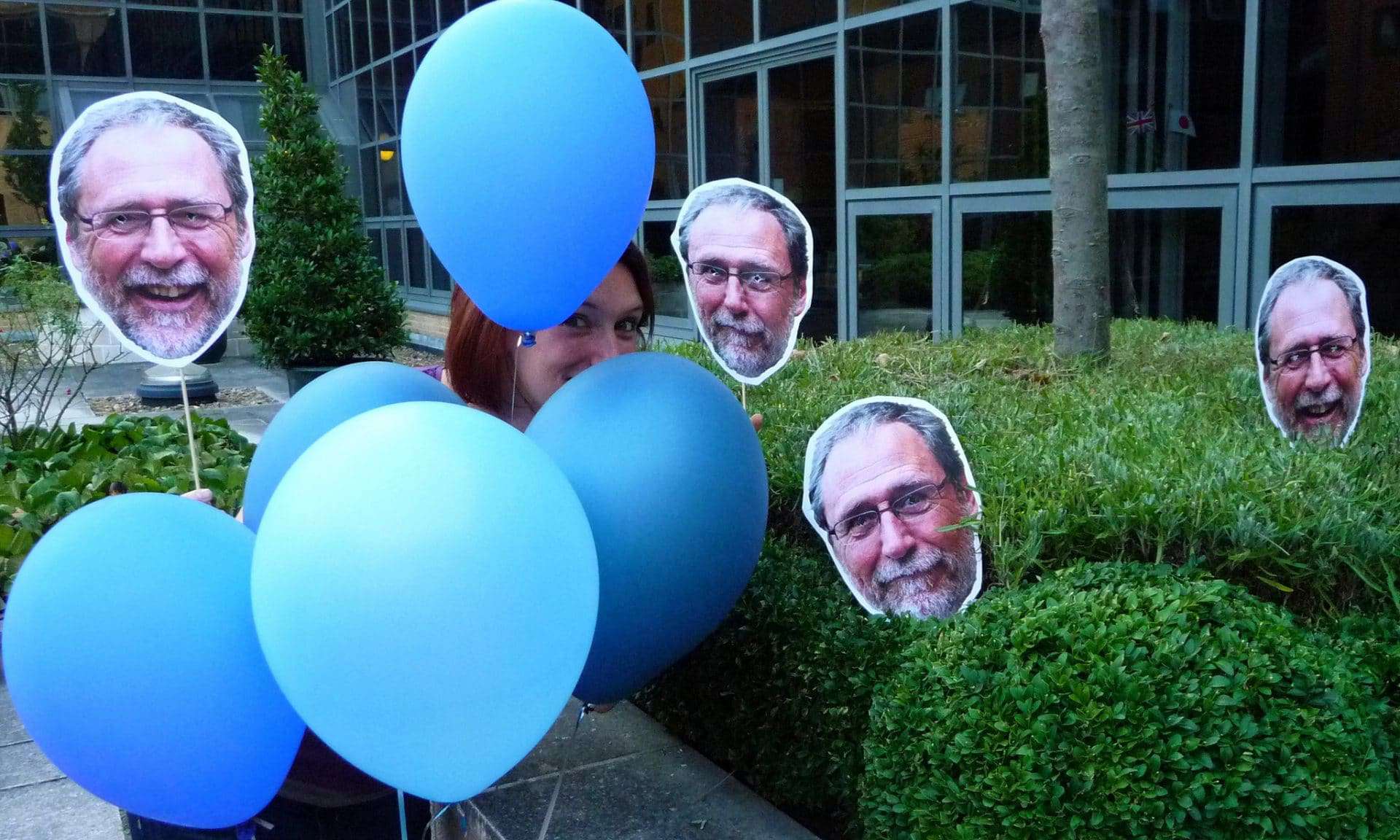 What You Need for a Retirement Party on a Budget
Whether you decide to go budget-friendly or over the top you will, of course, need certain essential items for all retirement party themes. To elevate your retirement party above the generic "So Long and Good Luck," here are some ideas you can use for multiple retirement party themes.
Invitations
You don't have to order fancy, custom invitations. A simple fill-in-the-blank invitation will always work. Consider using a colorful ink to fill out the information. Or, print up the information on stickers using an intricate (but readable) font and place them on each invitation.
Photo booth props
In today's age of sharing everything, no party is complete without photo booth props. They are perfect for everyone to express their humorous sentiments about retirement. You can collect them all into a scrapbook for the guest of honor to enjoy later.
[amazon box="B07C7HRHHF"]
Wish cards
Wish cards allow party-goers to share their advice, sentiments, and ideas on what the retiree should tackle next. They can be funny, sentimental or encouraging.
[amazon box="B07999DM9H"]
Plates and decorations
A create your own banner allows you to state whatever sentiment or theme you like. Of course, you need plates. And for dessert, a retirement-themed cake topper is an easy, budget-friendly way to create a special moment for the retiree.
Consider a party pack of decorations that includes a banner, a sash and other fun items that can be used with numerous retirement party themes. Mini signs that you can decorate yourself let you create multiple retirement party theme for a lower price than custom decorations.
Retirement Party Themes
If you have the budget, the time, and a willing guest of honor, consider one of these retirement party themes to create a memorable experience for everyone.
Relocation party
The guest of honor is off to a warmer place like Arizona or Florida. Maybe they are moving to someplace more exotic. Send them off with a banner letting them know that good times are ahead. If it's appropriate, you can use custom wine bottle stickers to let the guest of honor know how excited you are about their next chapter. For guest favors, you could give them a suitcase full of candy for them to take on their own adventures.
Bucket list party
Now that the guest of honor is retiring, he or she has the time to do all the things they've been putting off. Retirement party themes like this one could start with a customizable banner to highlight the first bucket list item to check off. Have the guests come up with their own ideas and suggestions for the bucket list and let the honoree take the bucket home to keep filling it up (and emptying it!). Include a cute instruction sign so everyone knows what to do. Use smaller versions of the buckets as table decorations or favors.
World traveler party
Off to see the world! Send the guest of honor off for many happy adventures. In this retirement party theme, a world map-themed banner sets the international mood. Globe balloons are an added worldly touch. Include passport favors as either a take-home gift or have everyone write their travel wishes for the retiree in the blank pages.
Pull the theme through at the table with travel placemats and international flag napkins. Hang a map that allows the guest of honor to show where they are going to travel. They can take it home to mark where they have been. And before the honoree starts sharing all their travel highlights, have the guests share some of their own with travel-themed photo booth props. Send everyone home with their favors packed up like an international airmail package.
[amazon box="B004L486Y8″]
When you were hired
For people who have been at the company for a long time, consider retirement party themes that take place in the year they were hired.
The 1970s
Time travel back to the 1970s with a funky tinsel curtain. Have a disco-themed background ready to go for all the groovy pictures guests can take. Include tablecloths that look like a disco floor and even some disco ball centerpieces. To remind guests of the great time they had, a favor box that features a disco ball is a truly retro touch.
The 1980s
Totally tubular retirement party themes from the 1980s would not be complete without the right accessories for all the guests. Make sure everyone knows what decade they are entering with a door sign and backdrop. Or, create your own version of the 1980s with scattered props and decorations. And, of course, don't forget the photo props so everyone can relive their MTV years.
A legend forever
This retirement party theme lets the honoree know that there will never be another one like them. This is not a college toga party, but, instead, a celebration of all the great things the guest of honor has done. This party theme acknowledges the legacy they are leaving behind.
Start by setting the scene with columns, but don't just limit yourself to the background. A table is an excellent place for subtle accents. Add some greenery and gold leaf decorations to make things feel more decadent. To honor your legendary co-worker, a crown of leaves so everyone knows who is legendary. And, of course, no Greek retirement party theme would be complete without an appearance from Zeus.
A subtle celebration
Of course, some of these retirement party themes might be a bit over the top for some. For the wallflowers, you could consider a simple banner that expresses your thoughts about how much you will miss them along with a simple gift.
[amazon box="B07FDX9K7N"]
A retirement roast
A roast, when done with humor and love, can be a fun send-off for a beloved coworker. Try a different take on the "roast" theme by having a campout and s'mores themed party.
Make sure you have a S'mores station so everyone can make their own. Set the camping theme ambiance with the right tablecloth, centerpieces, and signs so everyone feels like they're in the wilderness. You can even include some fun lighting to help enhance the scene. And when the party is over, don't forget the favor bag.
Personal hobbies
You can't go wrong with retirement party themes that highlight what the guest of honor loves to do.
Golfing
Tee off a golf lover's party with golf invitations. For a smaller or low-budget party, consider simple decorations. Or, go big and have a lot of decorations. Send the retiree off to the 19th hole with some great theme photos that have golf props. Instead of one big cake, consider cupcakes that use individual golf themed toppers. As a favor for guests, a golf key chain or golf club pens would be a hole in one.
[amazon box="B073HLVVJ6″]
Fishing
For the fisherman (or woman) include a banner that lets them know that now they have all the time in the world to fish. Add a cake topper that lets them visualize what they have to look forward to. And, of course, you need a gift and a memory card for everyone to sign.
Our Final Thoughts on Retirement Party Themes
Planning a retirement party isn't easy and choosing retirement party themes can be even harder. However, if you take the time to get to know the guest of honor and even include them in the planning process, picking the right theme is easy. Once you've selected the right theme, everything else falls into place allowing you to enjoy the party as much as the other guests.