*This post may contain affiliate links. As an Amazon Associate we earn from qualifying purchases.
Pool party themes elevate any regular pool party onto a whole new level of fun achieved. Who doesn't love the thought of a pool party? Summer fun for all ages sounds like a good time for all.
Having fun in the community pool is one of the fondest memories I have as a kid. Ten minutes before swimming classes were over, we had free time to do whatever we wanted. The pool noodles, kickboards, and swimming fins all made an appearance in those few short minutes. Although none of our families had the means for a backyard pool, we all fantasized about having pool parties filled with all the best toys. Live out your childhood dream by throwing the best pool party your neighborhood has ever seen.
Why Pool Party Themes Are So Much Fun
Let's face it: Pool parties by themselves are fun. The barbecue is roaring, the adults are having some drinks, and the kids are happily splish-splashing in the pool. But establishing pool party themes adds another layer of fun to the scene. Awkward introductions are suddenly far less awkward when you're wearing a straw skirt with comically large shades — tiki glass in hand.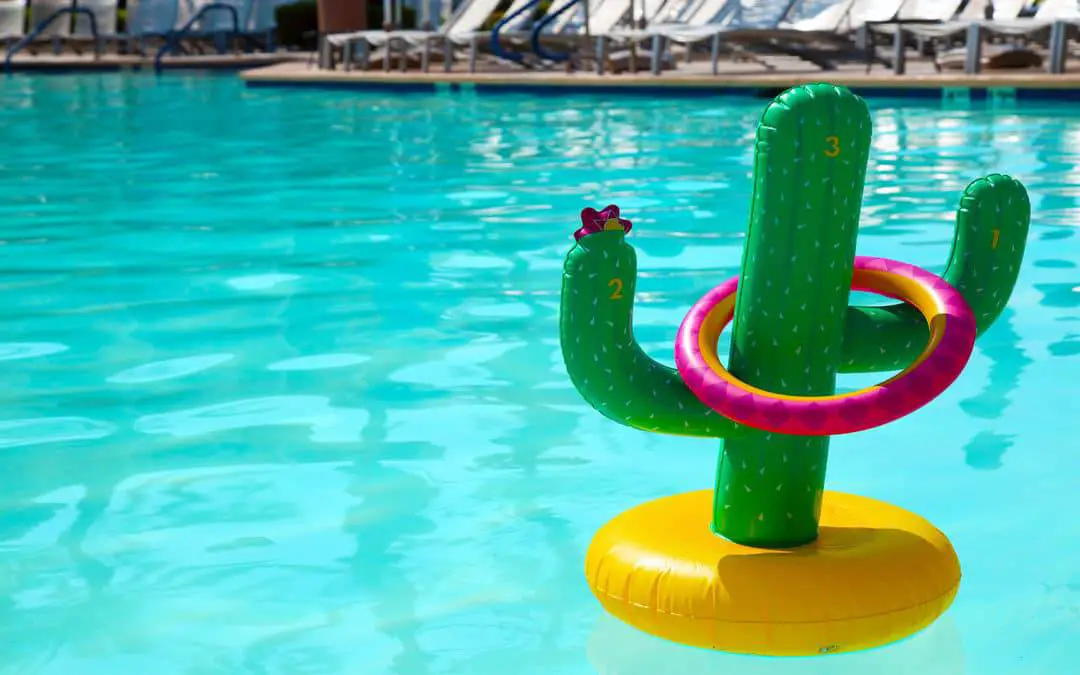 Secondly, pool party themes will let your guests know that this isn't your typical backyard neighborhood do. You've put plenty of thought into the theme to make your party stand out from everyone else. Not only are you a generous host but you're also a thoughtful one for bringing together a group of people to your home with great pool party themes. Whether you're welcoming your guests with an "Aloha" or "Arrrr!" choosing the right theme is sure to let your partygoers know your party is going to be a blast.
DIY vs. Buying
Like any house party, there is the option of making your own items — or DIYing. Bringing your pool party themes to life with decor will take time and dedication. As a bonus, however, this means you get to take pride in your work. Plus the majority of your budget can go towards something else like drinks, food, and entertainment. For instance, making your photo props may take a few days to gather supplies and build, but you may end up paying much more to buy them instead.
DIYing versus purchasing the majority of your props is down to two things: budget and time. If you only have a few days to plan, you'll probably have to purchase most of your party supplies and decor. But if you have a tight budget, making your props can and should be done weeks in advance.
Great Pool Party Themes
Here are a few of our favorite pool party themes to turn your pool party into an aquatic adventure for all to behold.
Tropical pool party themes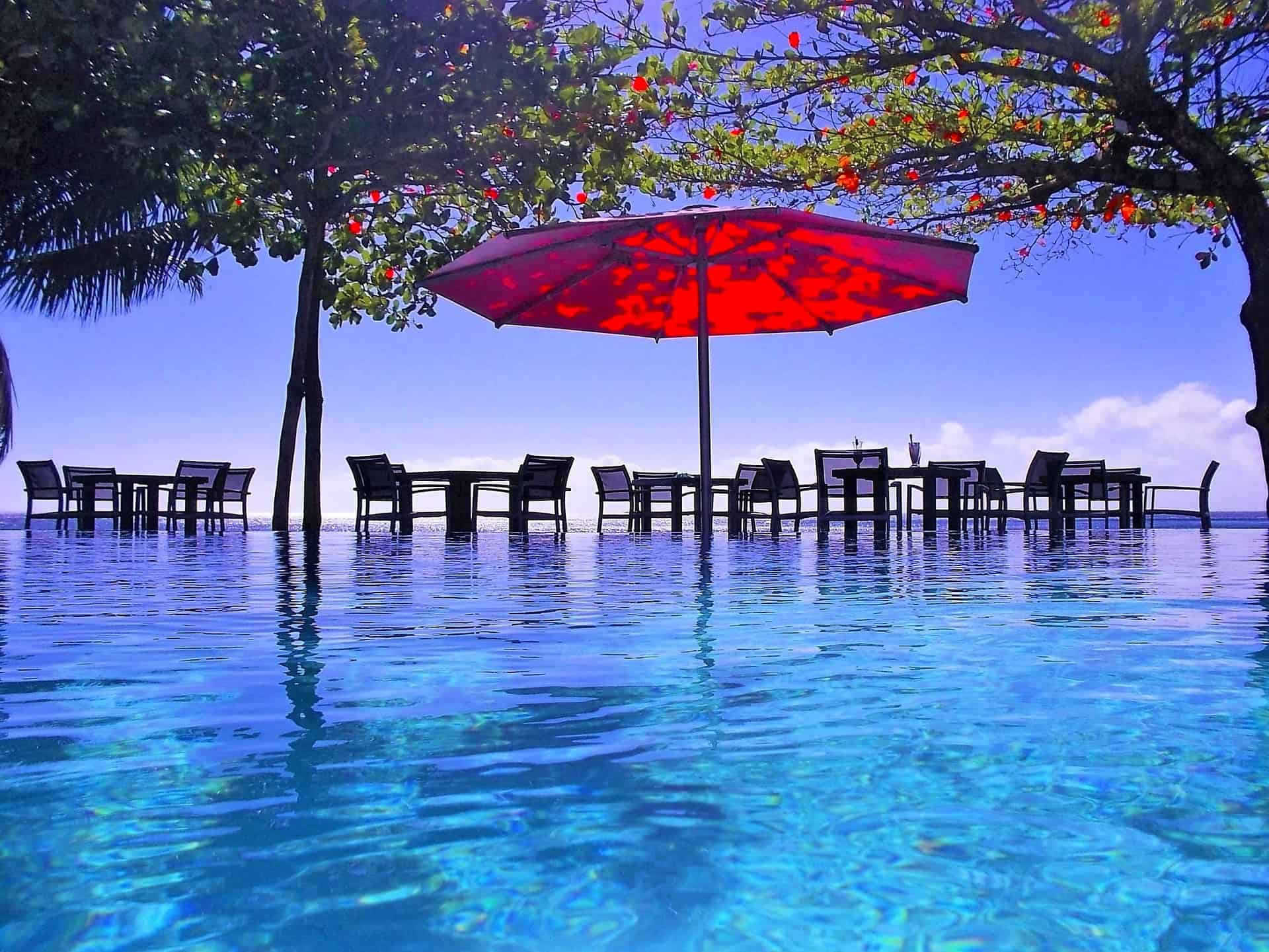 Tropical pool party themes are all about pops of color and having lots of fun. Get inspired by all things Hawaiian and tropical adventures. Anything flower or fruit related will be a hit for decorations, snacks, and drinks.
Decorations
If you're looking to purchase the majority of your tropical decorations, visit your local party store. Hone in on their tropical section to make your selection. Make sure to also check out the weather forecast for the day of your party. You'll have to reschedule or move it indoors should it be raining. You should also be aware of the wind because Mother Nature could also blow all your decorations away. Amazon has some great tropical party kits, such as this 50-piece party kit that includes paper fans, paper lanterns, and even palm leaves. Finally, if you're also looking for some on-theme pool toys, make sure to check out this pineapple pool toy or this floating pineapple chest for drinks.
[amazon box="B07FKYYDV5″]
You could also make some of your decorations. Crafty folk can create a balloon palm tree or try their hand at wall art with this tutorial on how to make some tropical paper crafts.
Food
Tropical pool party themes are incomplete without plenty of pineapples and palm trees! Try to find the ripest pineapple and slice it up the day before with some carrots, celery, and broccoli for a quick fruit and veggie platter. If you're feeling adventurous, consider making some fruit or veggie kabobs as an appetizer or stick watermelon slices on popsicle sticks.
Desserts can be just as fun! Stick these pineapple crowns on any donut or cupcake for a tropical vibe. But if you want to get fancy, fire up the grill and make some grilled pineapple with a honey drizzle.
Drinks
Make sure to purchase plenty of mini umbrellas to jazz up all your fancy drinks inspired by the tropics. Adults can sip on classic Mai Tais, Pina Coladas, and Bahama Mamas. Don't forget the kids! Serve up some punch with a few drops of blue food dye or make a big batch of quick and easy Strawberry Lemonade to keep them hydrated.
Mermaid-themed pool party
One of the most beautiful and popular pool party themes is the awe-inspiring mermaid theme. Colorful and shrouded in whimsy, this theme will be a definite hit for little girls and any adult who grew up with Disney's "The Little Mermaid."
Decorations
Finding decor for mermaid pool party themes will be easy in the summertime. Walmart has an entire party section explicitly dedicated to everything mermaid-related. From plates to whole mermaid kits, finding mermaid items won't be difficult.
If you have some time to make a few of your decorations, there are thousands of DIY ideas available online. A mermaid-inspired centerpiece is a cost-effective way to let your creativity shine without breaking the bank. Consider creating some unique mermaid scales to decorate a once-plain outdoor wall.
Finally, no pool party themes are complete without some on-topic pool floaties. Mimosa Inc. has several pool donuts including a "mermaid" design covered in golden fish scales. Adults and kids alike can also get a kick (pun intended) out of a mermaid tail to make them feel like the most graceful mermaid in all the land.
[amazon box="B06Y5MMKLD"]
Food
While you can certainly get some food catered or rely on the grill to feed your guests, you should make some on-theme snacks too. For a quick and easy side, make some cold "sea" shell pasta with green peas playing the part of the valuable pearl. A bowl of blue candies with some goldfish crackers or some mermaid popcorn provide a sweet and salty snack in between dips in the pool.
Consider making some desserts if you have some time before the party begins. No-churn mermaid ice cream features all sorts of stunning colors to keep your guests cool. This beautiful mermaid bark appeases any sweet tooth that can't go a day without satisfying its cravings. Any cupcake with some blue, purple, or pink frosting can also add the much-needed pop of color.
Drinks
No party would be complete without some delicious drinks to keep everyone cool out in the summer sun. Adults can make themselves some fancy mermaid drinks with some ice, blue curacao, rum, and lemonade. Fishbowl punch is also a crowd pleaser as long as your adult guests are fans of coconut rum, vodka, and plenty of little fishies and sharks. A vivid purple, blue, and green slushie made with Gatorade and food coloring will keep the kiddos hydrated between jumps in the pool. Just make sure to top them with any one of these cocktail markers to keep track of your drink!
Beach pool party themes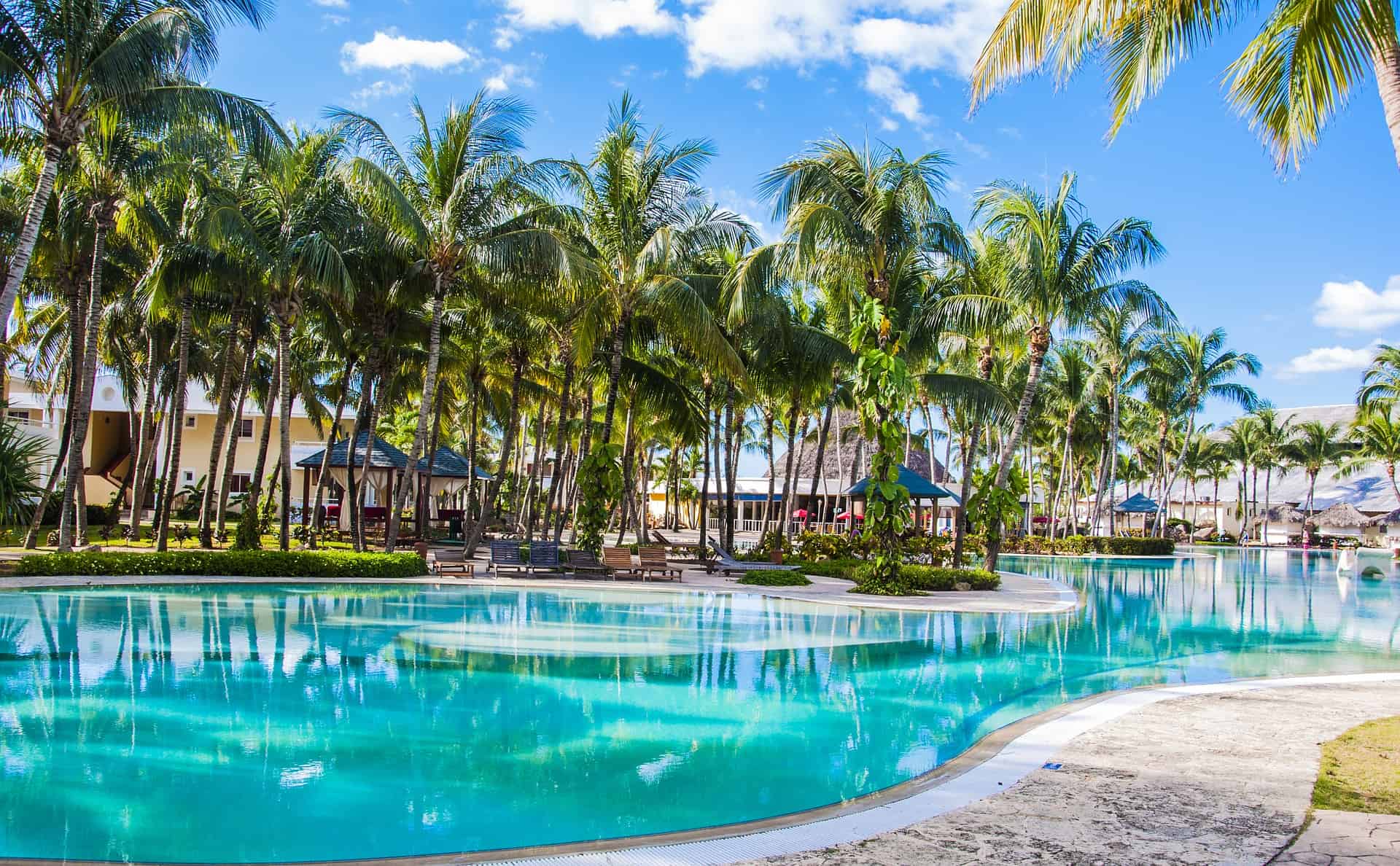 While similar to mermaid pool party themes, beach-themed parties forego the glitter for plenty of sun and sand creatures. Gather inspiration from family trips to the cottage and all your coastal adventures.
Decorations
Think palm trees, beach balls, and lots of sand! While you may not want to bring heaps of sand into your pool, you can certainly bring that beach vibe home. If you have a few surfboards from your glory days, lean them against your fence for a surfer vibe. If you're purchasing most of your decor, there is no shortage of beach-related gear at your local party store. But if you prefer to order online, this flip-flop garland seriously announces that a Summer beach party is at hand!
To keep the kids entertained after swimming, make your own beach-themed bowling game using pop bottles, a beach ball, and some pool noodles. Or make DIY popsicle balloons the morning of and string them to add a pop of color to your backyard pool party. Add some freaky shark floats or some seashell-shaped donuts into the pool for some added beach vibes.
[amazon box="B079BD36CV"]
Food
Barbecue is already a staple at most beach parties. So to make your beach-themed pool party stand out, make sure to make some excellent appetizers and desserts. Multi-colored Twizzlers in a cup can easily be re-labeled as "pool noodles," and cheese balls can serve as your party's beach balls. Your sand pails can also pull double duty as snack bowls for all the chips, pretzels, and sweets your heart desires!
Dessert can be just as creative as well. Hire your local baker to make a few dozen shortbread cookies in the shape of suns, surfboards, sandals, and beach balls. Or take matters into your own hands and make cake pops in the form of popsicles. If you want to jump off the deep end of creativity, try your hand at the infamous pool cake.
Drinks
Besides the obvious choice of beer at beach-themed pool parties, adults can have a little fun mixing fresh mojitos and margaritas to keep that beach vibe alive. If you're a wine lover, make sure to prep a big pitcher of your favorite sangria. Make a big jug of pool water punch (or "Ocean Waves" to keep it on-theme!) made with Hawaiian Punch, 7-Up, and frozen lemonade to keep the little ones hydrated. If they're too busy for some punch, you could always serve up a Capri-Sun — a grab-and-go staple on sunny beach days.
Mexican-themed pool party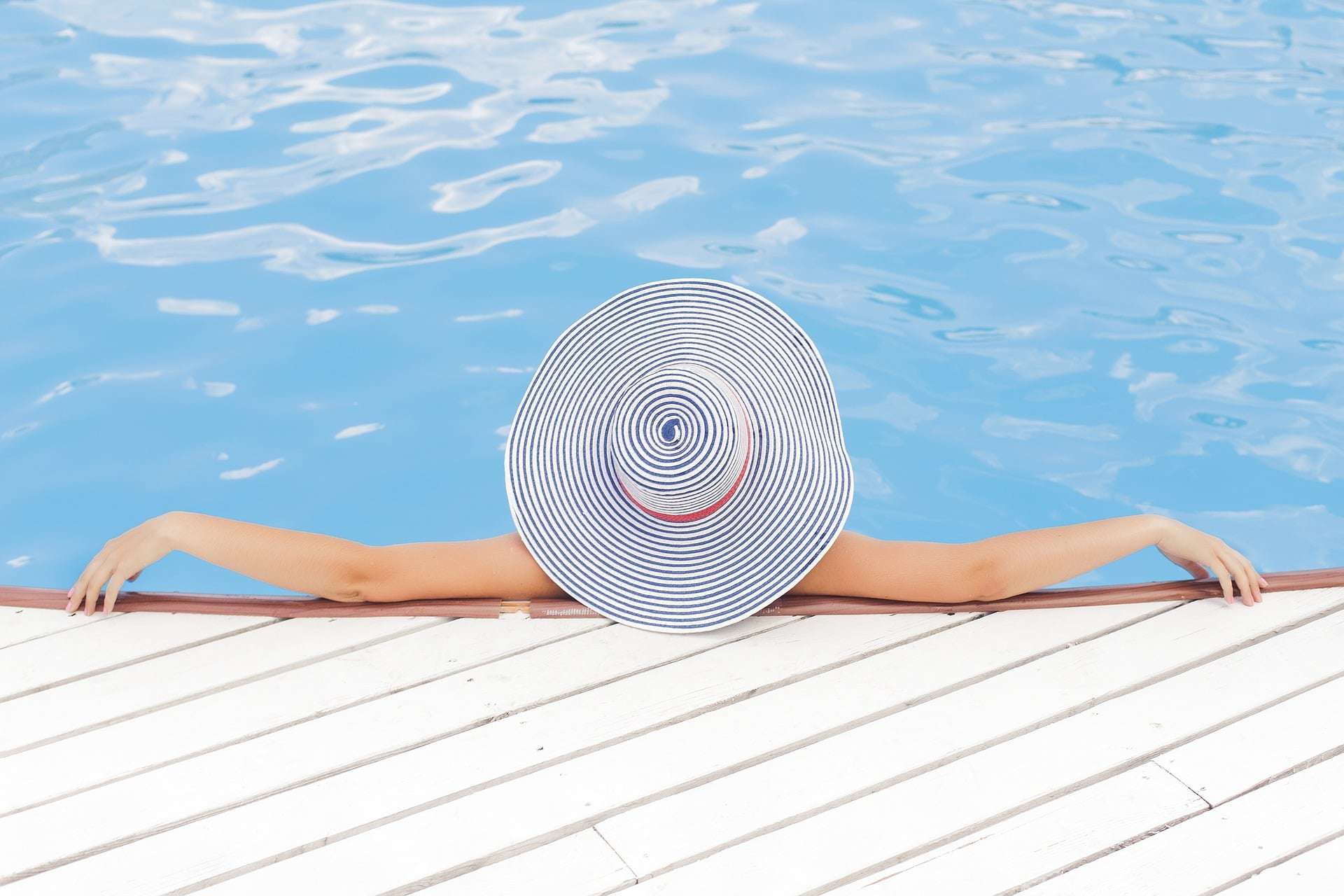 If Cinco De Mayo were in the Summer, this is what it would look like! Mexican pool party themes are all about being inspired by bright colors and the flavors of Mexico.
Decorations
Everything from your napkins to your tablecloths should be bright, bold, and beautiful. Those choosing Mexican pool party themes in the summer should be sure to stock up on these items in May to beat the crowds.
The creative and crafty can make the majority of their decorations. Up-cycle your old Corona bottles and turn them into DIY centerpieces with fresh blooms. Or take some time to make your mini piñatas, stuff them with candy, and turn them into garlands for all to behold. You can also create some inexpensive cacti with some green pool noodles, toothpicks, flowers, some rocks, and pots.
Don't forget to make your towels on-theme as well by investing in some burrito blankets to dry off your guests when they hop out of the pool. Lastly, don't forget about to get a personal-sized personal floating sombrero chest to keep your Coronitas cold.
[amazon box="B00745J0F0″]
Food
The most obvious food choice would be to have a make-your-own taco bar with all the fixings. While it makes take the most time to prep, you won't be slaving over a barbecue and can finally sit back and enjoy your pool party. Make sure to make some homemade salsa and guacamole to pair with your favorite chips.
If you want to make some finger food, there are plenty of online recipes to make your Mexican pool party theme a hit. Antojitos are easy and come together in a jiffy. Jalapeño poppers take a bit more time but are worth every minute in the kitchen — as are a plate of homemade taco cups.
For dessert, you can try your hand at making some delicious churros. Alternatively, if you don't know what dessert nachos are, prepare to have your mind blown.
Drinks
Tequila is the star of the show at any Mexican-themed pool party. Forego the classic Mexican margarita drink and instead try a pineapple lime chelada or a Mexican mimosa. These drinks look classy and will still be on-theme thanks to their shot of tequila.
The easiest kid-friendly drink to make inspired by Mexico is Agua Fresca. Agua Fresca translates into "fresh water." This fruity drink contains your choice of fruit, sugar, lime juice, and water. Make a large batch and place it in a jug with ice for a refreshing drink any time of the day.
Nautical pool party themes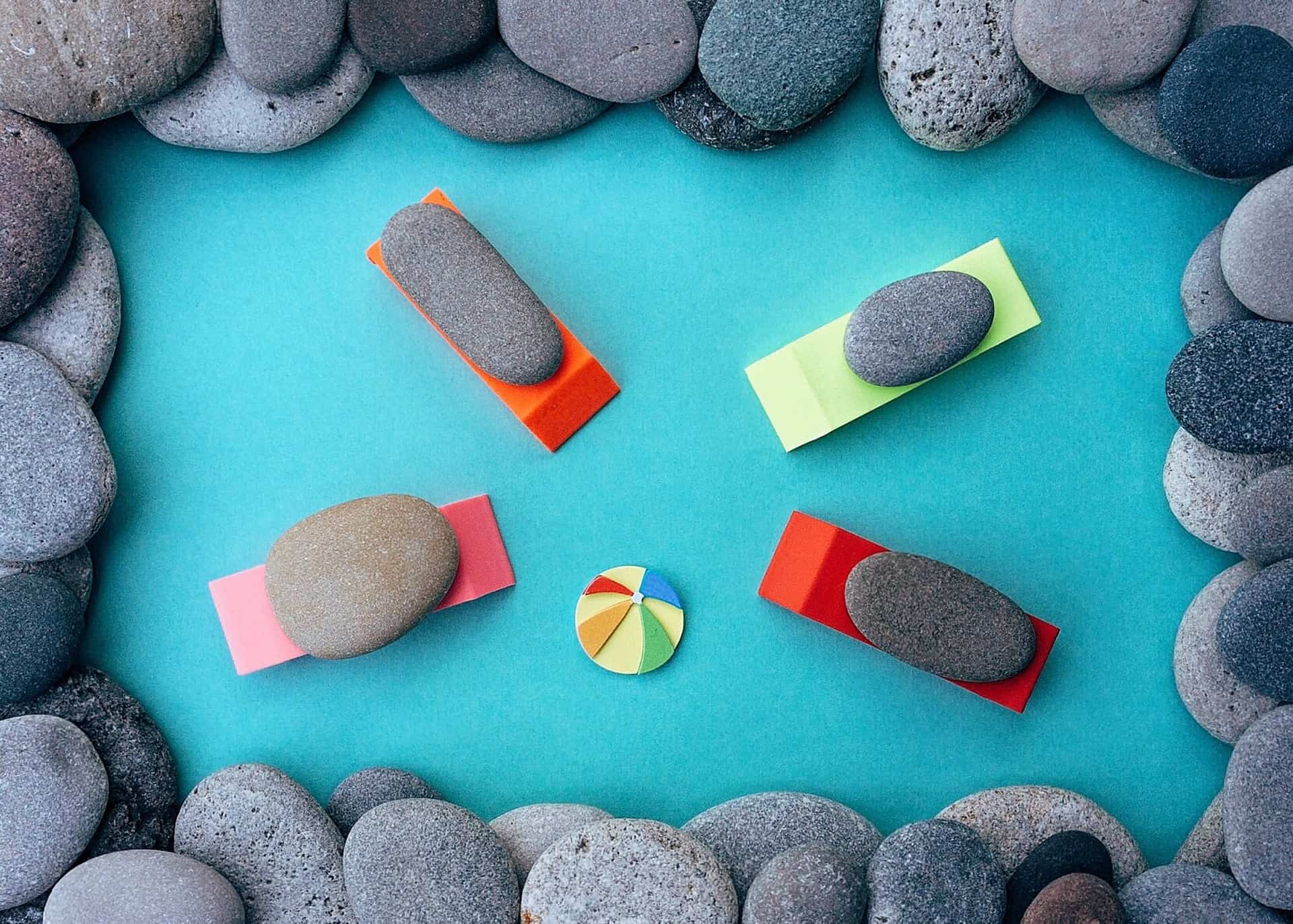 The pool is your ocean, and the floaties are your vessels! Plenty of red, blues, and whites should dominate nautical pool party themes. Take your decorating cues from anchors, boating wheels, and all the beautiful crustaceans in the deep blue sea.
Decorations
Your local party store will no doubt have an entire aisle dedicated to all things nautical. Trade in your bland tableware for striped party trays and maybe even investing in some vintage pieces such as a royal blue ice bucket. No nautical-themed party is complete without some life preserver rings, and thankfully, there are plenty of them available online.
To give your nautical pool party theme a personal touch, make some mason jars outfitted with fishnets. These jars have multiple purposes for serving as centerpieces for your outdoor fiesta or holding candles long after everyone has gone home. You could also entertain the kids by making DIY pirate hats to wind down after a long day of swimming.
Don't forget about the pool! Decorate the calm sea with plenty of donuts mimicking life preservers and floating anchors (which we realize is a humorous oxymoron). If the forecast calls for soaring temperatures, you will want to try to keep your guests cool with sunshades for the pool. These shades also happen to resemble ship sails, so it's a win-win!
[amazon box="B0085ZO3B4″]
Food
The obvious choice is to make anything fish-related. That means grilling some tuna, salmon, or sea bass to set the mood. However, not everyone likes the smell or taste of fish, so if you'd rather some on-theme food, there are plenty of easy recipes. Artichoke dip can be re-labeled "seaweed" dip while your classic mini pig in a blanket can be "sea snails." For some grab-and-go sandwiches, consider making some crab salad croissants and add some googly eyes to the top for some added fun.
For some quick snacks for little hands, sticking a sail on slices of cantaloupe or watermelons turns fruit into fun little boats. Re-arranging your veggie platter with an anchor in the middle is also a no-hassle way to keep your food on-theme. Finally, find some fishbowls and fill them with your favorite chips and half a bag of goldfish crackers for a perfect bowl of "fish and chips."
Drinks
While the first thing that comes to a pirate's mind is sipping on a bottle of rum, we will try to keep it a little bit classier. One of the most popular drink choices for cruise-goers is the Sea Breeze made with vodka, grapefruit, cranberry juice, and a little bit of lime. Another favorite sailor's drink is the Dark n Stormy concocted using dark rum, ginger beer, and a twist of lime.
For the younger crowd, a version of "pool water punch" can be made to keep with this pool party theme. Make a tall jug of ocean water using your favorite blue drink (such as Hawaiian Punch or Kool-Aid), mix it with lemon/lime soda, and top it off with some swimming Swedish Fish.
Final Thoughts
Whichever theme you commit to will ensure a fun pool party that will be remembered long into the colder months. Putting in the time to purchase and make items to give your pool party the theme you envision will let your guests know you care about their experience. Plus, who doesn't want to be known as the person who throws the absolute best neighborhood pool party?
Have you ever thrown a fantastic pool party with an out-of-this-world theme? Let us know in the comments below!