*This post may contain affiliate links. As an Amazon Associate we earn from qualifying purchases.
Throwing a pink-themed party for your little girl may seem sort of cliche, but if your daughter has requested one, you can always find a way to make it unique. Lots of little girls love the color pink, and that's OK. What matters is that your daughter has a birthday party she'll remember for years to come. She may feel like the color pink embodies both her style and her spirit. Luckily, there are many ways to cater to her whims.
A pink-themed party lets the guests know that the birthday girl is in charge. You can further customize it to her personality. If she's active and into sports, you can use hot pink colors. If she prefers dolls, then Barbie is a natural theme. For little girls into ballet or fashion, you could use a Paris pink color theme. So, even if pink seems too traditional for your taste, you'll still have plenty of option.
How About a Pink-Themed Party?
A pink themed party is an obvious choice for a girl's party. Not only little girls, either. Girls well into their teens still love girly things and still love the color. Even into adulthood, women are going to experience their fair share of girlie, pink-themed parties, from baby showers to bachelorette parties and beyond. Why not? After all, a pink-themed party is nothing new. There are as many options in pink as there are with any other party theme.
To do a pink-themed party is a piece of cake. Buy pink. Combine red with white. Make it look pretty. The problem isn't creating a pink party theme atmosphere; it's sticking to the theme for two or three hours and planning it well enough to satisfy a gaggle of girls. You'll have to think outside the box.
How to Throw a Pink-Themed Party
Any party requires lots of planning. When your entire party is going to be a single color, that planning is more straightforward. It is also — in many ways — far more difficult. It's easier because the bigger party stores all have sections of colors so that you can coordinate a party right. Box stores have party aisles. Craft stores have specialty baking and candy-making supplies.
Before you start shopping for your pink-themed party, however, you'll need to make a plan. Setting out to find party supplies without knowing what you're looking for first will waste a lot of time and probably some money as well. You'll end up buying too much, wasting a bunch, and maybe even hating the color pink for the rest of your days.
Invitations
A pink-themed party requires pink invitations, and the good news is that they're easy to find in any shade or tone. What isn't easy, for those who haven't begun the process, is figuring out to whom to send them. Schools have strict rules about invitations these days. You may not be allowed to send your child to school with a pocket full of invitations to give to her friends. In some cases, if your child doesn't invite the whole class, she can't invite anyone.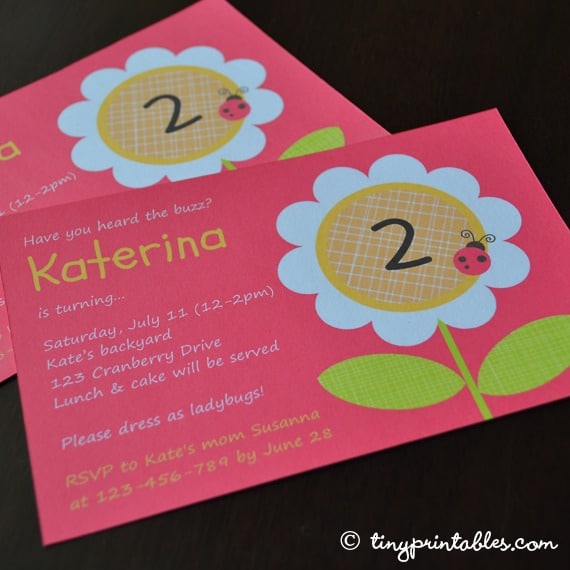 That doesn't mean you're required to throw a pink-themed party for 25 third-graders. It just means you have to find other ways to invite your kid's friends. A note to the teacher will often get you the help you need connecting. They have voluntary email lists they make available to parents. They'll also be able to contact other parents with your information privately.
Luckily, you can find a wide range of pink party invitations online. Shopping online allows you to take your time to choose just the right shade of pink and the right style of invitations. Many little girls love princess parties, whether you focus on a Disney princess or just want to make your little girl feel special on her big day. For older girls, such as teenagers or 20-somethings, consider something with a modern twist, like a pink and gold or pink and black invitation with a contemporary feel.
Those with space and resources, of course, can invite the whole gang. It's all part of the fun of throwing these things. Girls and boys alike can have a boatload of fun at a pink-themed party.
Decorations
A pink-themed party is going to have you salivating at all the decorations available. Pink doesn't just represent pretty and "girly." It also conjures images of princesses, panthers, and oliphants. Your theme, which you'll need to expand with the size of your party, has plenty of options.
The basics are just that — basic. Pink isn't a single color; it's a series of shades. By adding white to the color red, you will create pink. The more white you add, the lighter the shade of pink. Therefore, when throwing a pink-themed party, the colors that make your primary pink will also match. Don't be afraid to toss in some dark red heart-shaped balloons and white ribbon to balance out the look.
Best of all, you can find coordinated decorations that feature the color pink and cover a range of applications. For example, your Pretty in Paris Pink party supplies can come in an easy-to-order kit that includes nearly all you'll need for the table. You'll find most manufacturers offer coordinating balloons, streamers, and party favor bags too.
Food
Food for a pink-themed party is much easier if you plan for the early-to-mid afternoon. Pizza is red and white, sure, but you'd rather spend your food budget on pretty pink pastries, candies, and other confections. You can even order your favorite candies colored pink or wrapped in pink wrappers.
While you can buy pink cakes and cupcakes at your local supermarket or baker, why not custom decorate your own. What could be more impressive for the Paris Pink party than a pink, rhinestone-studded cake topper?  Or choose edible pink butterflies for a little girl's pink party. Since girls of all ages love a little sparkle, add pink, heart-shaped edible glitter on top of light pink icing.
You can also get creative with food coloring and create a whole buffet of pink delights. Any cheesecake, angel food, or yogurt-based dessert becomes pink with a drop or two. Pink party themed cookies are as easy as replacing your chocolate chips with pink M&Ms.
Keeping the Party Pink
Now that you have a pink-themed party and a bunch of kids, food, and decorations, the question becomes — how do you keep the theme "pink?" Start with obvious and work your way down from there.
Music
Are you tired of Kidzbop? Get over it. Kidzbop has a long list of P!NK songs that girls know and love. Kidzbop, as well as a couple of other channels dedicated to their covers, will add music and videos to your little one's party. Kids love to dance. Not only will it be a big hit with them, but the pictures and videos will also be cherished across social media.
Crafts
Tie-dye: You know you want to. Tie-dying is messy and fun. It is also inexpensive. Gift bags full of inexpensive toys and gimmicks are all well and good, but nobody forgets a messy good time. Ask parents to bring a white T-shirt along for this fun craft. Although you could supply them in your goody bags, parents are likely to provide one with a better fit. Tie-dye coloring is washable. Also, ask parents to send an old shirt from home as well for the coloring process. It's going to get ruined.
The beauty of the tie-dye portion of your pink-themed party is that all you have to do is add an alternative color choice or two, and any boys who have made it this far will be more than happy to join in.
Little bakers and candy makers
Your party needs to have something different and entertaining to do. All kids love to make candy and decorate cupcakes and cookies. There are tons of great ideas on how to incorporate fun foods into any kid's party.
Depending on the age of your guests, the birthday cake itself can be a fun activity. Kindergarteners will need help, but it will still be cute as can be, and you'll get a cake nobody will ever forget.
The obvious pink-themed party staples
Princesses: Disney has no shortage of pink. Ariel and Aurora are the two that are found regularly wearing pick. Ariel is easier to incorporate into a co-ed party if there are boys invited since her story includes plenty of male characters while she makes her hero's journey. It sure is a cute story.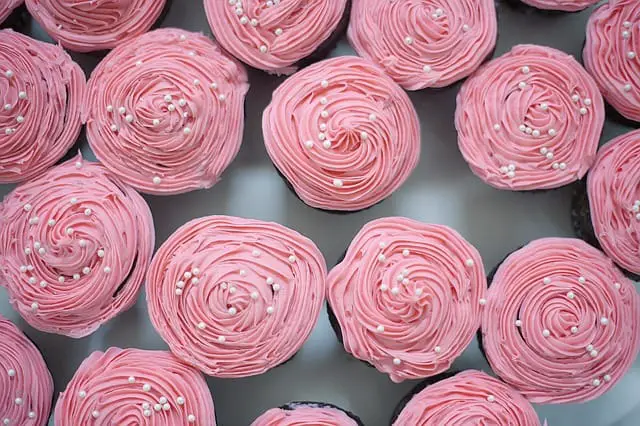 Panthers: He may not be as famous as he used to be, but the Pink Panther is still alive and well. You aren't going to find a Pink Panther section on Amazon, except for a few special party favors. However, have you considered a character for your party yet? Having an adult dress up as the famous kitty will bring smiles and cheers to an already happy occasion. And streaming these classic cartoons is perfect entertainment; many young children haven't had a chance to see these yet.
The pink Heffalump is, of course, a Winnie The Pooh exclusive. He does not exist outside the Hundred Acre Wood. He doesn't exist inside the Hundred Acre Wood. The story of the Heffalump begins and ends in Pooh's and Piglet's dreams. That didn't stop Disney from producing a Heffalump movie that kids will love to watch during the "sit down and chill out" portion of your party.
The original stories in which Heffalumps appear also make fantastic readings for kids. "Winnie The Pooh" (1926) and "The House at Pooh Corner" (1928) are both A.A. Milne classics loved by children for generations.
Games
Having a single color party theme can sometimes make it difficult to come up with party games. Creative free play is fun, but sometimes an organized activity can help slow down the pace of a children's party by getting the kids to all focus on one activity.
Luckily, where there is pink, unicorns can often be found. Incorporate a couple of unicorn games into your party. Pin the Horn on the Unicorn is fun for any school-age child. Or choose a bright pink unicorn pinata. Make sure you read your crowd first, however. We've seen smaller children bust out in inconsolable tears when faced with the task of busting up an animal-shaped pinata with a big stick. With small ones or sensitive children, your best bet may be a pinata that doesn't look like a living creature, like a pink soccer ball pinata.
Let's Get This Party Started
Don't play it safe. Plan for a mess — help them make a mess. Enjoy their messy fun. You'll thank yourself for having buckets of soapy water ready. Doing the tie-dying on the picnic table rather than the kitchen table is a much better idea. Serve the food over linoleum, tile, or hardwood — not carpet.
You also always have the option of bringing your pink food and decorations to someone else's venue, making cleanup and activities a breeze. Bowling, laser tag, bouncy houses, trampoline fun zones — there are plenty of places to hold your party that will probably cost you more but save you lots of time and hassle. Give yourself enough time to plan your pink-themed party and your choices are endless.
Should You Go Pretty in Pink?
That depends. Do you have a girl in need of a good party who loves pink? Then, yes. You should definitely throw a pink-themed party. But remember to tailor it to her personality. Remember sometimes pink is just as "punk" as it is "pretty." Whether she's still a grade-school kid in pigtails or a teen who's growing up way too fast, remember that you're creating a memorable occasion for her and her friends.
Featured image: CC0, by Piotr Korab, via Pexels