*This post may contain affiliate links. As an Amazon Associate we earn from qualifying purchases.
A Hawaiian theme party is a big hit with crowds young and old and is one of the most popular themes around. The reason is obvious: who doesn't want to spend a day having fun in a tropical paradise? People love the idea of dressing up in bright tropical shirts, listening to drum or surf music, and enjoying exotic drinks and food cooked outdoors.
Great celebrations are part of Hawaiian culture, and Americans have adopted the luau with open arms since the small island nation became a U.S. State in 1959. Traditionally, luaus feature entertainment and food roasted in outdoor fire pits. It's a winning theme for any summer get-together, from graduation parties to weddings to family reunions.
Planning A Hawaiian Theme Party
You'll find that putting together a Hawaiian theme party is pretty easy. After all, your guests probably won't be too fussy about authenticity. And it doesn't' take much to put one together. The elements that transport a gathering to a tropical-themed blowout are relatively standard and easy to accomplish. Hawaiian food and drinks have integrated with American culture. And there's very little we love more than laid-back, surf culture and a backyard cookout.
Finding A Venue
One of the biggest challenges in throwing a Hawaiian theme party is finding a place to hold it. When thinking about the islands, one imagines green spaces with palm trees, beaches, and tiki huts. Wherever the surroundings and whatever you're serving, however, the best place to hold a luau is always outdoors. That's what makes it such a popular party theme for summer.
The easiest and certainly least expensive place to hold your Hawaiian theme party is in your own backyard. If you don't have an ample outdoor space, you could also hold your luau in a public park. It's not quite as convenient, and you may have to pay a fee if you want to rent a picnic shelter. On the upside, you also won't need to spend hours mowing your lawn or trimming back bushes in preparation.
Another option for holding your luau is your nearest botanical garden. You'll discover they have beautiful and well-tended spaces for rent. Better yet, many of them feature tropical gardens for that final touch to your party. For example, the Cleveland Botanical Garden offers their outdoor Geis Terrace. The Huntsville Botanical Garden has their Grisham Pavilion. And Atlanta residents can enjoy the lovely tropical Cascades Garden. These venues can run several hundred dollars, but if you're planning for an extraordinary occasion, such as a wedding or an anniversary, these gardens can turn a ho-hum event into a high-end gala.
Hawaiian Theme Party Decorations
The range of your decorations for a Hawaiian party only ends where your budget falls short. The amount you want to spend and just how sophisticated you want to make it determines what kind you'll need. For low budget or kids' parties, choose plastic grass table skirts. Kids also love the fake dress-up hula skirts and leis. And even adults think they're pretty fun if a little kitschy.
If you're looking for more upscale décor for an adult party or special occasion, you can find tropically themed table linens and raffia table skirts and umbrellas. Also, Check with your local rental companies to rent a tiki hut bar, bounce house, or Hawaiin themed carnival games.
Tropical Party Lighting
Don't forget the lighting. If your Hawaiian theme party runs late, you'll want citronella tiki torches and table torches to ward off those summertime no-see-ums and biting insects.
[amazon box="B07CMNKJ6G"]
When the DJ is rocking your luau in the small hours, you'll need additional lighting to create that magical atmosphere for dancing. LEDs provide plenty of outdoor party lighting, and you'll find some that lend real charm, like pineapple-shaped string lights, pineapple LED table lamps and pre-lit palm trees.
Choosing Food For Your Hawaiian Theme Party
Although most people think the term luau as synonymous with a Hawaiian theme party, the name "luau" actually derives from the island name for one of the dishes served. The edible broadleaf lūʻau (taro) leaves kept the roasted meats moist in the firepit, while the roots serve as the main ingredient in Hawaiian poi.
Roasted Pork
Depending on your desire for authenticity and your budget, many party planners choose to hire a pig roaster for their luau. Although less authentic than a traditional kalua pit, it scores plenty of bonus points for convenience, speed, and the complete absence of shovels. You can find some vendors nearby that will be happy to rent a portable pig roaster for your big event. Better yet, many of them also clean and prepare the pig for roasting. All you need to do is baste with your favorite marinade and keep an eye on the thermometer.
On the other hand, if you're a stickler for detail and want to show off, you can also do it island style by digging a pit in your backyard.
Kid-friendly Foods
Many children and even some adults become horrified at the idea of a whole roasted pig. If you or your guests find the idea unappealing, try something a bit less graphic. Most kids love chicken nuggets, and you can stay within your theme by serving them with sweet and sour pineapple sauce. For the grownups, grill chicken strips and serve with the same sauce as an alternative to pork. Although they're not strictly Hawaiian, chicken and beef shish kabobs on the grill are universal favorites for kids and adults alike.
Seafood
If you want to try something less expected than a pig roast, consider some other island foods that go well on the grill. The deep blue Pacific Ocean surrounds Hawaii, so seafood is an on-topic choice. One luau favorite is laulau, a combination of pork, chicken, and butterfish cooked in taro leaves. Some recipes also add Ti leaves or banana leaves, The best part is that you can prepare them well ahead of time and steam them once the party gets started. At serving time, provide each guest with their own tidily wrapped portion.
​​​​​For something less labor intensive, check for Hawaiian fish favorites in your local supermarket. Mahi-mahi is one of the island's standards. Ahi, also called yellowfin tuna, is delicious from the grill. More exotic fish include Ono (Hawaiian for "delicious), Kajiki (or Blue Marlin), or Opakapaka (Hawaiian pink snapper).
Poke and Lomi salmon are both traditional Hawaiian dishes, but like sushi, they're made from raw fish. Probably not a good idea for a big outdoor party where food can sit for hours under the hot sun. We recommend giving the poke a pass, and instead, cook your favorite fish over the grill in aluminum foil packets.
Hawaiian Love For Spam
Try some fun finger foods made with Spam and tropical fruit, especially for the kids. You can even make appetizers for the adults while sharing the history of Hawaii and its enthusiastic adoption of this canned pork product.
Although a bit of an urban legend in the U.S., the Hawaiian demand for canned Spam is so high that many grocery stories limit how much any one customer can buy. Their appreciation for Spam dates back to World War II when American soldiers stationed on the island were inundated with it as part of their rations. The Asian immigrants then living in Hawaii incorporated it into their dishes. The results were so delicious that it became a big hit.
Although it's pretty cheap stuff here on the Mainland, Hawaiians don't find any more stigmatized than ground beef. And like ground beef, islanders know how to prepare it in dozens of delicious ways. So, for a bit of fun, especially for a more casual crowd, offer Spam Musubi, a kind of Spam sushi, a regional favorite.
For the grill, do Spam burgers with thick slices of pineapple. The sweet and salty combination is sure to be a bit hit. Spam and pineapple skewers are also pretty awesome.
Hawaiian Sweets
Along with a wealth of fresh tropical fruits – pineapples are a given – shave ice is perfect for your Hawaiian theme party. Shave ice is very similar to snow cones, and the basic premise is the same. However, shave ice is shaved, and snow cones are made from crushed ice.
These make a super summer sweet under the hot sun for your party, especially if you choose Hawaiian fruit flavors like guava, pineapple, passion flower, mango, and kiwi. You'll find shave ice vendors all over the island as a typical part of the tourist experience. One interesting difference is that in Hawaii, they often use creamy toppings on their shave ice treats. Coconut cream is popular on top of fruit flavors. Condensed milk or melted vanilla ice cream also serves.
Set up a shave ice service station at your Hawaiian theme party, with a variety of tropical flavors. You can even make alcohol infused versions for the grownups, with flavors like appletini or a Blue Hawaiian cocktail syrup.
Hawaiian Theme Party Drinks
The selection of drinks you offer for your Hawaiian party will depend on the nature of the party and the age of your guests. Whether you're serving cocktails or soft drinks, however, you'll want to present them in fun containers. You'll find some Hawaiian theme cups and glasses, like Tiki Head mugs, coconut cups, or simple plastic cups in tropical colors. And don't forget the paper umbrellas!
Adult Beverages
For evening parties and those comprised of adults primarily, you may want to mix up some tropical themed cocktails or alcoholic punch drinks. Although most people associate rum with the Caribbean, many Hawaiian theme party drinks feature rum. Favorites include Mai Tai, Blue Hawaii, Pina Colada, or a Planter's Punch. Vodka features in light fruit cocktails, like a Hibiscus Cooler or a Bay Breeze.
The best part is that many of these fruit-based drinks don't require alcohol to taste delicious. So, offer your guests the "virgin version" for those that don't indulge and those under age.
Beer is a big favorite for backyard parties. It's easy to serve to a large crowd and doesn't require extra glassware. And there's nothing to clean up after. Give your beer cooler a little island style by serving ice cold bottles of your favorite brew in an inflatable cooler featuring palm trees or tiki heads. But if you want the long-lasting style for all your outdoor parties, choose a rattan cooler that looks stylish for any occasion and collapses into a patio side table when not in use.
Kid Friendly Drinks
Luckily, kids love fruit punch. Dress up their drinks with paper umbrellas or hibiscus straws so they can get that island feel with their Shirley Temple.
Hydration Station
Remember, however, that all of your guests will need cold water to drink. Especially if you're Hawaiian theme party is during the day in the hot sun. Active kids can become dehydrated in the heat, and sugary drinks won't help. Your adult guests should also get plenty of water, particularly if they've been drinking rum drinks all day.
A good host makes sure guests don't overindulge, either in sugar or alcohol. So, make sure there is plenty of cold water to drink. To dress it up for the party, use an attractive dispenser and infuse it with fresh tropical flowers and fruits. Hibiscus flowers are edible and make for a beautiful glass of water. Or try a combination of pineapple, coconut, and lime for an island refresher.
Activities And Games For Your Hawaiian Theme Party
If you really want your party to stay in the memories of your guests long afterward, choose fun activities that feature Hawaiian or tropical themes they'll never forget. Get your guests involved by making them the center of the action or participating in themed activities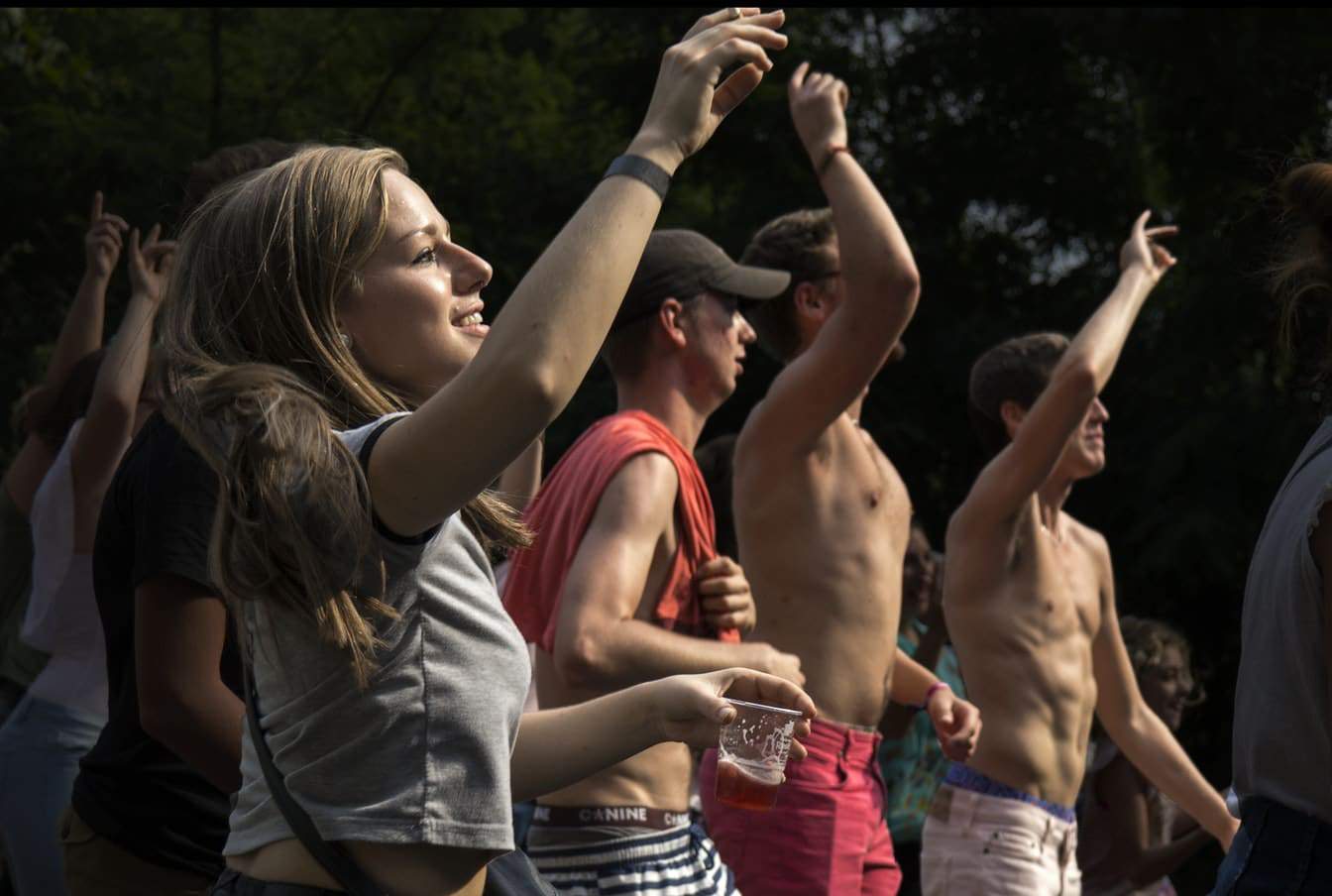 Photo Booth
Create a photo op and let them take home a souvenir. Inexpensive tropical theme backdrops let you take pictures of your guests on the sandy shores of remote islands — without ever leaving the yard. Ranging from about fourteen bucks to forty bucks, you'll find full-size photo-ready backdrops with palm trees, pristine beaches, or tropical rain forests. You can set up a website to share the final pictures, use a file sharing service online, or even print and send each guest a copy of their island portrait.
Make Your Own Leis
Although Hawaii welcomes guests with a fresh flower lei upon arrival, one way to make your party remains memorable is to provide the space and materials for your guests to make their own silk flower leis. Not only does it provide a lovely souvenir of the day, but it also gives people a chance to sit and rest and mingle with others.
And kids love party crafts, too. Place a craft table in the shade with fake flowers for leis and bracelets, or construction paper cutouts and crayons to make tiki head masks. This will give younger guests a chance to sit out of the hot sun while creating something fun to take home.
Treasure Hunt
Nothing is as much fun at a party than a scavenger hunt. This takes some planning but can be the most fun your guests have had a party for ages. Set up in advance by placing clues throughout the yard and around the house.
[amazon box="1601455658″]
For kids, use clues that test age-appropriate reading and math skills. For adults, clues could center on their knowledge of plants and flowers, map coordinates, or you can even write them in an obscure language, like Latin. Use a translation app to set them up. The first test is whether they can figure out which language it is.
Kids can work together, with an adult guide to help them if they get stumped. Adults can break up into teams or work as couples or on their own.
Start with a copy of your treasure map for each guest. For the final prize, hide a cardboard box decorated to look like an antique pirate's chest with the treasure inside. We recommend adding a "treasure" for each child in the chest. For adults, try movie passes for two or a bottle of rum.
Get Ready To Party – Island Style
AHawaiian theme party or luau is a great way to welcome summer fun after school lets out. It also makes a great end-of-summer party for Labor Day weekend. Capture the final sunshine of summer by hosting your friends and family and saying farewell to vacation season.
The best thing about this cool party theme is the versatility. It's just as much fun for adults as it is for kids. A kids' Hawaiian theme party could include a pirate treasure hunt and games in an inexpensive inflatable pool. A Hawaiian theme party for adults will transport them to an island paradise for the day, with delicious food, tropical flower decorations, and well-mixed cocktails.
And there's no reason it has to be one or the other. With a Hawaiian luau, both kids and their parents can have a blast with great island food and drinks, along with fun activities throughout the day. Finish up with everyone gathered around a big bonfire as you watch the sun set on your day-long island feast.