*This post may contain affiliate links. As an Amazon Associate we earn from qualifying purchases.
Nearly fifty years ago, the world was graced with the birth of my most favorite people. This year, I get to choose between a number of potential 50th birthday party themes. But I wanted to elevate the party to match the big occasion it should be. So, no paper plates or corny "happy birthday" banners strung along the dining room wall allowed! This year, we're celebrating a milestone — and only the best of the best will do.
If you're in the same boat, fret not! There are plenty of elegant 50th birthday party themes to please every taste. From planning a classic Hollywood bash to arranging a sophisticated garden soirée, any of the party themes below are guaranteed to be a smash hit.
Why 50 Is the New 30
A few decades ago, most people thought 50 was "old." In recent years, however, more people are coming to embrace their age. Aging gracefully is now the norm. Many soon-to-be 50-year-olds look forward to being "over the hill," so they can celebrate the occasion. There are several great 50th birthday party themes to consider as the party host for the honoree.
Fifty is only a number, and some people will tell you that it's when life really starts. So, get a pen and paper out and start planning for that significant milestone in your loved one's life. Prepare the guest list, start sending out invites, and get to a local or online party supply store. There's plenty to do and many great 50th birthday party themes to choose from!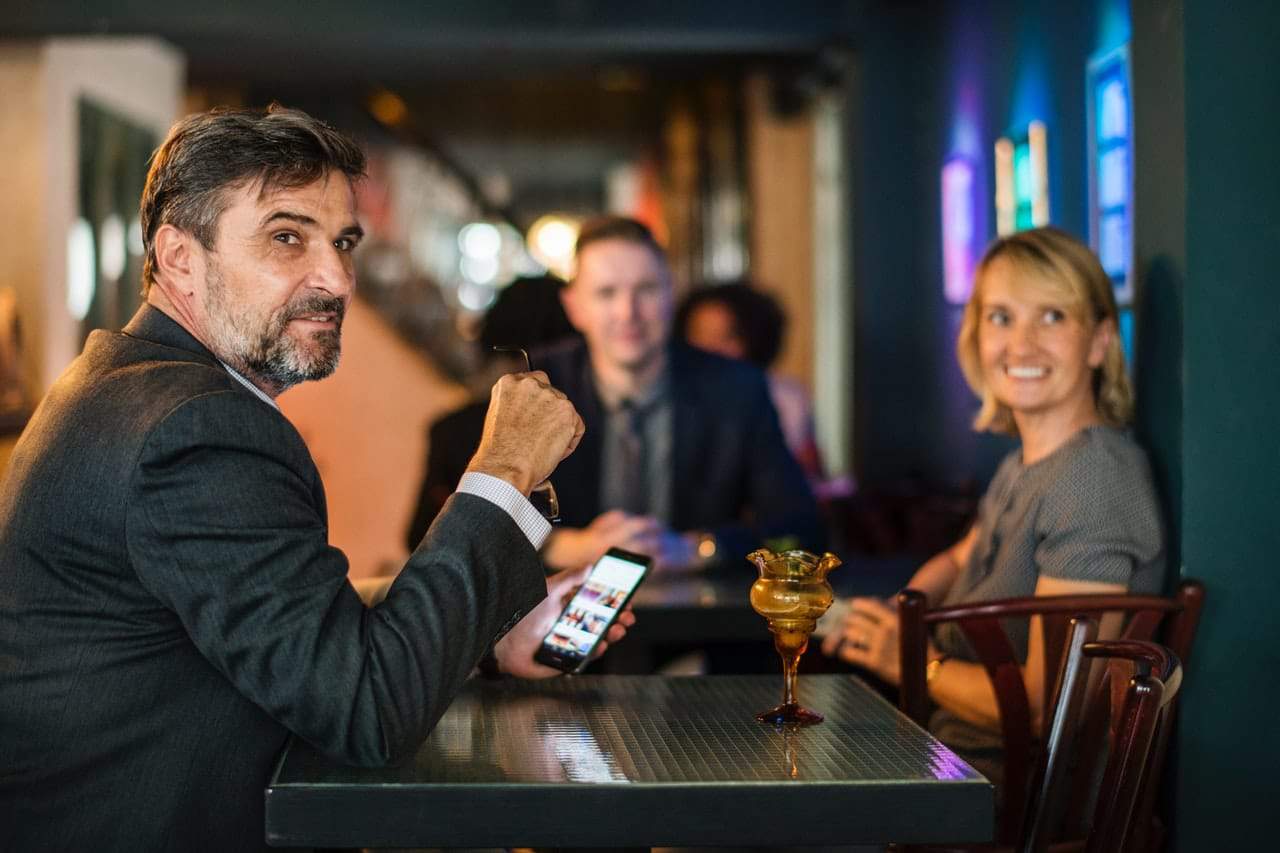 Why Parties with Themes Are Better
Planning a birthday celebration is loads of fun in and of itself. Everything from sending out invitations to picking which table settings to use is one step closer to creating the perfect party backdrop.
We know that 50th birthday party ideas involve a lot of work but also offers plenty of rewards. Your guests will know how much effort you put into making sure every aspect is on-theme. Conversely, a non-themed party may not look as put together because there is no linking topic to connect all the decor, food, and drink.
While there are plenty of themes to choose from, you may decide that a certain level of sophistication is called for when turning 50. It's only natural to have a 50th birthday party as classic and graceful as your loved one.
And believe it or not, having a theme for your party actually makes it much easier to plan. Most themes naturally lend themselves best to certain decor, color palettes, and menus. So, you won't have to make as many decisions about the little things when drafting up your shopping list.
You may feel inspired by your hard-earned expensive taste or the beauty of the great outdoors. But, whichever you prefer, we have a theme that will suit you or your loved one's personality beautifully.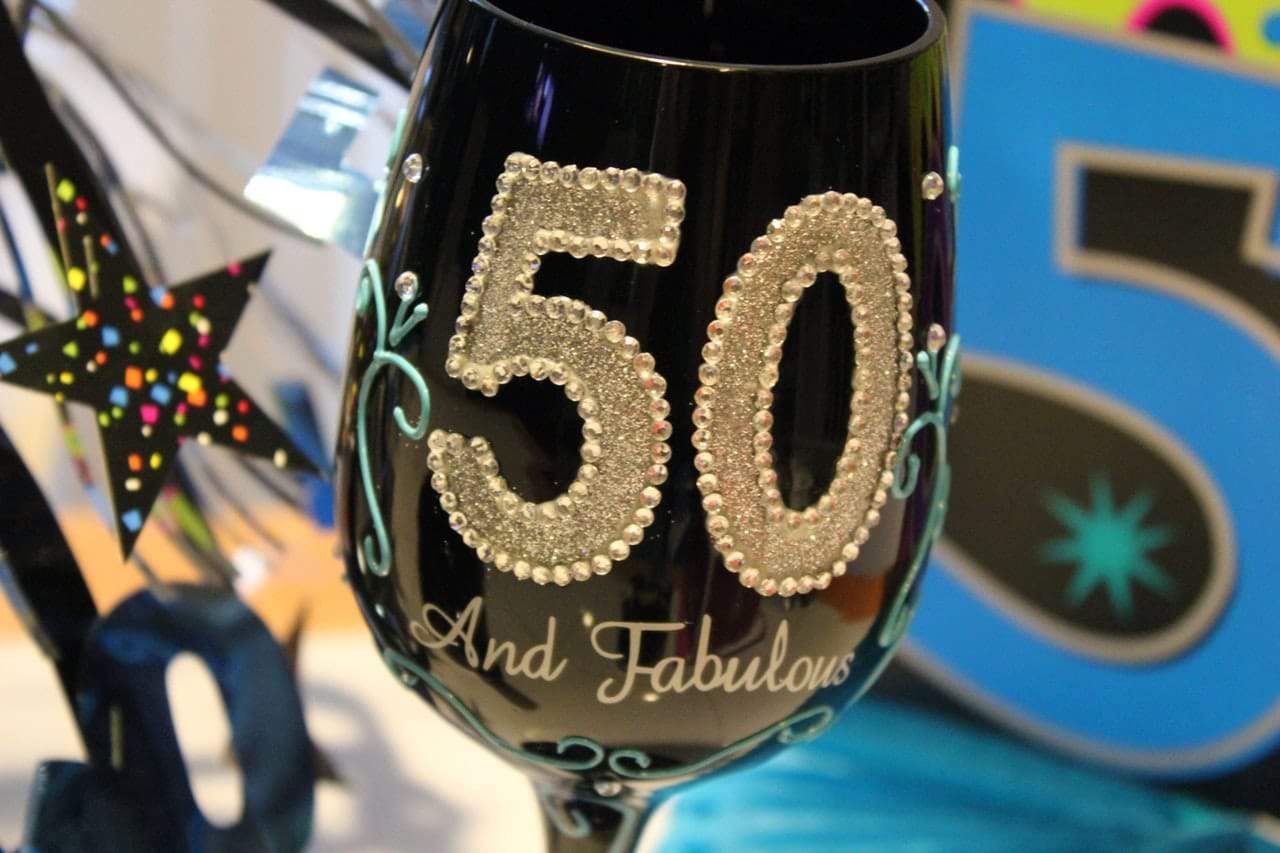 DIY vs. Buying
Throughout this planning process, you may be thinking about two things: a personal touch and budget. Just because the celebration is supposed to be elegant and upscale doesn't mean you have to buy everything from a retail store.
DIYing (or doing-it-yourself) is a great way to save some money while adding a little bit of your personality. There are plenty of DIY guides online to make everything from floral arrangements to entire backdrops. While you may have to begin your party planning a little earlier to create your decor, you will save a significant amount of money in the end.
However, should you be short on time, you will more than likely have to purchase most of your items online or in-store. This means your party will come together much faster. However, you may end up spending more money than if you were to make some things yourself.
Photo Booths for 50th Birthday Party Themes
Whichever theme you decide on, you can elevate any party to the next level with a photo booth. What better way to mark a milestone year in life than with photographic evidence? It's a great way to commemorate half a century of life!
Renting a photo booth from a party supply store makes this party activity pretty trouble-free. But make sure you get the right decorations and props in place to create an engaging and fun atmosphere for guests. Choose your props to match the rest of your party theme.
Most importantly, make sure you and your guests can share all your photos after the event. Depending on your vendor, you may be able to share images from your event directly to social media or through text messaging. And make sure they provide a zip file of all the pictures taken.
Elegant 50th Birthday Party Themes for Women
Below are a few elegant 50th birthday party ideas for women that are sure to take this milestone celebration from unimaginative and dull to chic and sophisticated.
Make sure your invitations inform guests to dress to the nines. Cocktail dress code is par for the course, along with plenty of glamour.
50 and Fabulous party theme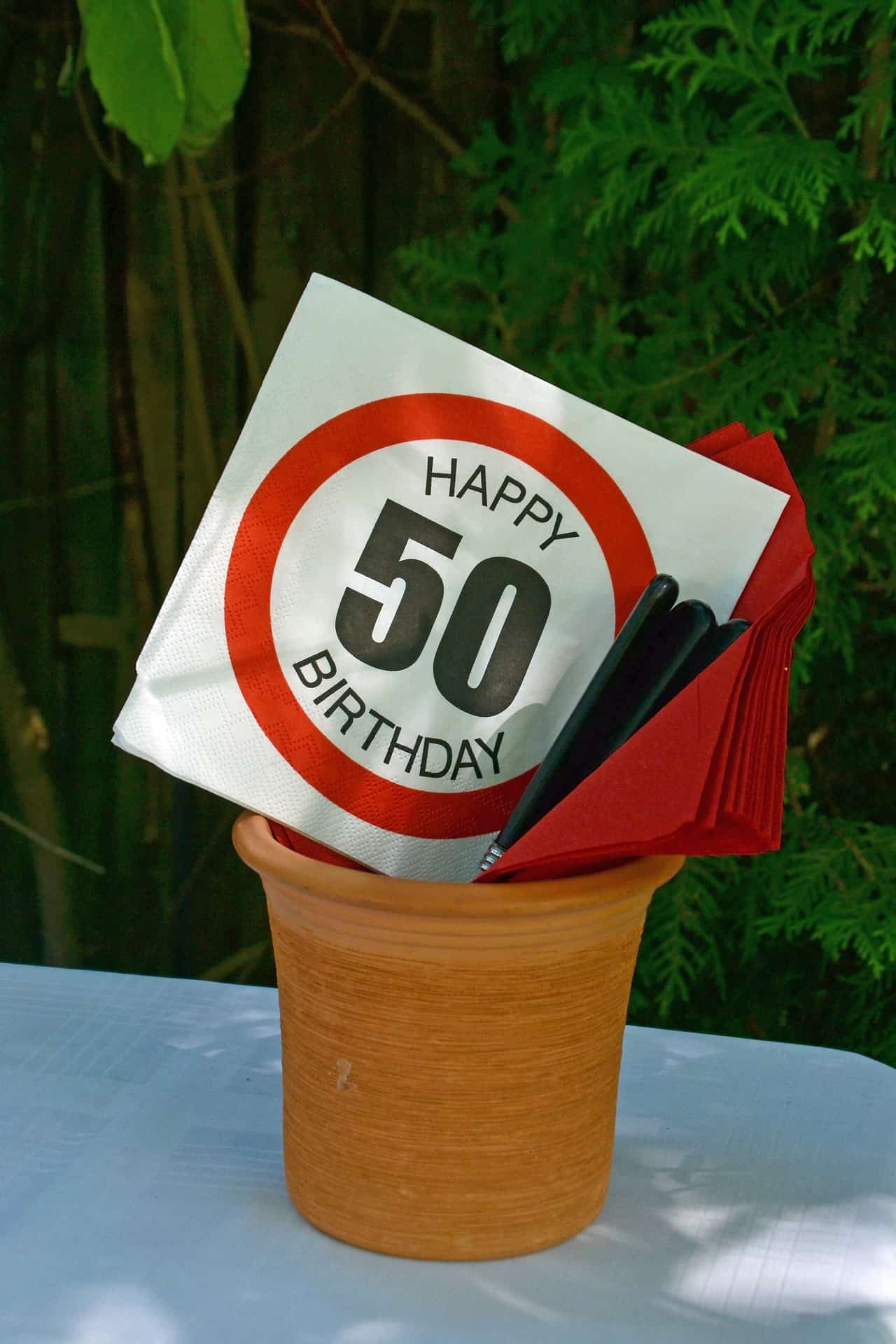 The "50 and Fabulous" 50th birthday party themes are all about celebrating in style. Find inspiration in everything that's glittery, gold, and makes you feel like a million bucks. To bring this theme together, we've divided some aspects of planning into three categories: decorations, food, and drinks.
Decor
Visit your local party store and hone in on the section that is mostly divided by color. Covering this theme means finding lots of black and gold decorations rather than sacking the "50s" section of the store. This means going for those luxurious-looking golden napkins and sleek charger plates. Blue and silver also make a sophisticated statement.
[amazon box="B077QHHRKX"]
You can also do some online shopping for some extra unique decorations. This can mean investing some money in a gorgeous "50 and Fabulous" cake topper or waiting for a golden fabric backdrop to ship so you can have the perfect photo background. You can go further than these two items. Why not purchase your DIY balloon garland? It may cost less than having them done in-store, and you can make them on-site, so transport is not an issue.
[amazon box="B00Y4N9N34″]
Of course, you could always try your hand at more in-depth DIY projects such as making a centerpiece. This tutorial will take you through the step-by-step process to create your very own 50th golden centerpiece and a beautiful flower vase.
Food
The fabulous 50th 50th birthday party ideas require finger food that dazzles your guests. This means pulling out finger-licking-good shrimp skewers and grilling up some tasty oysters for a quick snack while you chat with your friends. Make some quick and easy quinoa salad or some mini butternut squash croquettes as sides, and your guests will be raving about your healthy food options.
Of course, for those of us with a sweet tooth, these s'mores cream puffs will appease children and adults alike. Alternatively, some macarons dressed in gold leaves will keep the party buzzing and look dazzling on your sweets table. Just visit your local macaron shop, purchase a few of their sweet treats and roll them in edible gold leaf.
Drinks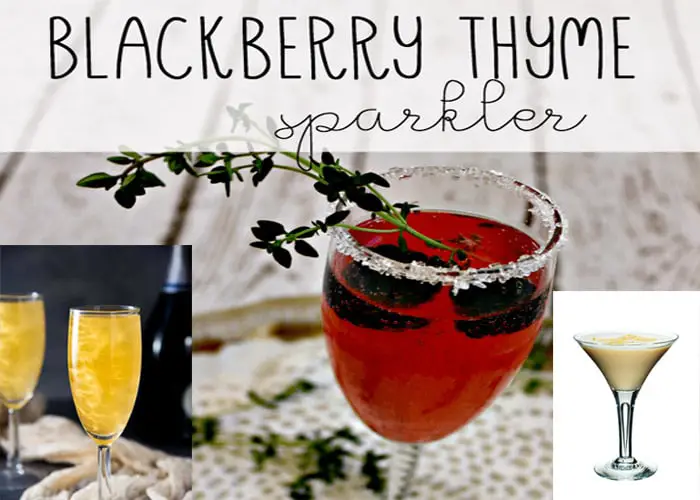 Nothing says sophistication quite like a glass of shimmering champagne. This involves purchasing some edible gold luster and mixing it with your champagne. If you'd prefer something a little simpler, how about a glass of prosecco topped with a pink cloud of cotton candy? The best part is that the champagne will have a sweet pinkish hue once the cotton candy drops into the glass!
[amazon box="B07DVQKXCJ"]
But don't stop there — this golden girl cocktail looks almost too good to drink! For the alcohol-free guest, serve a few blackberry thyme sparklers to sip while they munch on some appetizers.
Floral Fifties party
Unlike other elegant 50th birthday party themes, this floral theme is all about getting in touch with nature's beauty. Gather inspiration from flower gardens, floral shops, and your local flower connoisseur. Everything from your appetizers to your drinks can be showered with real flowers to make them that much more dazzling.
A floral party theme is perfect for the afternoon. So, be sure to let your guests know to dress in their finest garden party togs for the big day.
Decor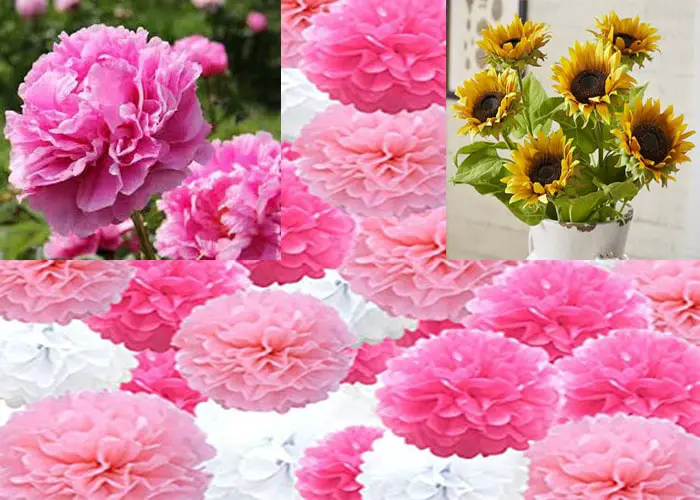 Set the stage with plenty of floral decorations ranging from large peonies to little mini roses. Your decorations could range from simple and sophisticated bouquets to buying or making outlandish and over-the-top decorating choices. Whether you're decorating for an indoor or outdoor party, artificial flowers such as this flower ball are excellent decorating options.
If you have the time, order some floral wall decals and place them on an otherwise bland wall. Alternatively, you could always make your own floral garden backdrop. This backdrop acts as an impromptu selfie station as well as a beautiful background for your sweets station.
Food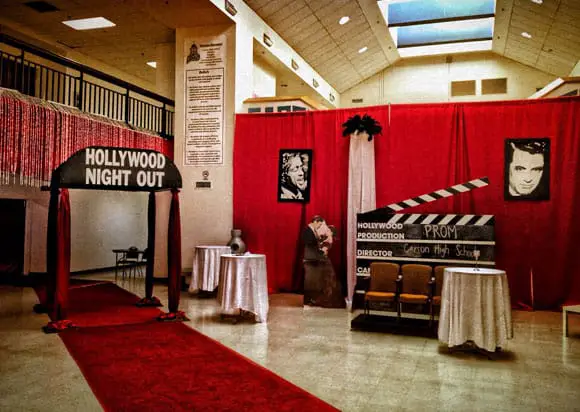 Did you know that there are several kinds of flowers that are perfectly safe to eat? Do some research to find out which ones exactly are edible and remember to double — and triple — check before you consume them.
Once you've found those you like, wash and dry them and roll your favorite ball of cheese on them for a beautiful appetizer. Another option is to mix these edible flowers in your salad and toss them with a light salad dressing to stay on-theme.
Dessert is probably the easiest menu item to keep with this floral 50th birthday party theme. A cake embellished with sugar flowers or real edible flowers is not difficult to find.
You could also forego the traditional cake and instead make some delicious cupcakes topped with icing sugar succulents and mini cacti. Should your birthday fall in the summertime, flower-infused popsicles would also be a great way to keep your guests cool.
Drinks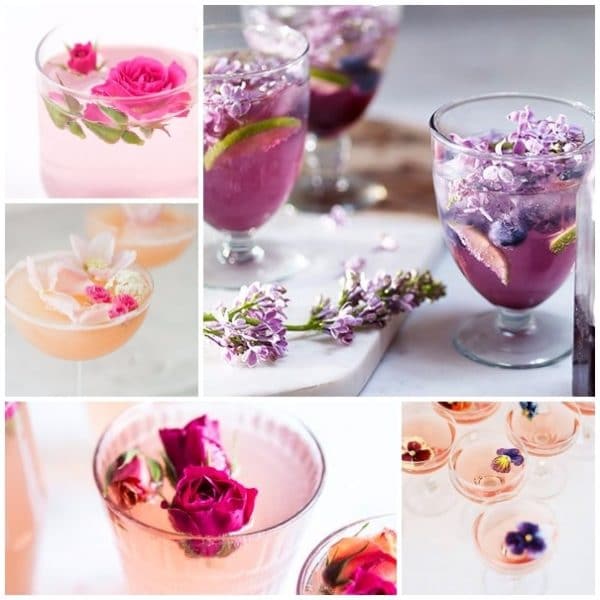 Not unlike floral food, you can also top the drinks with mini edible flowers to strengthen your theme. For something sweet, try your hand at making a pink lady cocktail made with gin, grenadine, and egg whites. On the other hand, you could also fix your guests a Blackberry French 75 (a cocktail made with gin, champagne, blackberries, and lemon juice).
Top your drink with a floral pick and your glass is ready to be served. However, for an extra touch of elegance, add a couple of real flowers to your drinks instead! A few hibiscuses or lavender petals will go a long way to impress your guests.
Hollywood '50s Decade party theme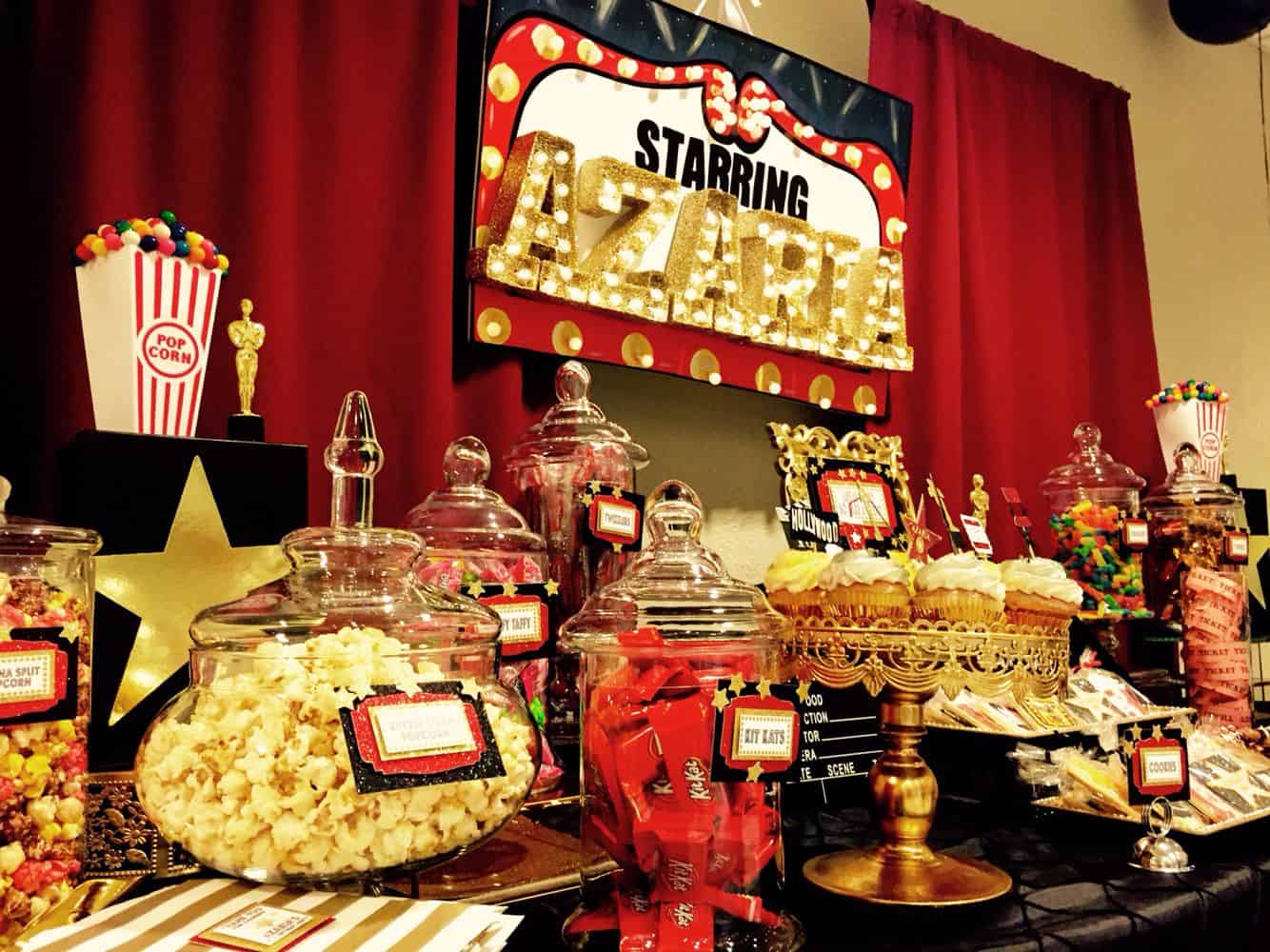 No list of the most elegant 50th birthday party themes would be complete without rolling out the red carpet. This Hollywood themed party pulls out all the stops with no detail overlooked. Bring out the cameras, because this theme is all about fame and glamour.
Of course, the dress should be red carpet finery all the way. Encourage your guests to dress up for the night and take pictures on the carpet for souvenirs. Remember that if a new evening gown isn't in the budget, you can source the nearest thrift store. You may find a nearly-new formal or prom dress.
Decor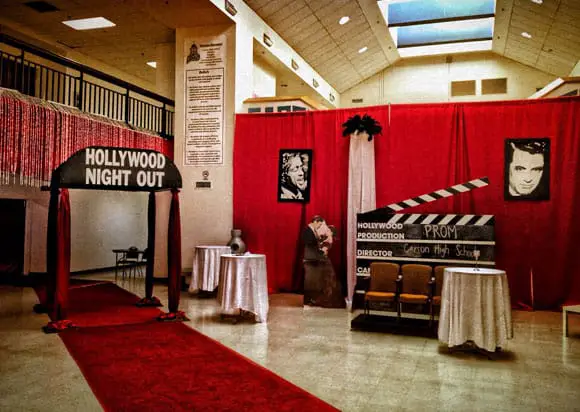 No Hollywood party would be complete without your very own red carpet runner. The best part is that after everyone has gone home, you can still use it anywhere in your home!
But if you want to make your entrance grander, you could dress up columns in shimmery gold or silver fabric and invest in some helium-filled star balloons. For some more pizzazz, don't forget to add plenty of red roses and glittering stars.
Props would also go well with this 50th birthday party theme. While the theme remains elegant and sophisticated, your guests can have some fun with photo props. You can DIY your selfie props or (if you have time to wait for shipping) purchase some Gatsby-inspired accessories.
If you still want to keep with the tres-elegant theme, visit your local thrift stores to search for faux pearl necklaces, feather fans, and long boas.
Food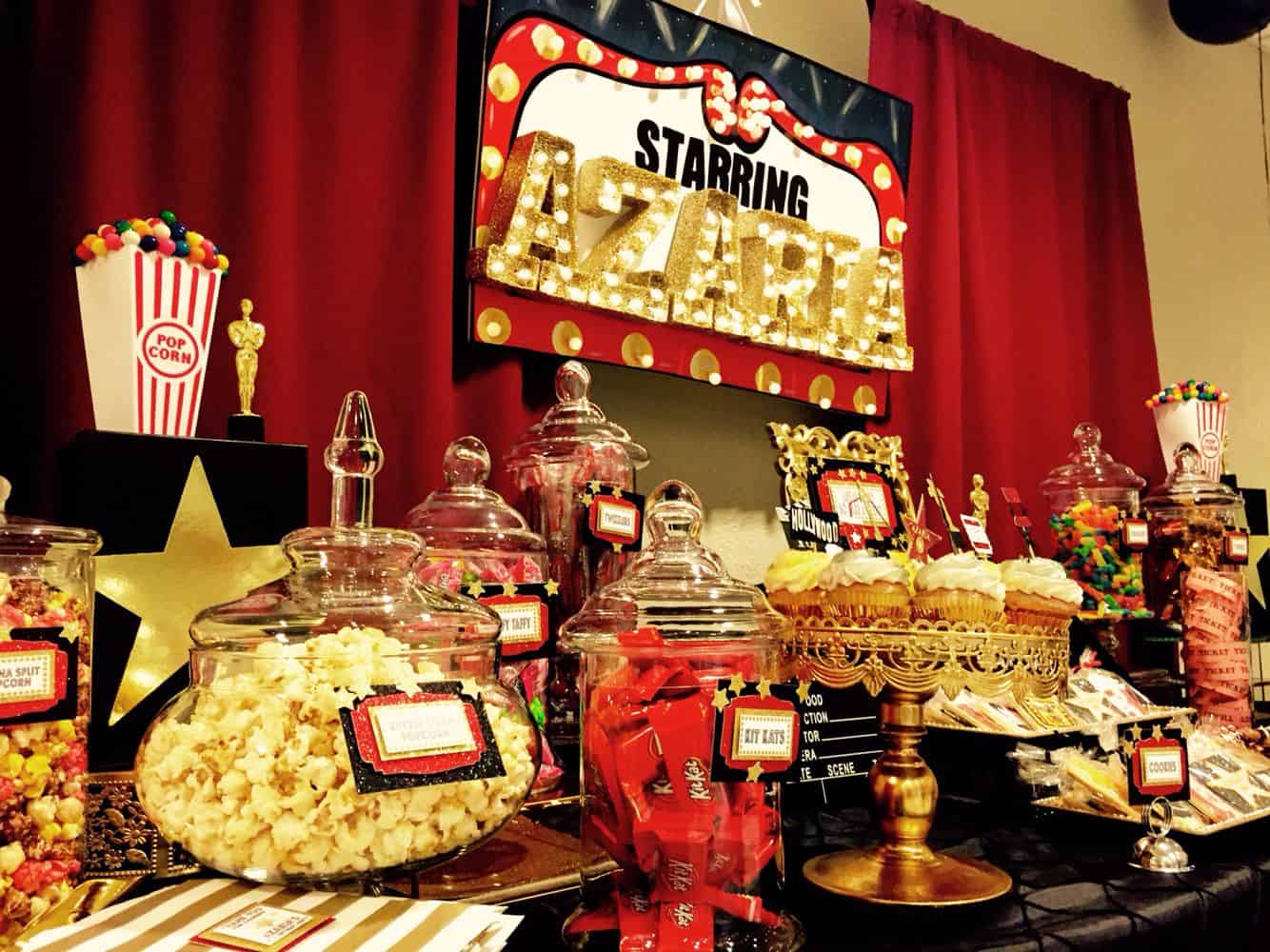 Only the best of the best will work to please both the birthday person and their guests. Should your budget allow, have your party catered by your favorite restaurant with plenty of finger food.
However, you could also take the day before to make your appetizers. Scour the internet for some mini beef wellington recipes or something equally as small and delicious such as mini tartines or tostadas.
For dessert, the presentation is vital. Spend some time perfecting plating techniques and your desserts will shine no matter how small they are.
Or, take some weight off your shoulders by purchasing a few sweets at your local bakery. Then plate these desserts individually with elegant garnishes and visually appealing sauces to complete your Hollywood-themed party.
Drinks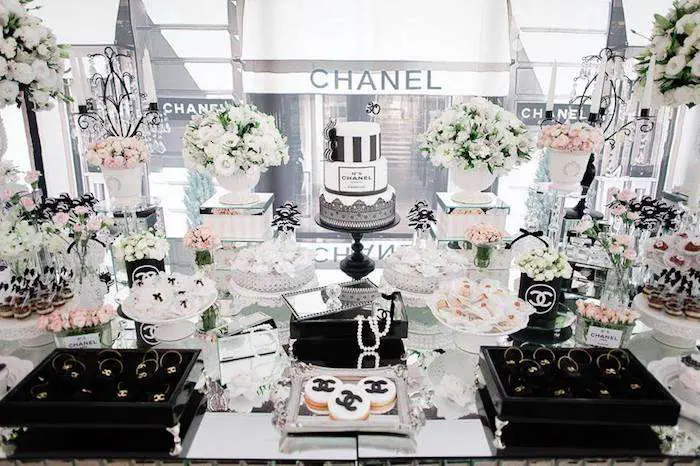 An elegant 50th birthday party theme inspired by Hollywood would not be whole without a selection of fancy cocktails. The most obvious choice is to include the classic James Bond vodka martini — shaken, not stirred of course.
Fans of the show "Sex and the City" would rejoice at the sight of a beautifully made Cosmopolitan ready to be sipped. For a Mad Men reference, be sure also to include an Old Fashioned made with bourbon, sugar, and your choice of bitters.
Chanel-inspired 50th birthday party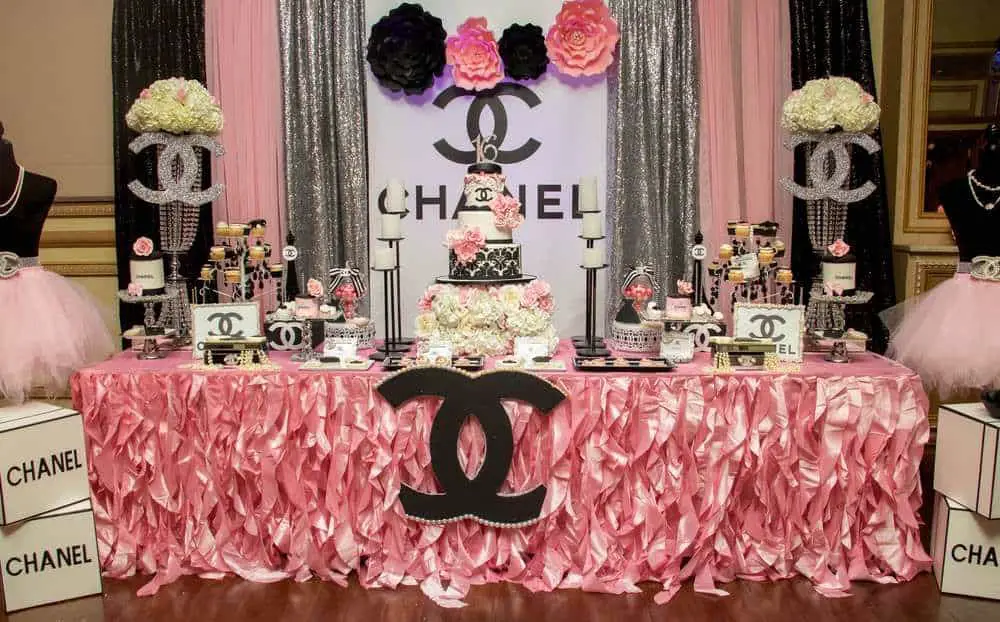 You'll love this theme if you're inspired by high fashion and the allure of the Coco Chanel brand. This one of our elegant 50th birthday party themes is about living the high life and being immersed in the upper-class culture.
Encourage your guests to wear an elegant little suit or sweater set and capris to fit with the theme. And don't forget to match the bag and shoes!
Decor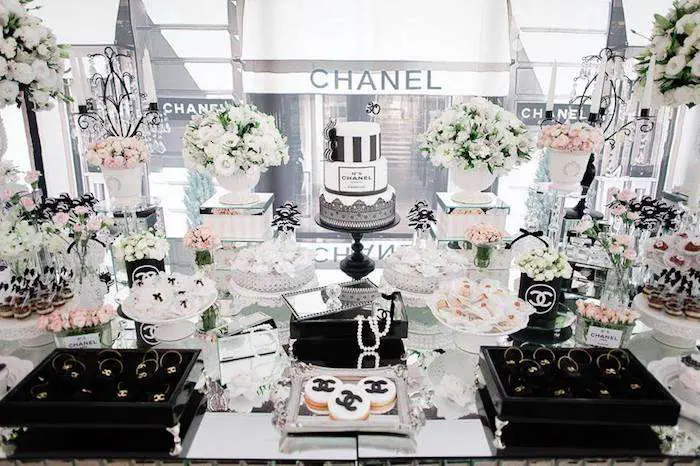 Before planning your decorations, be sure to let your invitees know about the theme! Your invitations can reflect your theme by sticking to a strict color scheme and letting your guests know to dress accordingly.
Concerning room decor, stick to black, white, and pink. These are the signature colors for Chanel. This will make the decor much easier to find and come together like pieces of a puzzle.
To add some glamour, purchase (or make) your Chanel photo backdrop with sleek red drapes for a pop of color. Forego traditional balloons and instead, buy (or create) your giant paper flowers.
If you prefer hiring a florist, be sure to raise your bouquet with a beautiful tall vase to add some height to your table setting. Should your guests not dress up for the occasion, you could always give them some emergency photo props, so at least their photos reflect your hard-work on the theme!
Food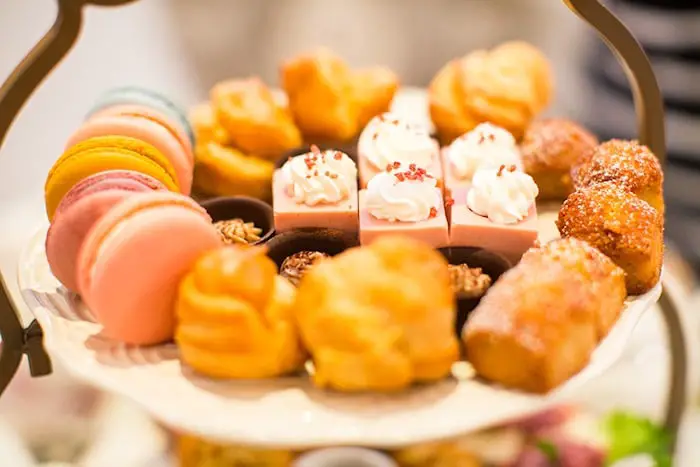 If you have the time and the resources, having personal food packaging made would make your Chanel-inspired party a hit. Imagine making hamburgers and packaging them on black boxes stamped with the Chanel logo. Or homemade popcorn with classic popcorn bags with Chanel on the front. This would be an easy way to make any food look extra special.
Alternatively, the sweets table could be the focus of your party. Searching for "DIY Chanel birthday cake" on the internet will yield thousands of different variations of the themed dessert. If you want to try your hand at making Chanel cookies instead, a perfume-shaped cookie cutter will make cutting much easier.
[amazon box="B07FK4VKM3″]
Drinks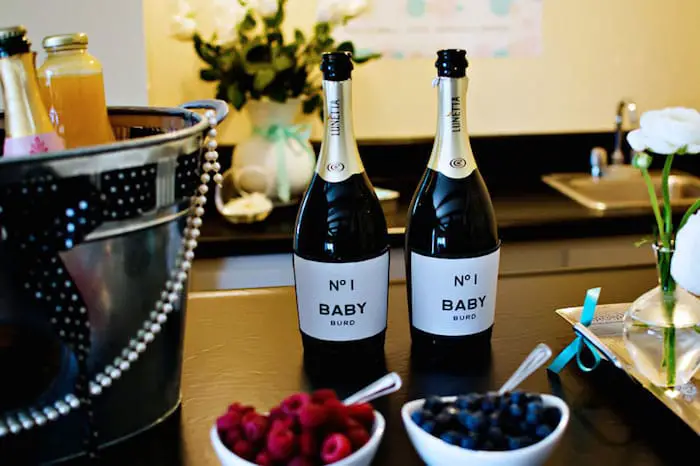 Much like Chanel-inspired birthday cakes, there are also hundreds of recipes for Coco Chanel cocktails. You can narrow down your list by selecting a cocktail made with your favorite spirit. Several CoCo Chanel drinks are made with Kahlua, gin, and heavy cream.
However, martini lovers will enjoy sipping on the Coco Chanel martini instead, which consists of vodka and St. Germain, a liqueur made of elderflower.
50th Birthday Party Themes for Men
There's no shortage of fun ideas when it comes to picking 50th birthday party themes for your favorite guy. Depending on his interests, you can choose from several over-the-top or simple ideas. But consider the party-goers' interests as well to create a fun evening for both the honoree and all the guests in attendance.
As the host, some details are essential to planning a great party. The decorations, timing, and the element of surprise are a few of the critical components to consider. And, of course, it's essential to remember the food and drinks!
Having a few great 50th birthday party ideas in mind will help you narrow things down and focus on what you really need.
Rustic 50th party theme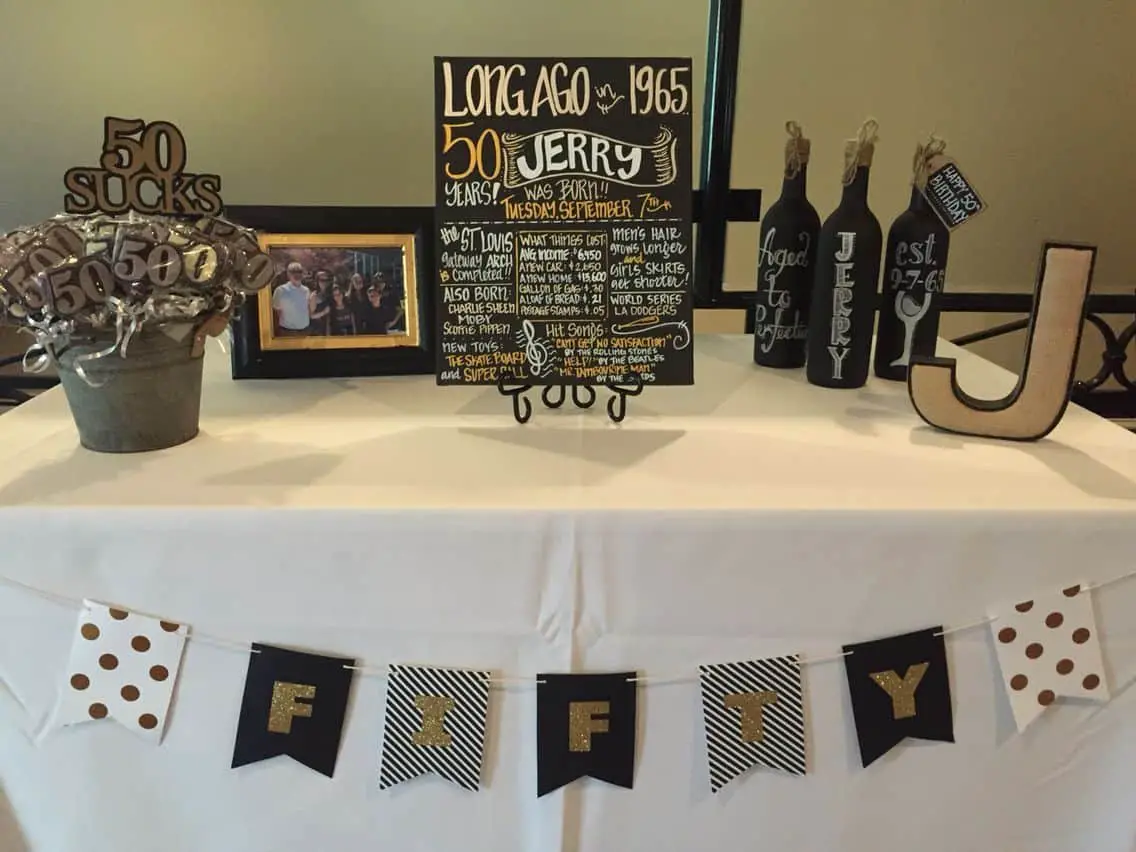 Another one of our favorite 50th birthday party themes is the rustic theme. While floral 50th birthday parties are all about flowers, this rustic theme is all about the great outdoors and wilderness. Plenty of earthy colors such as warm browns and fresh greens come together to create a woodsy, rugged theme.
Best of all, you and your guests can dress casually and comfortably for a rustic party, whatever hour of the day or night. Jeans, sweaters, and boots for colder months and jeans and tees for summer are both equally laid-back.
Decor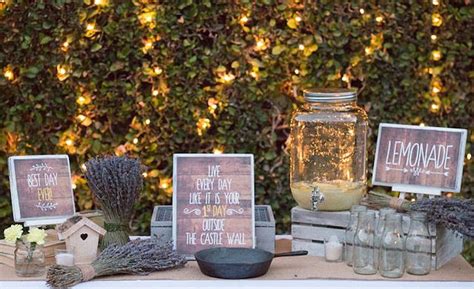 This is one of the best 50th birthday party ideas for outdoors. If the weather cooperates, secure a location with plenty of sun, flowers, and greenery.
A barn would be the perfect setting; find an outdoor place for partying when the sun is shining and indoors if the weather turns dark. The barn ladder, for example, may be out of commission but can still be used as a decorative feature for candles and flowers.
Additionally, anything having to do with mason jars will add to this theme. Mason jars can serve as candleholders, drinking glasses, and even flower vases. Small galvanized buckets can hold everything from utensils to napkins, while slabs of wood are useful as serving trays for foods and drinks. For a personal touch, purchase a wooden 50th cake topper.
Food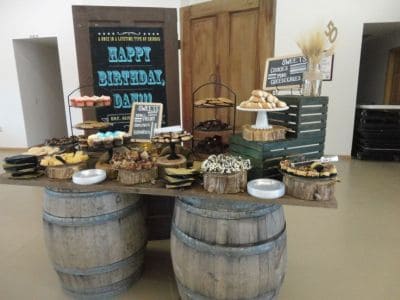 Forget the frills of the other elegant 50th birthday party themes. A rustic theme means being as down to earth as possible. However, this does not mean that your party food can't be thoughtful and a little quirky.
Pretzel sticks, for instance, can suddenly turn into tree branches once they are dipped in milk chocolate and drizzled with white chocolate. Your prize cheeseball can turn into the perfect pinecone with some almonds and sprigs of rosemary.
Dessert can also be as wholesome and fun as the appetizers. Search through your recipe book for your classic apple pie recipe or try your hand with a tart with whatever fruit is in season.
Should you wish to leave dessert for the experts, contract a baker to make a three-tiered "naked" birthday cake. This version nearly eliminates all of the calorific icings and still looks beautiful sitting on your dessert table.
Drinks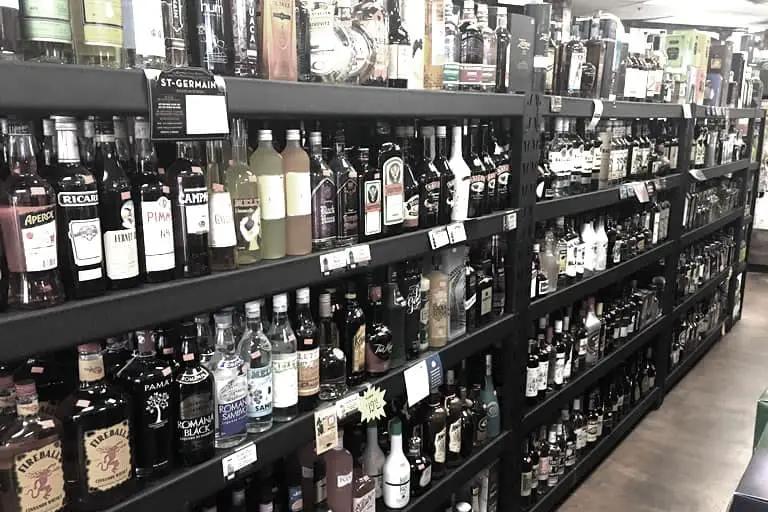 As previously mentioned, mason jars make the perfect rustic vessels for your alcoholic beverages. Texas teas made of lemon juice, vodka, gin, rum, and plenty of other spirits make for excellent drinks for mason jars. However, mint juleps (made with mint leaves, bourbon, seltzer water, and sugar) are better served in tall glasses.
[amazon box="B06ZXWGY9K"]
Black and white 50th birthday theme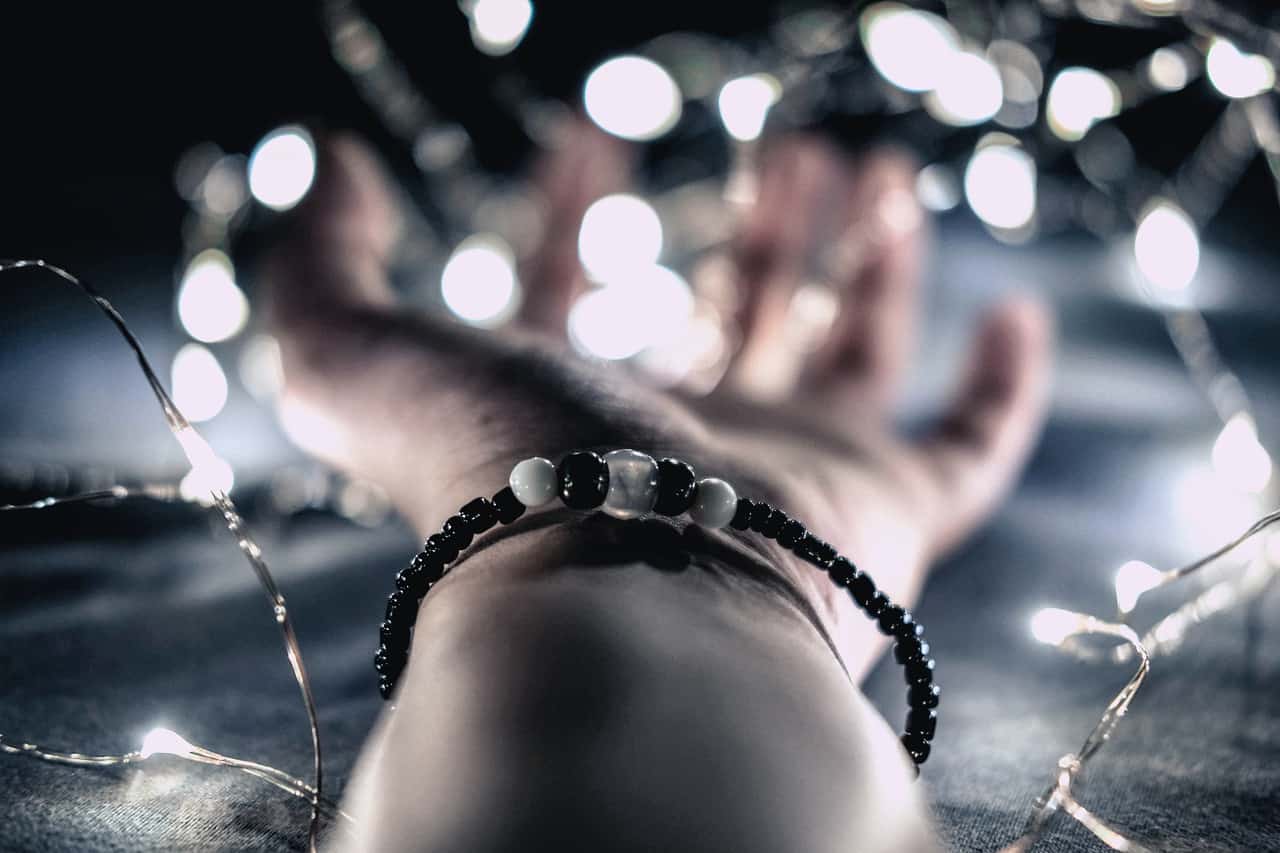 Black and white is an excellent "coming of age" party idea. The color black signifies the passage of youth. What better time to commemorate that than at a 50th birthday party? And white perfectly balances that. It means the guest of honor is aging gracefully and transitioning to a new stage in life.
Make sure to let your guests know to dress in black and white for the theme. This could be formal wear or casual, depending on the venue, the time of the party, and the menu. You can also ask guests who are below 50 to wear white and those 50 or older to wear black. Or, ask the women to wear white and the men to wear all black (or vice versa).
Decor
If this is one of the 50th birthday party themes on the short list, how do you plan? Of course, it starts with the decorations. Some items you'll need to add to the list of decorations include black tablecloths, white chairs, and black and white balloons. You can add streamers and garland, too.
For hosts trying to spice it up a bit, you can add a pop of color to the mix when choosing decorations. For example, bright red roses on the tables will add a pop of color to the room. Incorporating a few red tablecloths with the black and white theme will also set things apart.
Food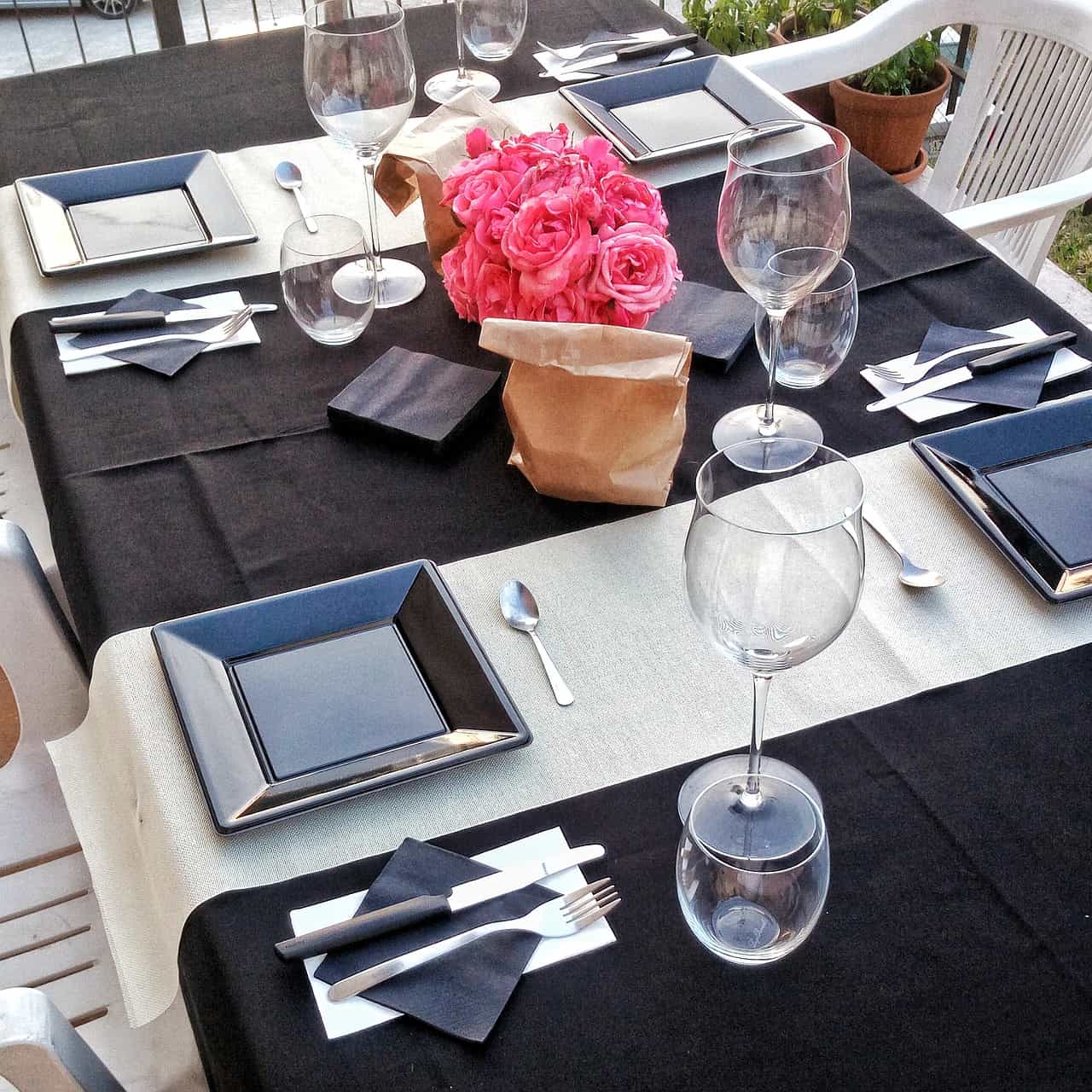 The right foods are also important to consider when planning this black and white party. For something fun, black and white cake pops are a sweet treat. If kids are attending, they'll love these tasty treats. An Oreo cookie centerpiece would look great on the table. An all-white cake, with black lettering, adds to the theme when incorporating food choices too.
Drinks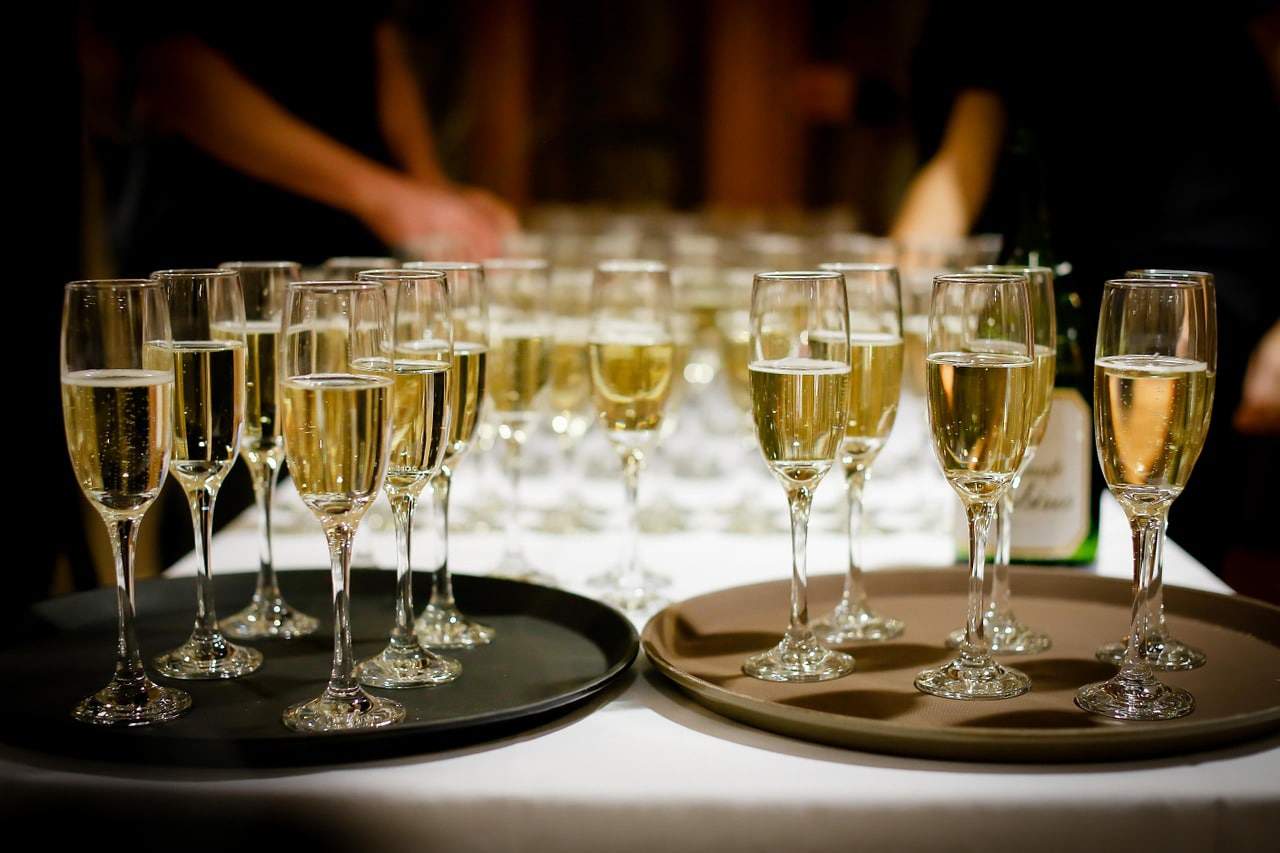 Get creative with the drinks as well. White hot chocolate or black punch, are some tasty concoctions guests will love.
[amazon box="B074DS4KGD"]
Tombstone/over-the-Hill party theme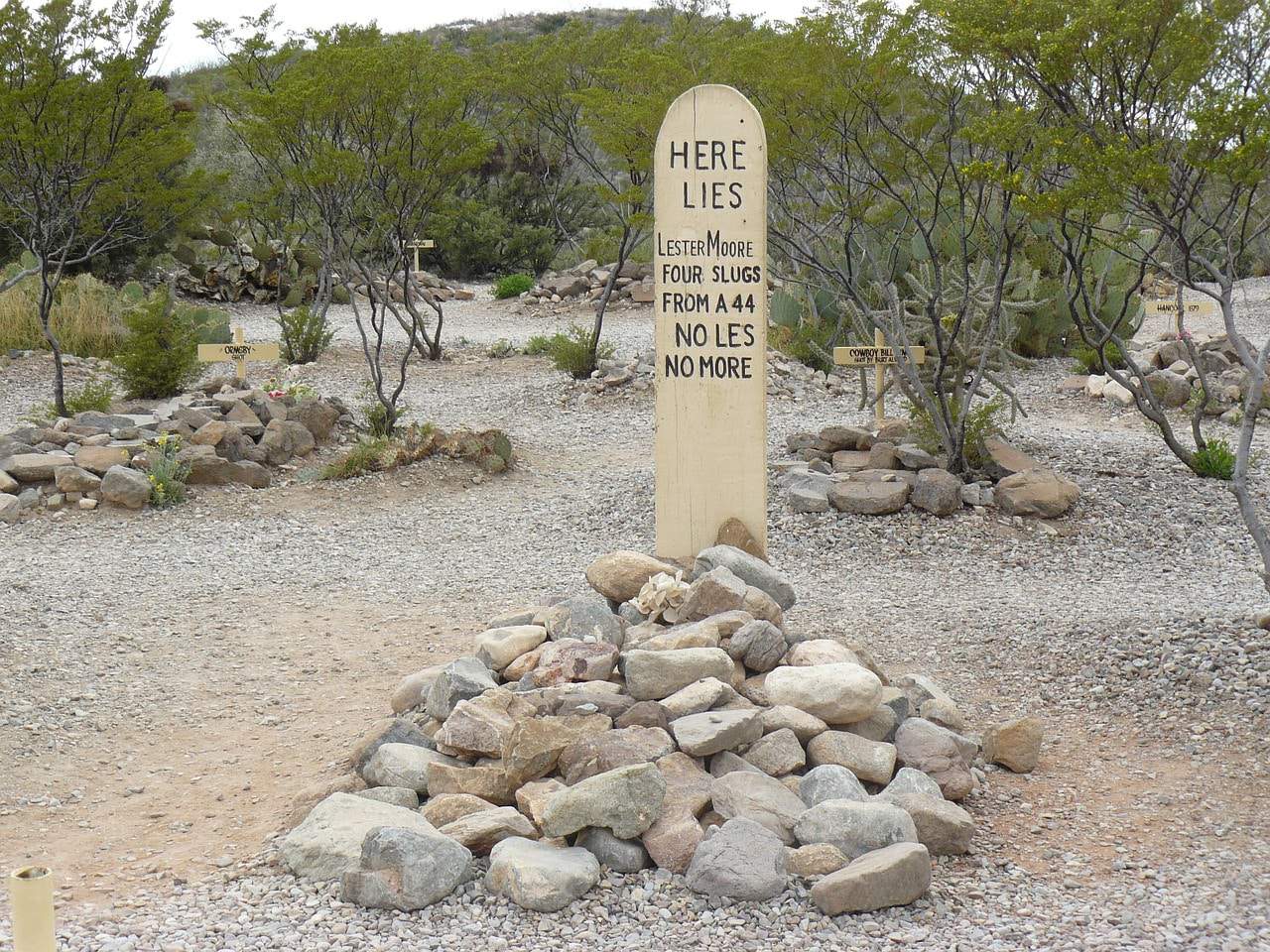 This idea is one of the classics when it comes to 50th birthday party ideas. There are many ideas you can use for an over-the-hill party. You can throw a "mock" funeral and use it as an opportunity to roast the birthday boy.
Hosting the party outdoors with a tombstone and other ceremonial decorations can add a lot of humor to the Big 5-0. You can ask guests to dress all in black, in their most funereal garb.
Decor
The decorations will make or break the party. Therefore, hosts have to take their time in choosing wisely. Some decorations to consider for the party include a fake tombstone and "Over the Hill" balloons. Black crepe draping and lilies add an attractive but somber touch to the "service."
Putting your own spin on it by having your guests give a eulogy. You could also throw a New Orleans Jazz-style funeral for a unique and upbeat theme. Or, add a twist to the "Tombstone" theme by adding some Western flair to your menu and decorations.
Food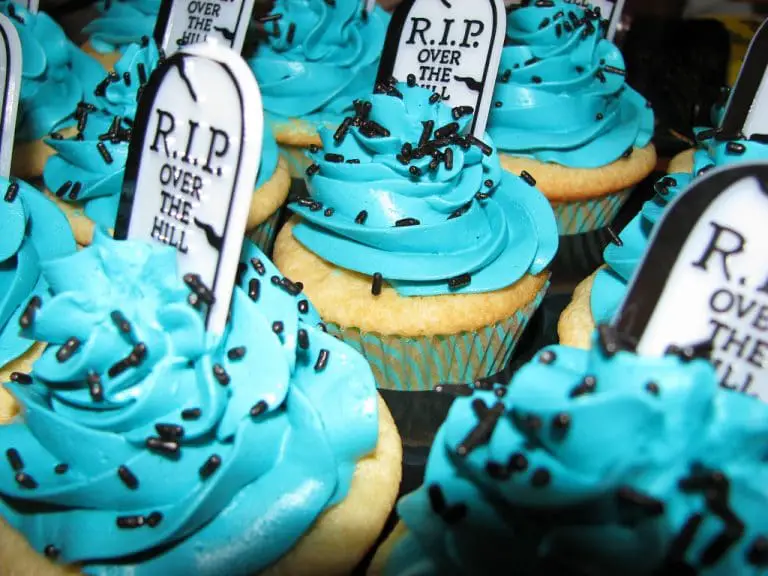 The right foods are also important to consider when planning this black and white party. For something fun, black and white cake pops are a sweet treat. If kids are attending, they'll love these tasty treats. An Oreo cookie centerpiece would look great on the table. An all-white cake, with black lettering, adds to the theme when incorporating food choices too.
[amazon box="B07856JPJX"]
50th Birthday Party Themes for Anyone
It's important to remember that you're really celebrating a person — not just an age. So, make sure you share exactly how unique your birthday honoree is by focusing on the individual. Celebrate what makes them special with these 50th birthday party themes.
Favorite things party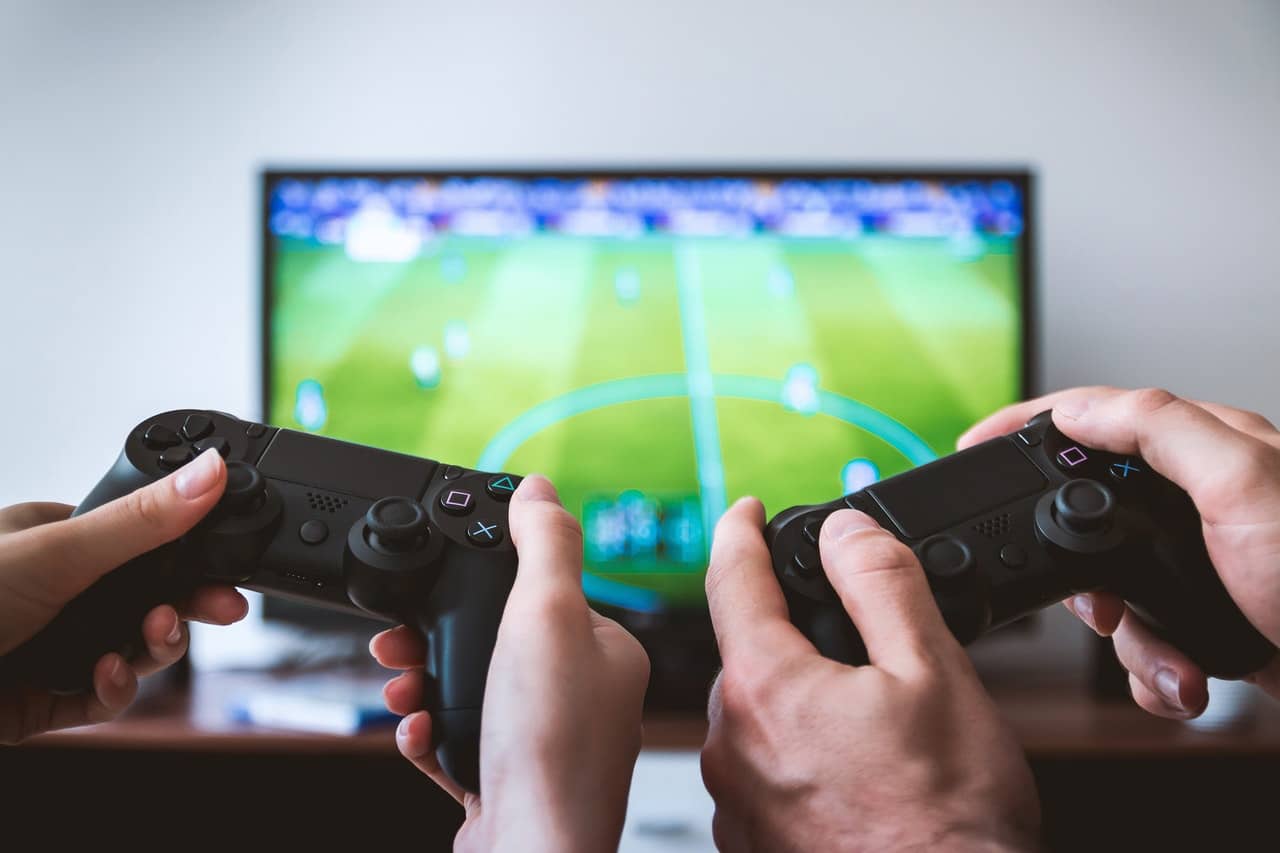 Everyone wants people to take the time to get to know them. After many years of marriage, preparing a favorite things party for your spouse is a great way to celebrate them.
This birthday party idea is one of the best 50th birthday party themes to show the person you love that you truly know them. Plus, it is a fun way to incorporate a few gifts into the mix.
It's essential to go all-out with the planning of a favorite things party. So don't stop with the decorations! Consider having guests wear clothing that relates to these favorite things. With the sports theme, guests can wear jerseys. If gaming is more the birthday girl's style, have guests wear T-shirts featuring their own favorite video game logos or characters.
Decor
The decorations are genuinely going to differ for every "favorite thing" party. For one person, it might be a sports party. Decorations might include logos/images of their favorite team, sports memorabilia, or cutout sports images throughout the room.
Some everyday items to choose when decorating, regardless of the theme, include balloons and streamers in the guest of honor's favorite colors.
Of course, depending on the favorite things theme, the decorations will vary. However, there are sure to be plenty of items party hosts can utilize when decorating for the festivities.
Food
For the foods, this is also going to revolve around what the guest of honor loves. If they love fancy, formal, sit-down dinners, hire caterers and have their favorite foods on the menu. Have snacks, finger foods, or a buffet ready for the date of the party. The options are endless and should strictly revolve around the favorite things theme to bring the party together.
Drinks
Of course, you'll want to get the birthday celebrant their favorite beverages. Concoct a drink menu revolving around their favorite spirits and non-alcoholic beverages as well.
Milestone/timeline birthday theme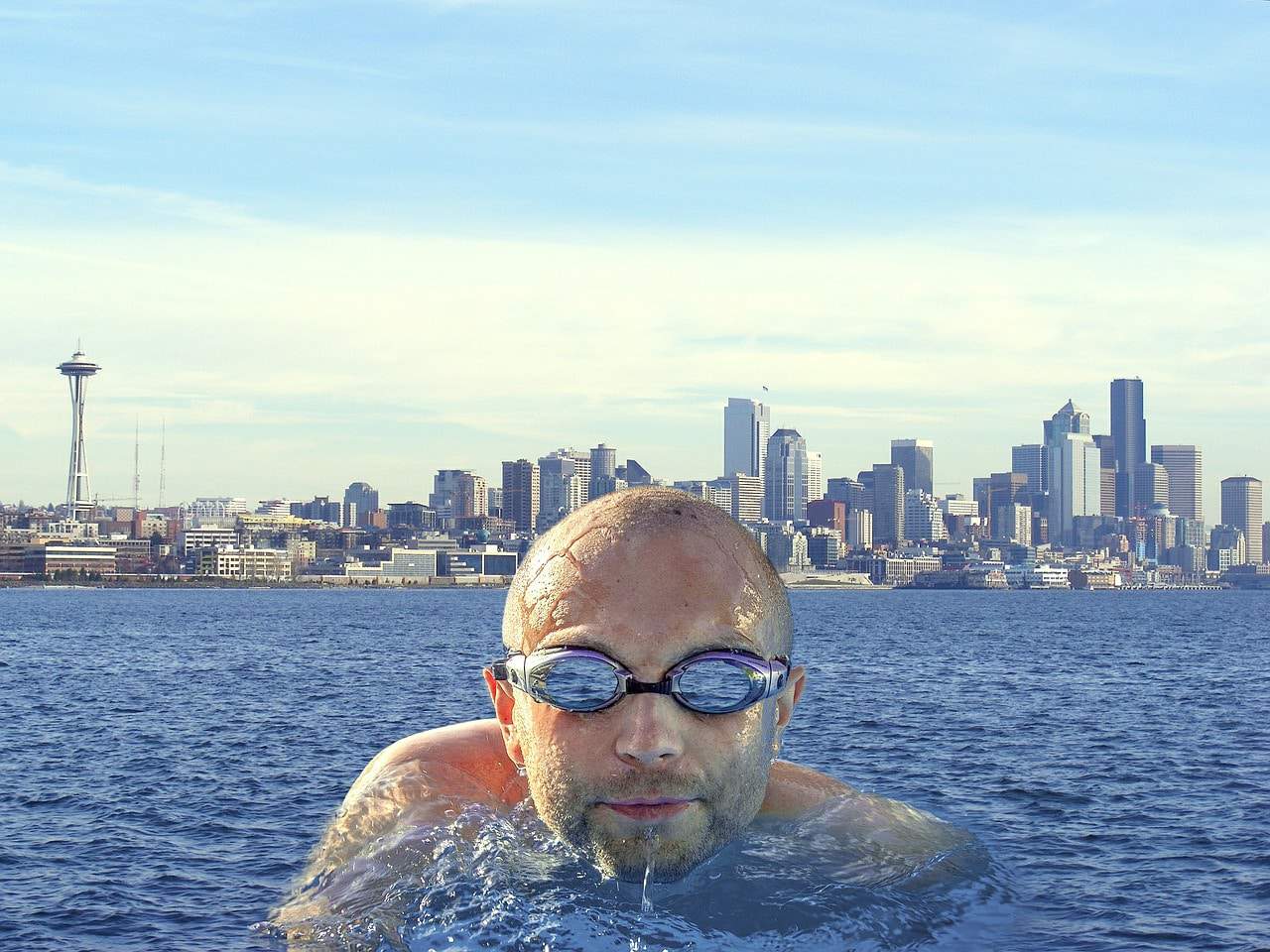 There's always that overachiever. There's the CEO who has led their company to the highest performance marks for 20 years straight. Or the marathon runner going on their 30th marathon at the age of 50. No matter what accomplishments the guest of honor has to their name, commemorate them on their big day.
Make sure to include dress code details in your invitations. Your guests should know whether it is a formal party, sit-down dinner, or a casual event. Guests feel welcome and more comfortable if they know the appropriate attire.
Decor
When it comes to decorations, this is a free-for-all. The party host needs to choose wisely. Some ideas for decorations include a photo timeline of the guest of honor's accomplishments. You can also display photos of their family. Make sure you provide a guest book for attendees to share their thoughts with the birthday celebrant.
There are so many ways to go about choosing the right decorations for the 50th birthday party. Each party will differ significantly depending on the accomplishments you are celebrating.
For a marathon runner, party hosts can have photos of finish lines and mile markers. For a top-executive, decor that reflects their industry might be worth highlighting. Keep it fresh and relevant to the accolades and accomplishments of the person they are celebrating.
Food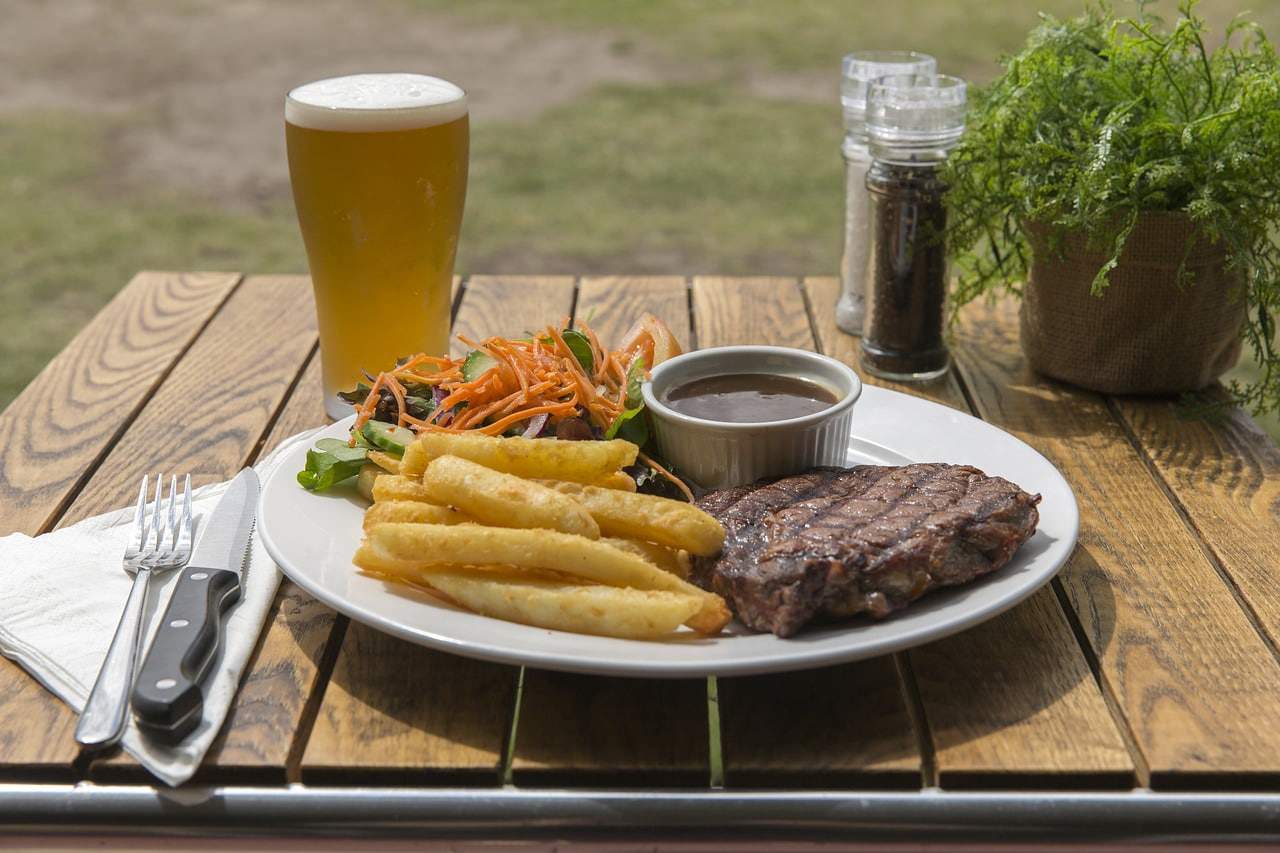 Here's another area which is going to differ at every 50th birthday party with the milestone theme. One party might incorporate a formal, sit-down dinner and serve the guest of honor's favorite meal.
Drinks
The drink menu can also reflect the honoree's achievements in life. This might take some thinking, but a little creativity can go a long way. You could serve soft drinks and cocktails that were popular at the time they made each benchmark.
Choosing the Right 50th Birthday Party Themes
There are so many fun ways to celebrate a 50th birthday party. With several great 50th birthday party themes to choose from, every party host can come up with something fun.
Just because they're 50, doesn't mean it has to be a somber event. Even with the over-the-hill theme, party hosts can make it a party to remember. The right music, guest list, decorations, menu, and drinks will result in an unbelievable party all the guests will love and remember.
Start the planning early and send out the invitations. With the right party theme, creative party hosts can put together a 50th party no one will forget.
Any of these 50th birthday party ideas will make for a wonderful celebration, and which one you select is merely up to personal preference and budget.
Have you ever organized a 50th birthday party with a theme not listed above? If you have any favorite 50th birthday party themes that didn't make it onto our list, let us know in the comments below!
[amazon box="B07436R9V5,B00IE6Y6J8,B077QLPN9P" grid="3″]