*This post may contain affiliate links. As an Amazon Associate we earn from qualifying purchases.
Throwing a party during the warmer months is a great time to open up your backyard and invite all your friends and family. But finding summer party themes that will appeal to both adults and children can leave you coming up blank. After all, the best reason for waiting for summer to hold a party is so you have room for your friends and all their children. But kids' parties can seem unappealing for grownups unless you can come up with a great theme. And kids notoriously get bored and antsy when they have no fun distractions.
Part of the trick to hosting a multi-generational party is to use a theme that's time-tested for fun. While many kids parties feature favorite superheroes, video game characters, and TV cartoon personalities. While school-age children love them, their parents may not find them all that engaging. In fact, most of them have seen enough of these characters in the background of their daily lives. So, instead, choose a universal theme that has proven over time to appeal to both kids and adults.
Awesome Summer Party Themes for Kids or Adults
These five awesome summer themes are flexible and fun enough for kids of all ages, as well as any curmudgeons on your guest list. As long as its summer, no one will have much of curfew. That means the fun can last till well after sundown. Take advantage of the warm nights with these summer party themes.
1. Caribbean Theme
Summer is an excellent time for a tropical vacation party, but instead of throwing another luau, head to the Caribbean. The Caribbean is an ocean dotted with island jewels that feature sugar sand beaches, beautiful flowers and foliage, and a laid-back attitude you won't find anywhere else.
Decor
Decorate in shades of blue and green, and feature the sea in your décor with coral, raffia, and seashells. Place palm leaves on your serving table and pile delicious tropical fruits in a glass bowl as a centerpiece. Or make this adorable banana dolphin centerpiece. You can also use the fruit for making rum drinks during the party. Scatter candles over tables for evening parties, along with tiki torches so your guests can party long into the night.
[amazon box="B076ZR6XRK,B071FFJFWH" grid="2″]
For a tropical vibe with responsible buying practices, use palm leaf disposable dinnerware. Not only do they fit your tropical theme, but they're also compostable. Pick up plenty of plastic drink cups for your tropical cocktails, so you won't have to deal with broken glass. Choose bright, fun colors with a tropical theme.
[amazon box="B0017U7DFC,B00PR3XWAU," grid="2″]
Menu
​Choose island classics like jerk chicken kabobs and ham and pineapple BBQ sliders. For those with a sweet tooth, serve banana fritters with scoops of vanilla ice cream. Or offer tropical fruit flavored sweets like coconut lime cupcakes. Serve your dishes on palm leaves, or the next best thing.
And of course, you'll need tropical drinks. Provide fresh fruit spritzers for the non-imbibers and rum drinks for adults who wish to indulge. Fruit daiquiris, hurricanes, pina coladas, and Jamaican punch all contain rum, the liquor that made the Caribbean Islands so famous.
[amazon box="B07DP296N3″]
Activities
Of course, you'll need a steel drum band, or at least steel drum music.  Or for a different vibe, stream some reggae favorites. Host a treasure hunt just like the pirates of old. For the kids at your party, decorate a cardboard box to look like a pirate's treasure chest. Hide all the party favor bags inside, and when the kids work together to find the big prize, they each get their own treasure.
[amazon box="B002CKEKIY,B0043VKO3A," grid="2″]
Even adults have a blast with a treasure hunt; just make the clues a bit harder and the prize a bit more alluring. For adults, you can make them work together to win gift Starbucks cards or pit them against each other with difficult clues with the winners getting gift cards for dinner out.
2. Country Fair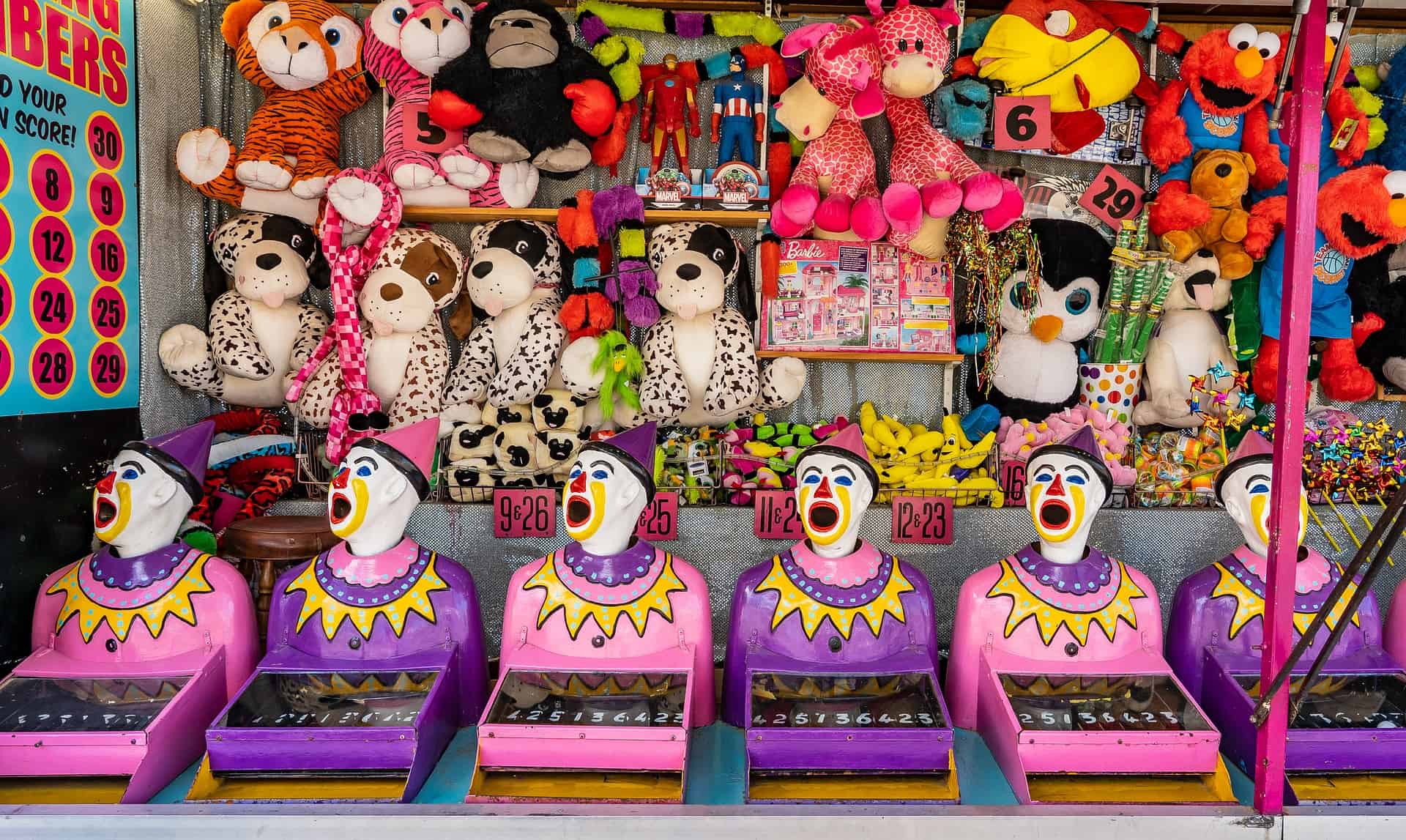 Country fairs and carnivals make super summer party themes because they're easy and everyone loves a day at the fair. Because fairs hire lots of "carnies," you'll need a hand to run the show, so ask family members or your best friends to pitch in well in advance.
Decor
Go rustic and relaxed, even rural. It's time to pull out that old wooden picnic table. Even some hay bales are fine for guests to lounge. Feature Americana or farm themes in your décor. Mix burlap banners and colorful streamers across doorways. You can even turn your garden shed into a "barn" for the day for a souvenir photoshoot.
[amazon box="B00W1XJ1KO,B005NB3062," grid="2″]
Table Setting
Nothing but gingham will do for the tables, with burlap runners and bunches of wildflowers in "tin" vegetable cans with the labels removed. Serve up your food in paper baskets, just like they do at the fair. Your guests can serve themselves and then sit where ever they like.
[amazon box="B07CC9HX4G,B01FWFJ0H6," grid="2″]
Menu
​Instead of a big spread on your main serving table, set up several stations featuring fair food favorites, like corn dogs, spicy sausage and peppers, onion rings and fries, fresh roasted corn on the cob, nachos, and more. For sweets, try deep-fried Hydrox cookies, funnel cakes, and fried apple empanadas.
To please your thirsty guests, set up a lemonade stand where they can serve themselves cold lemonade, sweet tea, or fruit punch. For adults, add beer, wine, and spiked lemonade at a higher, attended table.
Activities
​Every county fair has games and prizes to win. Across from your food area, set up a face painting booth, along with games of skill like a ring toss, balloon darts, and more. Add some chance games, too, like a lucky-draw duck pond, so the little ones can compete. If it seems like a bit too much, call around to your local party rental store. Many rent carnival games that look quite professional. Make sure you pick up some prizes for the winners. You can usually pick up small toys in bulk like mini-plushes and inexpensive party favors.
[amazon box="B01LWU54YY,B0775XMNFL," grid="2″]
To give it a true county fair feel, hold competitions for your guests to bring their best pie or pot of chili for judging. You can choose anything you like, as long as its homemade. Choose judges from the guests to pick the best of the lot and award ribbon prizes. Best of all, your friends can help you feed the large crowd.
3. Night at the Drive-In
The fun of a night at the drive seems like part of yesteryear because so few of them survived to the 21st century. Recreate this vital part of American culture with a drive-in movie summer party! You can set up a big screen in the backyard with an inexpensive projector that plays through the HDMI port in any tablet, laptop, or smartphone. You can choose a screen or just use a white sheet. Don't forget to add speakers on either side of the screen. For extra coverage, set up a few Bluetooth speakers throughout the seating area.
Decor
The screen is such a big part of the décor, but you'll need to set the scene around it. For young guests, some hosts choose to make cardboard "cars" for children to sit in during the movie. This is great if you have school-age children, but for smaller kids, you may be better off asking parents to provide a sleeping bag for stretching out.
For mixed-age or adult drive-in movie parties, provide lawn chairs or ask guests to bring their own. Again, sleeping bags are super at the drive in for stretching out and relaxing. You can also provide air mattresses.
String lights will help keep everyone safe if they have to move around in the dark, without ruining anyone's view of the movie. Make sure you hang them behind your seating area.
[amazon box="B071JVZ6J4,B00RQHBZVS," grid="2″]
Table Setting
You'll want a concession stand to serve snacks before the movie. Serve your movie night food in style. Popcorn boxes, cardboard trays, and disposable paper wrappers will make clean up easier.
Menu
Of course, you'll need popcorn, but provide something more substantial if movie night starts during the dinner hour. Pizza, hot dogs, and hamburgers are all great choices and easy to serve. For sweets, follow the lead of the all-American drive in and offer ice cream novelties and favorite movie theater candies in fun-size portions.
Set up your concession stand with a menu, and serve food in cardboard trays. Choose soft drinks, iced tea, and lemonade for thirsty guests. And depending on where you live and the time of year, you may want to keep some hot chocolate mix on hand should temperatures drop quickly.
[amazon box="B00PG7FANY"]
Actvities
Of course, the movie is the main attraction. Before it gets dark, however, you can organize a few backyard games for the kids to wear them out a little, so they can sit still through the movie. This works on adults, too. Set up a frisbee golf game or lawn darts. Offer your guests some Glow Sticks and bracelets at the concession stand, so everyone can keep track of each other in the dark.
[amazon box="B01GQXEMOE,B00M2XH2KE," grid="2″]
4. Jamboree
Warm weather and camping go hand in hand, so why not set up your own "jamboree" for your summer party themes. The Boy Scouts hold their Jamboree every four years in July, and thousands of scouts show up to show off their skills. You can arrange friendly competitions for adults or set up tables for kids to learn some survival skills.
Decor
You won't need much for décor, but you will need outdoor tables and a fire ring. If you don't want to dig up your backyard, you can purchase a free-standing fire pit. Other items depend on how hardcore you want to get. For a child's sleepover, you'll need to ask your guests to provide sleeping bags. You can then set up a large tent or two for them to spend the night in the backyard.
For a day party or a party with adults, you'll just need your tables, perhaps with some flannel-backed tablecloths for eating and serving. For daytime, set up a canopy over the dining area to stave off sunburn. You can also rent them from your local party store. Otherwise, make sure that your activities areas are under some shade.
[amazon box="B072C85T5R,B079RLNZ9G," grid="2″]
Table Setting
​Disposable is the way to go for a big crowd. Or get some inexpensive reusable plastic plates and matching cups to use for all your summer party themes.
[amazon box="B07BVZKMVJ,B005E0EFCK," grid="2″]
Menu
​Decide whether you want to cook on the grill, the fire, or both. Cooking over an open flame takes a certain skill and may not be the best choice for feeding a large crowd. But even if you decide to use your gas grill for convenience, you can tuck a few menu items into the fire. Wrap corn on the cob in foil and set along the edge of the fire. Remember to turn them a few times during cooking.
Have your guests cook their own hot dogs over the fire pit with long-handled skewers or peeled sticks. Add some burgers to the grill for those who prefer them. Classic sides for camping include a fresh salad and canned pork and beans. In fact, you can even hold a competition to see which of your guests knows how to use a P-38 military can opener.
[amazon box="B0078WMSZ8,B07D76SCRG," grid="2″]
You must have 'smores for dessert, of course, and have everyone toast their marshmallows. Other great deserts for camping include chunks of pineapple or bananas roasted on skewers and served over vanilla ice cream.
Activities
Choose fun summer camp and scouting activities for your guests based on their ages. For adults and teens, hold a contest to see who can start a fire with a flint the fastest. If you're feeling really devious, give them a bow drill instead.
Set up a knot tying station. Other skill activities could include capturing and identifying insects in your backyard Another fun activity for camping summer party themes is making fire starters.  Or invite your local scouting troop to hold a first aid class for your guests.
[amazon box="B00CWQ9GIM,B07D6ZCWJ2," grid="2″]
Group games, like relay races, are popular with scouts for building teamwork. Using water balloons adds to the fun and helps cool off guests in the heat of the summer. Or simply just hold a battle royale water balloon fight and may the driest man (or woman) prevail. Scavenger hunts and glow stick tag at dusk also make great summer party games.
As night closes in and ends many of your activities for safety reasons, hold a competition to test your guest's survival skills. A trivia contest featuring basic survival knowledge can be a lot of fun. Some sources include the M4040 site, ProProfs, and Kidzworld.  Some cool prizes for the winner could include a compact survival kit or first aid kit.
Then, its time for ghost stories. As things are winding down, finish off with smores and tales around the fire.
[amazon box="0374518688,B0781HMH9R," grid="2″]
5. Midsummer's Night Dream
Whether you're a devotee of The Bard or your eyes glaze over as soon as someone launches into "To be, or not to be," a Midsummer Nights Dream opens up some great party fun. In Shakespeare's play, mortals become bewitched in the depths of the woods, where fairies play tricks on their minds. Why not play a few tricks of your own on your guests?.
Decor
Undoubtedly, you'll need to set the scene for an evening party. So make sure you have plenty of magical fairy lights hung from porch roofs, deck rails, and trees. Wrap string lights around bushes and columns and hang sparkling stars to set off your party space.
[amazon box="B06XHVZNBJ,B013TEEKOK," grid="2″]
Dress the table with woodland garb, using moss, stone, and small logs for a centerpiece. Or find an interesting bare branch and wrap it with mini string lights. For more magic, paint rocks, dead branches, or other garden features with glow in the dark paint. Use several coats for maximum effect.
Luminary bags with battery operated "tea lights" are a great way to line paths in your backyard without the risk of fire or much expense. You can also place them on tables for centerpieces, and surround them with summer flower wreaths.
Table Setting
​Your table settings should focus on the fairy world, with glowing botanical images that evoke the magical realm. Add plenty of tea lights and drape greenery on every table. Green and gold disposable dinnerware will keep the feel natural but festive. Use glittering fluted glasses to add some magical flair.
[amazon box="B01I7YETTI,B077C21X48," grid="2″]
Menu
Fairies are known for their love of sweets and feasting from the bounty of nature. As a night time party, you can serve finger foods and hors-d'oeuvres, as well as small deserts and fruit dishes. Consider Caprese salsa made from fresh tomatoes, herbs, and mozzarella served on crispy bruschetta. Herbed deviled eggs are always a favorite, as are pesto pastry whorls.
Fairy cakes adorn the dessert table, which should be laden with sweets that include fruits and nuts. Serve cupcakes topped with edible butterflies and flowers. Create an edible fairy garden with candy formed with silicone molds. Or sprinkle edible glitter to dust floral flavored iced shortbread.
[amazon box="B007JEL6FI,B012MDHFKA," grid="2″]
Offer fresh fruit and herb cocktails like a Summer Night Cocktail with fruit juice, rum, and mint. A sweet frozen rose wine drink will also keep your summer nights cool.
Activities
Make sure your guests have fairy crowns made of flowers to fit the theme. Host a costume contest and award a prize to the best character from the play or fairy costume. And host a photo shoot featuring your guests in their finest to commemorate the magical evening.
[amazon box="B071Z2PRRM,B06XRPCF53," grid="2″]
The main character in A Midsummer's Night's Dream is Puck, a prankster of the first order. Cast yourself as the Master of Revels and send guests on a wild scavenger hunt with a few harmless booby traps in the bushes (air horns, motion-activated sprinklers, etc.). Perform some easy magic tricks or hire a professional magician to perform illusions.
Finding Fun Summer Party Themes for All Generations
Using a universal favorite theme and providing food, drinks, and entertainment for all ages will help your guests have a blast whatever their age. Most mixed cocktails have a "virgin" recipe, and most soft drinks have a corresponding liquor. Serving food in small, individual portions makes it easy for both kids and adults to enjoy your cooking (or catering). And when entertaining outdoors, consider the possibilities that disposable dinnerware can offer. There are plenty of festive versions of the old paper plate, and you'll find an overwhelming selection of party supplies that look upscale without breaking the bank. Feel free to get creative with your summer party themes, but stick to timeless classics you can rely on.