*This post may contain affiliate links. As an Amazon Associate we earn from qualifying purchases.
What's more festive than a Mexican party with a mariachi band or more delicious than carnitas with warm corn tortillas? Homemade food and celebration are traditions in Mexican culture, which makes a Mexican-themed party ripe with possibilities for your next family gathering.
Whatever the occasion for holding a Mexican-themed party, the trick is to go authentic. Hire a live mariachi band and choose catering from one of the many Mexican-owned businesses located near you. Or consult with experts if you plan to do your own cooking. Your guests are sure to be impressed by your attention to detail.
A Mexican-Themed Party Buffet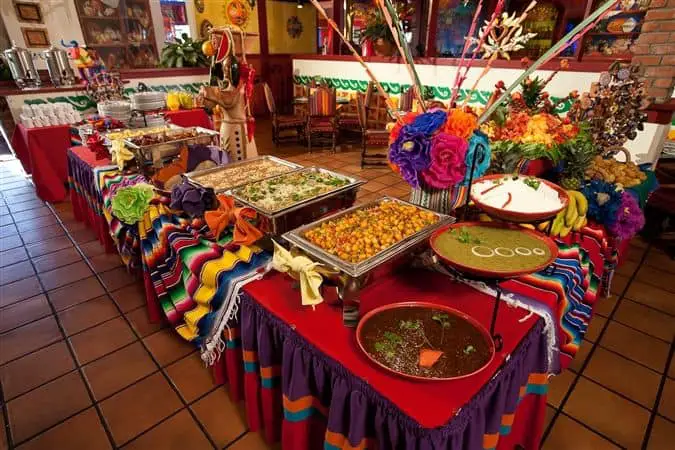 One of the biggest draws to throwing a Mexican-themed party is the food; what a perfect platform to highlight your culinary expertise.
If you intend to stay true to tradition for your Mexican party, you'll invite the family in and take this time to bond. There's nothing like preparing a meal together to make you feel close to one another, and that's part of Mexican style. It's all about family.
Homemade salsa
Salsa dates back to the Incas, Aztecs, and Mayans. The tasty sauce hit the United States market in Los Angeles in 1917 with La Victoria and their Salsa Brava. There are three main types of salsa, and the varieties expand from there.
Salsa Roja or red salsa is super simple to make with tomatoes, jalapenos, and onions. The difference between red salsa and salsa fresco is that the latter isn't cooked. Instead, it's finely diced jalapenos, tomatoes, and onions served raw as a healthy topping.
The third incarnation is salsa verde or green salsa, made with tomatillos. They look like little green tomatoes, and you'll find them quite flavorful. Here's an easy recipe so you can include this tasty dip at your Mexican-themed party.
Empanadas
Empanadas are an ideal item to include in a Mexican party buffet. You can fry or bake them and serve them warm or at room temperature. Make them with wheat, corn, or plantain dough.
If you want to save time on the day of your party, you can bake them ahead, wrap them individually, and freeze them.
Mini empanadas are great for appetizers. Fill them with anything from fruit to leftovers, like roasted meat or baked sweet potatoes. There are a host of regional Mexican empanada recipes to try too.
Best of all, the basic dough recipe is easy to make and uses everyday kitchen staples, like flour, salt, and eggs.
Taco buffet
What could be better than tacos at a Mexican party? Warm homemade corn tortillas wrapped around tender carnitas are an all-time favorite. It's not hard to make tortillas, either, so why not bring the taste of Mexico to your kitchen with an inexpensive tortilla press and a bag of Mexican masa corn flour?
What's more, you can also try a few new and exciting takes on the basic tortilla recipe. Add sun-dried tomato, cilantro, or roasted garlic for more colorful — and flavorful — tortillas. As well as brightening up your Mexican party table, they'll also add some gourmet flair to the menu.
Choose a wide variety of taco fillings, such as different types of meats and cheeses. For example, skirt steak and chorizo sausage both make delicious taco fillings. Also, make sure you provide meat-free fillings for vegetarian guests, like squash, sweet potatoes, and refried pinto beans.
[amazon box="B07HDX97RN"]
Mole Poblano
Making mole sauce is a big deal and a time-consuming proposition, reserved for fiestas. Like much of the food that comes to us from Mexico, mole sauce has quite a history. Best of all, you can customize this sauce for various dishes from throughout the country.
Mole poblano is a combination of peppers, seeds, cinnamon, raisins, tomatoes, garlic, nuts, and the secret ingredient, Mexican cocoa. So, if you want to put in the time, this dish is sure to be a hit.
Frijoles and rice
The staple of any Mexican dinner table is beans and rice. Pinto beans are a side dish and filler for all kinds of meals. They're easy to make, and they smell delicious while they're simmering on the stove.
You'll find rice alongside this favorite bean dish. And Mexican rice is easy to make. You can buy it pre-packaged. But, of course, homemade is better! One recipe that we found from Puebla calls for peas and carrots in addition to the standard that we're used to in the United States, made with long grain white rice, garlic, onion, and tomato sauce.
Mexican-Themed Party Drinks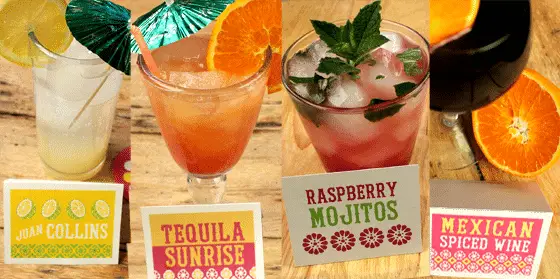 The stereotypical drink for a Mexican fiesta is a shot of tequila. Although tequila does have deep roots in Mexico and is popular in their culture and others, let's dig a little deeper into other authentic Mexican drinks. Try one of these original Mexican recipes.
Non-alcoholic beverages
There are a lot of delicious Mexican beverages that don't have alcohol. So, if you want something other than soda or ice tea at your party, here's a recipe that's sure to please your guests.
Watermelon agua fresca, or watermelon water, is a favorite sold by street vendors in Mexico. It's refreshing and easy to make; all it takes is watermelon, fresh lime, sugar, and of course, water. And it's perfect for the youngsters at your Mexican fiesta.
Horchata is another favorite non-alcoholic beverage that's perfect for your party. Rice, milk, cinnamon, and sugar make up this recipe for the frothy, yummy drink.
If you want to warm up, you can make Mexican cocoa or Champurrado. It's not your standard hot chocolate. And with the added flare of cinnamon and clove, it's a lovely example of Mexican flavor.
Beer for a Mexican-themed party
There aren't a lot of artisan beers from Mexico; microbreweries aren't as common as they are in America. But there are Mexican companies who make beers that are perfect for your Mexican-themed party.
Corona is, of course, a well-known name in Mexican beer. However, if you want to be true to how Mexicans typically drink their beer, you'll offer michelada, "my beer." It's made similar to a spicy Bloody Mary, only with beer instead of vodka or gin. Afterward, you salt the rim of the glass and serve it with lime.
Tequila drinks for a Mexican-themed party
Of course, you will probably want to include tequila at your Mexican fiesta, and that's legitimate. In short, true tequila is a kind of mezcal, made with blue agave from the Mexican state of Jalisco.
Sangrita de Fruta
There's no need just to do shots. Why not try a margarita? Better yet, try this recipe for Sangrita de Fruta. You can even make a version without the tequila for a lovely fruity drink.
Watermelon Margarita
Watermelon margaritas are a superb choice for a Mexican fiesta party, especially when held outside in the afternoon heat. One recipe calls for only three ingredients, but make sure you pick the sweetest watermelons you can find.
Decorating Ideas For A Mexican Fiesta Themed Party
Color is the foundation of decorating for a Mexican-themed party. Use a palette of sunshine yellow, tangerine, turquoise, purple, fuchsia, and lime for bright, festive colors.
Or, you can try gold, coral, tiffany blue, lavender, pastel pink, and pickle green for a more subtle combination.
If you want to go with a more traditional palette, opt for yellow-gold, pumpkin, light blue, cobalt, maroon, and green. More importantly, whatever palette you chose, make color the foundation for your decorating, and you can't go wrong.
Mexican-themed party decor
The Mexican way is to make flowers part of your decor. However, you can also make paper flowers and combine live floral arrangements as well.
Some of the flowers used in Mexican decoration include the national flower, the dahlia. The Mexican marigold, or cempasuchil, are decorations used on Day of the Dead altars and the tombstones of loved ones.
Calla lilies are another popular plant and made famous by Mexican artist, Diego Rivera, who feature the beloved Mexican flower in numerous paintings.
In particular, no Mexican fiesta decor should be left without roses since they hold considerable religious significance in the Mexican culture. Sunflowers and poinsettias often make up the bouquets too, so there's no hurting for color.
While fresh flowers are often expensive, you can usually buy silk or paper flowers from the same vendors as your other party supplies.
[amazon box="B07F7BR86T"]
Mexican-themed party tables
Once you've decided on your color palette and flowers, then comes the fun of figuring out how to incorporate all of those gorgeous colors onto your tables.
Party supplies
For large crowds, choose convenient but sturdy party ware made from paper. We recommend choosing neutral colors for your plates and napkins. For example, tableware in sunshine yellow is cheerful. And this way, you can incorporate leftover supplies into future parties.
Table settings
Bunches of traditional flowers in terracotta pots look warm and welcoming on any table as a centerpiece. In addition, a serape-stripe table runner will help reinforce the theme. Then, add soft lighting with some cactus-shaped tea candles between each flower pot.
Favors and decor
You'll want to offer an inviting table for your guests to dine, and adding cute decor and favors they can take home is one way to set a beautiful table.
For example, top each place setting with a tiny succulent planting in mini terra cotta pots as a very special party favor for your guests.
For younger guests, try some mini maracas or these adorable little fiesta donkeys in bright colors.
Other party supplies you may want to consider for your Mexican party include large, decorate sombreros to hang on the walls. Or hang bright-colored paper flowers from the ceiling over the dining table.
Entertainment
How about a Mexican film festival, dancing, or a good old-fashioned game of whacking the pinata until it bursts and everyone gets a treat? Best of all, you can usually find them on display in a wide variety of designs wherever party supplies are sold.
A game with a history​
Whacking a pinata is even more old-fashioned than you may realize. Pinatas have a fascinating history. It's long one, so we're going to pick it up with the Mayans, who were into playing physical games. A favorite was a game in which blindfolded players would try to break a pot that was hanging from a rope.
In the 16th century, after the conquest of Mexico, Italian missionaries began using the Mayan game to teach Catholicism. The pots came to symbolize evil, and so after mass, the priests would encourage the congregation to break the pots, and the treats that fell out were likened to blessings from God.
Artisans gave them a colorful makeover and, with the addition of paper mache, made the vessels in forms other than pots, like birds and fruits. Eventually, the religious connotations faded away, and the pinata became a game again.
The modern pinata
Today, pinatas put the fun in a fiesta, and they come in all shapes and sizes. You'll find animals, rocket ships, dinosaurs, and even movie star options for the game. Traditionally, you stuff a pinata with candy, sugar cane, and fruit or small toys. Sometimes, people fill them with flour, confetti, or water balloons as a joke. It's up to you what you want to put in your pinata.
[amazon box="B079HNP2FF"]
Mexican-themed party music
In general, singing, dancing, and merrymaking is going to be a lot of fun with the happy sounds of Mexican music. There's tons of traditional fiesta music online if you don't want to pay for live music or a DJ.
Mexican-Themed Party Ideas
We've already covered food, drinks, games, and music, all the most essential items to include in any Mexican-themed party. So next, let's talk about the two Mexican holidays we typically celebrate in the U.S.
Cinco De Mayo as Independence Day
On May 5, 1862, in the small town of Puebla, Mexico, a ragtag band of villagers defeated the French imperialists who intended to conquer them and take their land. The underdog rising to take the win is the kind of story Americans love. It's not surprising we've made a Mexican victory into a celebration of our own.
Folks in Pueblo memorialize Cinco De Mayo, but it's not a huge holiday in Mexico like the Fourth of July is in America. However, you can celebrate respectfully by participating in events around your city that feature Mexican dancers and promote Mexican businesses. And you can use any of the ideas you've found here.
Dia de los Muertos – Day of the Dead
Disney recently did a great job of animating the Mexican celebration of ancestors who have passed on with their beautiful movie "Coco." It showed in spectacular detail all of the things that make this holiday so intriguing.
If you're planning to celebrate Dia de los Muertos, you should know the history of this 3,000-year-old tradition and decorate accordingly. Most importantly, the holiday is all about paying homage to ancestors. Beautiful altars, or ofrendas, are constructed and decorated with candles, buckets of wild marigolds, and other bright flowers.
For your party, you should include lots of food for the hungry souls: an assortment of fruits and nuts, mole dishes, piles of tortillas, and bread called pan de muerto. Also, have bottles of soda, hot cocoa, and water too, as well as little sugar skulls. You can also find themed party supplies for Day of the Dead online.
There are toys and candies placed on the altar, and on November 2, the adult angels get cigarettes and shots of mezcal to make them happy. Most significantly, the idea is that those who've passed on will keep the family close and protect them, bring them good luck, and offer wisdom.
​Throw a Mexican Family Fun Fiesta​
Mexican culture is ripe with a colorful history full of celebration, food, music, and sport. If you want to throw a Mexican-themed party, you'll have no problem coming up with lots of entertaining ideas. Above all, remember to respect the traditions that you borrow for your merrymaking and have fun celebrating the beauty of the Mexican people.