*This post may contain affiliate links. As an Amazon Associate we earn from qualifying purchases.
Ladies and gentlemen, boys and girls, step right up and experience the wonders of your carnival-themed birthday party! Try your luck at a ball toss! Will you be the one to beat the strong man? How many prizes will you take home today?
The traveling carnival has been a part of American life for over 100 years. It was once the highlight of the year, drawing people from towns and cities together. What better way to bring together friends and family for a fun birthday party?
Scatter game booths around your backyard or local park and have guests compete to win prizes. Mom and Dad, or the hosts, can dress up as the ringmaster or a clown. Carnival food like hot dogs, popcorn, and cotton candy are easy and fun. A carnival-themed birthday party is relatively easy to set up, and sure to be a hit!
Planning Your Carnival-Themed Birthday Party
You can go all out or scale it back when planning your carnival-themed birthday party. If you're the crafty type, you can save a lot of money, though not time, doing it all yourself. Budget permitting, party supply stores and retail websites have a great selection of pre-made items to make party planning a snap.
Types of invitations to send
Your invitation sets the tone for the type of party guests can expect and helps to build excitement! From homemade to pre-order, put some thought into the invitation you want to send. Let's take a look at a few great options.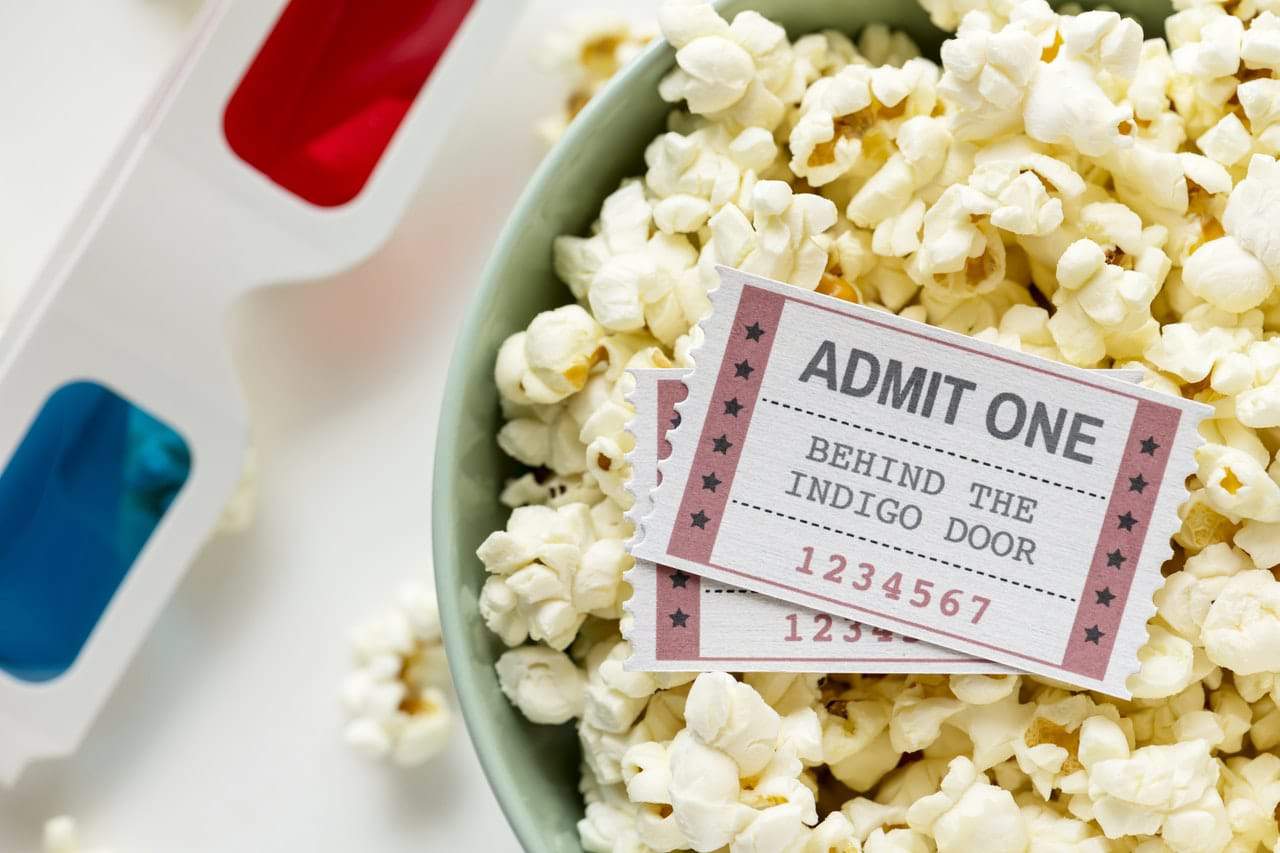 Carnival ticket invitation
Carnivals once set up on ticket booths on either side of the entrance. For a nickel, carnival-goers received tear-off admission tickets. Why not copy their idea? Download a free template online and print off invites on paper or cardstock. A local print shop could do it for you using colored ink.
Or you can fill in your event's details online and order printed invitations from vendors like Zazzle, Vistaprint, and ArtFire.
Booth invitation
While more involved than printing off a carnival ticket, this cute idea is sure to wow. Cut out simple cardstock in a rectangular invitation shape. Draw or paint a carnival booth's outline on the card and write the details on the cards inside. Or you can write the details on the front, gluing tissue paper "curtains" over the details that guests have to lift to reveal the information. Another cute touch? Using a small, wooden clothespin to fasten a ticket to the booth's front.
Popcorn party invite
An iconic image, a red-and-white popcorn box makes the front of your invite pop. Draw the popcorn box's image on your card's front and color in the yellow popcorn. Or cut out construction paper strips and glue them on cardstock.
Carnival-Themed Birthday Party Decorations
Primary colors, balloons, and game booths: it's both fun and easy to decorate for a carnival-themed birthday party!
Game booths – no carnival is complete without them!
Carnival-goers wandered through rows of booths, trying their hand at games and eating sticky cotton candy. Booths define the space and direct party-goers to the different activities.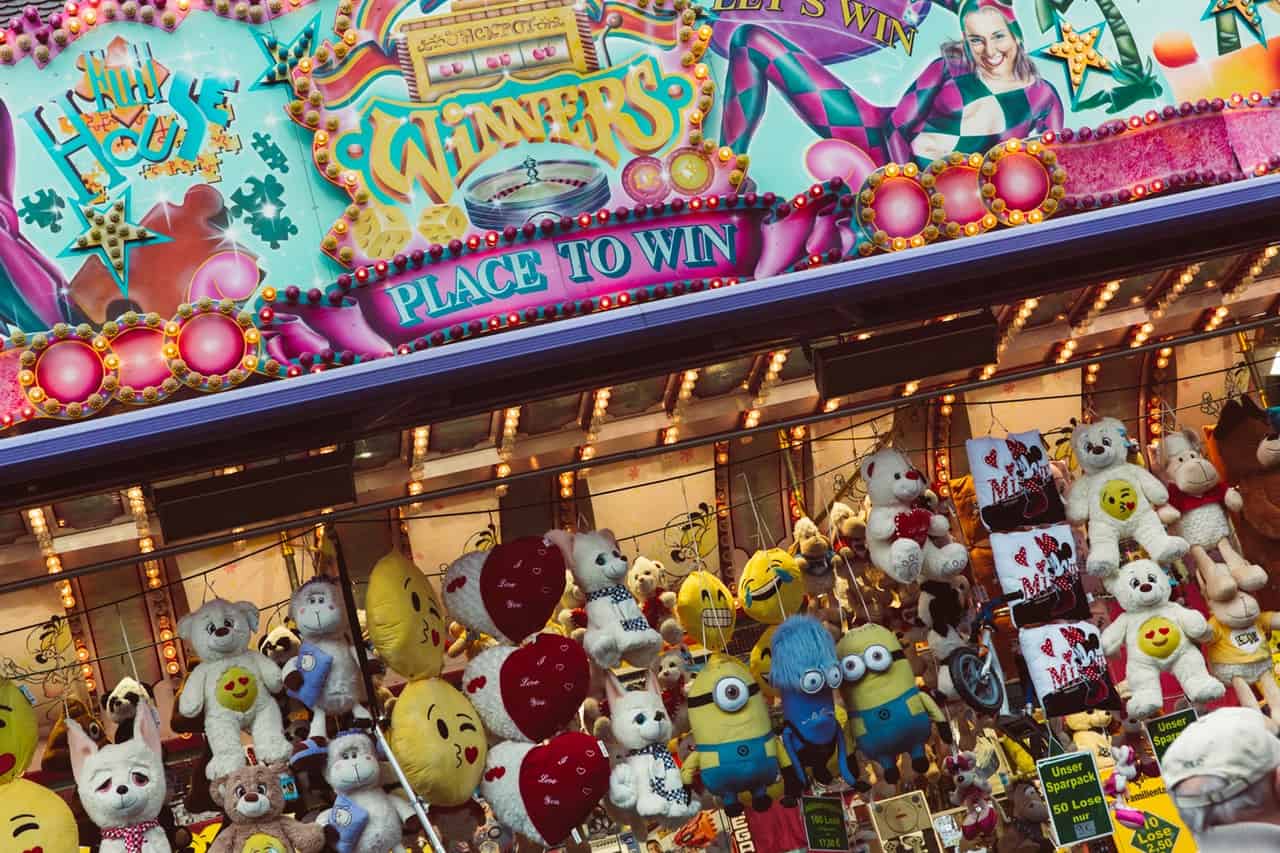 It's still possible to create a fun environment with limited budget and space. Pull old sheets out of the linen closet, or pick them up at your local secondhand shop. With craft paint, outline booths. String clothesline between trees and hang the sheets up as backdrops to the games. For fishing games, cut holes for booth openings in the sheets and kids can fish through them.
If it's a kid's party, involve them in painting. Outline the booth's shape, stripes, and awning in black Sharpie. Lay the sheets down on the grass and pin them down with heavy rocks. Then, hand your kids a paintbrush. Big appliance boxes work equally well — that is, if you're willing to get more involved by cutting out shapes.
Multiple vendors sell cardboard booths online, ranging in price from $50 to $150 and up. After the party, they make a great addition to a playroom.
Put out a colorful picnic tablecloth or a table skirt and use a table for food rather than something that could tip or buckle under the food's weight. Re-purpose a beach umbrella above it and hang bunting from its edges. Don't forget fun paper plates, cups, and napkins! Put cupcakes on this fun carnival-themed stand, serve candy in striped party bags, or use those red-striped boxes for popcorn.
Setting the ambiance for your carnival-themed birthday party
No party is complete without music, and the first few bars of the calliope music most associated with carnivals are instantly recognizable. There are CDs available for purchase or download, and this CD has all the traditional carnival music in one place. Assign the Ringmaster music duties to hit "play" whenever the CD stops.
Tie your party's space together with colorful flags strung between trees, or half circles with red, white, and blue. Want to turn it into a fun afternoon craft? Cut out the triangles for younger children, hole punch across the top, and set them up stringing the clothesline between them. With older children, draw triangles on construction paper and have them cut them out. Or you can just buy a full outdoor carnival decorating kit and make your life easy.
The finishing touch – costumes!
Don't just draw a mustache on your face: You can order a full Ringmaster costume online! Dress dad up as a strongman, with padded muscles and a blow-up barbell. Ask grandma to be a clown and blow up balloons. Getting the adults in on the fun also ensures that all the kids are supervised.
If you're hosting an adult carnival-themed birthday party, ask guests to come in costume and have a competition. Bonus points to the snake lady who brings a real, live snake!
Fun Carnival Games for your Carnival-Themed Party
Every carnival has games, from ring tosses to ball throws. Carnival-goers compete for prizes at the game booth. Or give out tickets they can redeem for prizes at a central prize booth. Depending on the number of guests invited, you may need to rope in other adults and family members to run each game.
Wading pool fishing
Dump the water out of the kid's wading pool and set it up for a fishing game. If you don't own one, ask a neighbor if you can borrow their pool or find a cheap plastic option. Cut out paper fish from construction paper and glue magnets on the back. Craft stores carry dowels perfect for fishing rods. Tie a long string around one end and glue a magnet around another.
To make it harder, you can cut out different sized fish and assign smaller fish a higher point value. Limit the number of turns kids can take fishing, then add up their points and hand out a prize or tickets.
Shooting game with water guns and rubber duckies
Line 'em up and shoot 'em down! Fill up your water guns or buy a cheap set at the store. Line up rubber duckies on a fence or table edge and have kids try to shoot them down. You can score it by a point per duck that goes down in a one minute period, or buy differently sized ducks and make the heavier ducks worth more points.
Ball toss games
There are as many versions of a ball toss as there are balls. Set up buckets at varying distances from a line where guests stand. Give them four balls to throw. Each ball that lands in a bucket is worth points that they can then redeem for prize tickets, with the furthest bucket away becoming the highest point value.
Hang rings on strings at different heights from tree branches and do a ring toss with balls. Make a pyramid out of old cans decorated with construction paper and have kids throw balls to knock them down. Younger children can stand closer to the target.
Temporary tattoo booths
Kids love temporary tattoos and setting up a booth where they sit still and an adult applies one could give them a break from all the excitement.
Adult kissing booth
Hosting an adults-only party? Why not set up a kissing booth? Participation is completely voluntary, of course.
Lollipop garden guessing game
This homemade game is simple and easy to set-up, and since everyone gets a lollipop, everyone is a winner! Buy a bag of lollipops and use different colored markers to make dots on the bottom of the sticks. Color a lot of lollipops red, and the kids who pick those get the cheaper prize, some green, a mid-tier level, and only two blue for the top prizes.
Then pick up a piece of Styrofoam at a craft store. You can decorate it or just put it on a table "as is." Stick the lollipops into the Styrofoam and let guests guess and pick a prize.
Party Favors for the Prize Booth
Once they've played all those games, it's time to hand out the prizes! If you have an adult at each booth running things, they can hand them out there. Or kids can save up their tickets for bigger prizes. Some good ideas include;
Stickers and erasers
Keychains with fun animals
Whistles and kazoos
Toy cars
Pinwheels, magic wands, and tops
To save you money, party supply companies often sell these prizes in multi-packs.
Where to buy party favors for your carnival-themed birthday party
You can find the best deals for party favors and prizes online. Oriental Trading Company sells a wide selection, often in bulk. Carnival Favors has toys as low as 10 cents each! Shindigz party favor selection includes noisemakers, springs, wands, and more.
Another bonus of ordering online is that you can hide the plain box in a closet until the party starts, keeping it a surprise for your kids.
Carnival-Themed Birthday Party Food
Hot dogs, popcorn, and cotton candy — stocking a food table could be the easiest part of your party setup. Grocery and big box stores sell pre-packaged bags of both popcorn and cotton candy. Before the guests arrive, you can cook up a bunch of hot dogs and put them out on the table with buns and condiments.
While you can bake cupcakes, your local grocery store will happily cook up a batch for you to slide onto trays. Peanuts may be a traditional carnival treat, but you'll only want to serve them if you're sure there are no guests with peanut allergies.
These are simple ideas, but if you want to add some more pizazz to your food table, consider renting some appliances.
Food appliances to rent for your carnival-themed birthday party
If you ask around, you may be able to find someone in your circle who owns one or two of these appliances. If not, party supply stores often have machines you can rent and so do many rental companies.
Set up a popcorn machine at the food table. Before guests arrive, you might want to pop a batch of popcorn and pre-fill some of the containers. Hot dog machines, which rotate dogs on spikes, and cotton candy machines where kids can watch an adult swirl the paper cone around the fluff, up your party game. Make sure there's always an adult nearby to keep kids from touching hot surfaces. A sno-cone machine with multiple flavors and colors is always fun, and you can add some liquor to the mix for the adults.
Boys and Girls of All Ages Love Carnivals
There's a reason that carnivals have remained popular for over a hundred years; they're fun, wholesome entertainment! It's easy to fill an afternoon running around, competing with friends, and earning prizes. Along the way, you'll be making memories to last a lifetime.