*This post may contain affiliate links. As an Amazon Associate we earn from qualifying purchases.
We all have a few ugly sweaters tucked away, deep in our closets. The terrible holiday garb our moms made us wear no matter how much we complained or struggled to get away. It's almost like they were made with hideous designs and scratchy materials on purpose. The sole purpose must have been to make us as uncomfortable as possible, in more ways than one. And for some odd reason, we never seem to throw them out. So they always end up laying in wait for that special time of year. But things have changed because now we wait for that magical time with glee. We are ready to dig them out, dust them off, and put them on for a ridiculous party. All because an ugly sweater party is the best way to blow off steam during a stressful time of the year.
Planning the best ugly sweater party depends on who you are inviting. If it is strictly an adult party, you can consider cocktails and adult games. But it can be a lot of fun for kids too, and you will want to have special treats and activities geared towards your younger guests. I've been to several different ugly sweater parties thrown by youth groups, my family, and now my over-21 friends. They're all a blast as long as you gather a fun group of people who are down to have fun during the holiday season.
Only The Ugliest Sweaters Allowed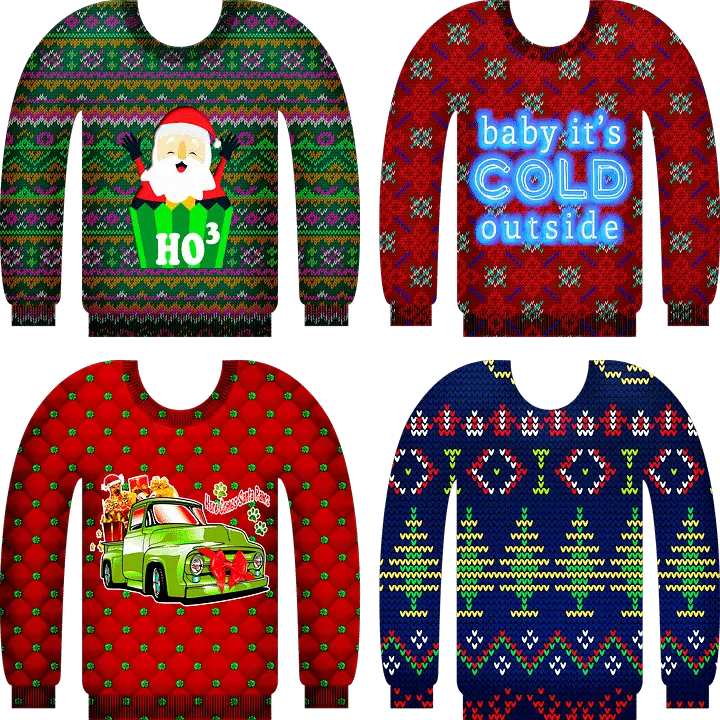 Image by Annalise Batista from Pixabay 
The sweaters are the main point of an ugly sweater party. You need to plan ahead to give people plenty of time to get a sweater and do some party prepping of their own. Mainly because they will have no excuse to show up in boring clothes if you give them a few weeks to prepare. In fact, they might even go completely over the top. Sending out invitations right after Thanksgiving is a great timeline to follow. Maybe even before Thanksgiving if you know a bunch of people who also plan holiday parties.
Consider making your own ugly sweater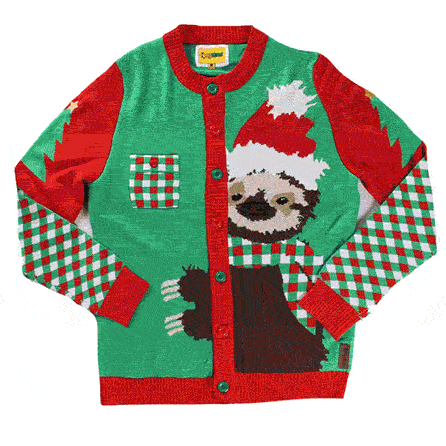 via Giphy
Half the fun of an ugly sweater party is getting ready for it. If you like getting crafty, you might even want to make your own. There are plenty of ideas for making your own ugly sweater now. Ugly sweater parties are exceedingly popular these days, and I don't see them dying out in the near future. Since everyone gets so excited for them, there are many fun ideas that might inspire you to go a little wild. Making your own sweater gives you the perfect opportunity to have some fun before the party even begins.
Where to buy an ugly sweater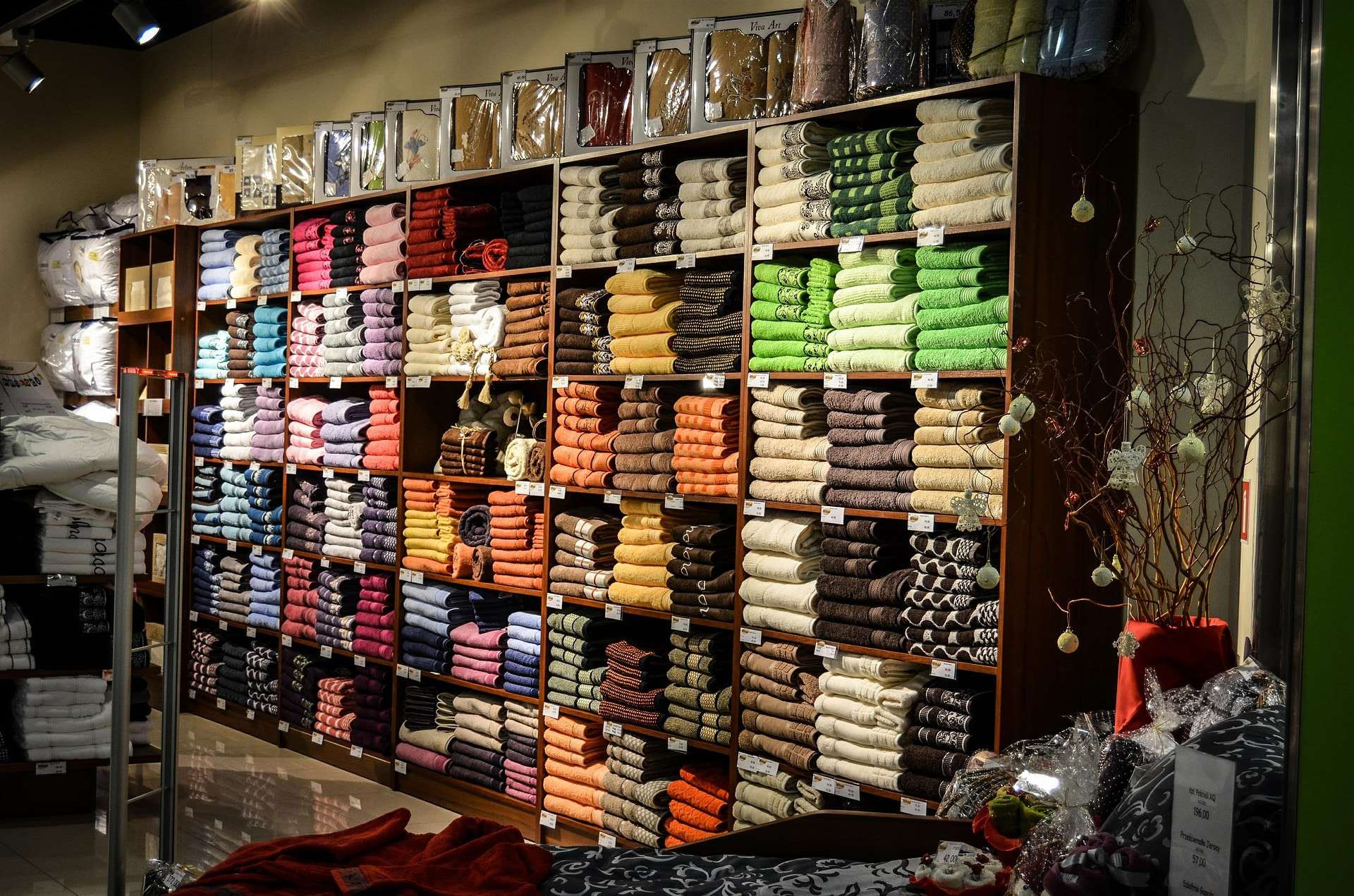 Image by Michal Jarmoluk from Pixa​​bay
We all know that the holiday season can suck you in and sweep away all of your time before you even know what happened. It's a blur of buying and wrapping gifts, baking cookies, and decorating your house inside and out. So some of us simply won't have the extra time to make a sweater even if you want to.
Luckily, there are plenty of other options online and in stores. The main issue when buying in a store is the fact that they all seem to stock the exact same sweaters. You run a high risk of wearing the same hideous article of clothing as someone else, and what fun would that be? I recommend checking out the online options like Amazon. They have a fantastic and unique selection from ugly to weird to highly inappropriate (for kids) to match any sense of humor and any age.
[amazon box="B07G82GXP6,B013QM6EGC,B005RRT476″ grid="3″]
Host an ugly sweater contest
If you want to motivate people to find the wackiest outfit, consider including an ugly sweater contest. Good competition always inspires a little extra fun. The best way to run the contest is to make it a game. Everyone can vote for their favorite ugly sweaters. Get a ballot box and consider coming up with silly prizes like fanny packs, ribbons, or ugly sweater ornaments.
[amazon box="B07DZRNCK7,B01IS5ZJRM,B01913MWFM,B00NT7RUJA" grid="4″]
Decorations Just For An Ugly Sweater Party
Image by rawpixel from Pixabay  
You don't need to go insane with the decorations. They might add a festive flare, but the price can add up quickly when there are so many other things to focus on. But it is a great way to add to the humor with ugly sweater party garlands or tablecloths. It would also be entertaining to add some drink labels to your wine. At least, if you are planning on having alcoholic beverages.
If you're going to have kids at the party, it could be fun to have them make decorations of their own or decorate gingerbread houses that have already been assembled. You might want to prepare for a mess, but it would give them something to do together. There are plenty of simple Christmas crafts that would be easy for them to make if you set up a kids craft table.
[amazon box="B076L1S95X,B076HXFXC7,B01M2Z15QV" grid="3″]
Fun Food and Drinks for an Ugly Sweater Party
Food and drinks are the areas we like to go a little wild. Keep in mind you could save some money by making it a potluck for your friends and family. That way you won't be the only one in charge of feeding everyone at the party.
Appetizer Trays and Snacks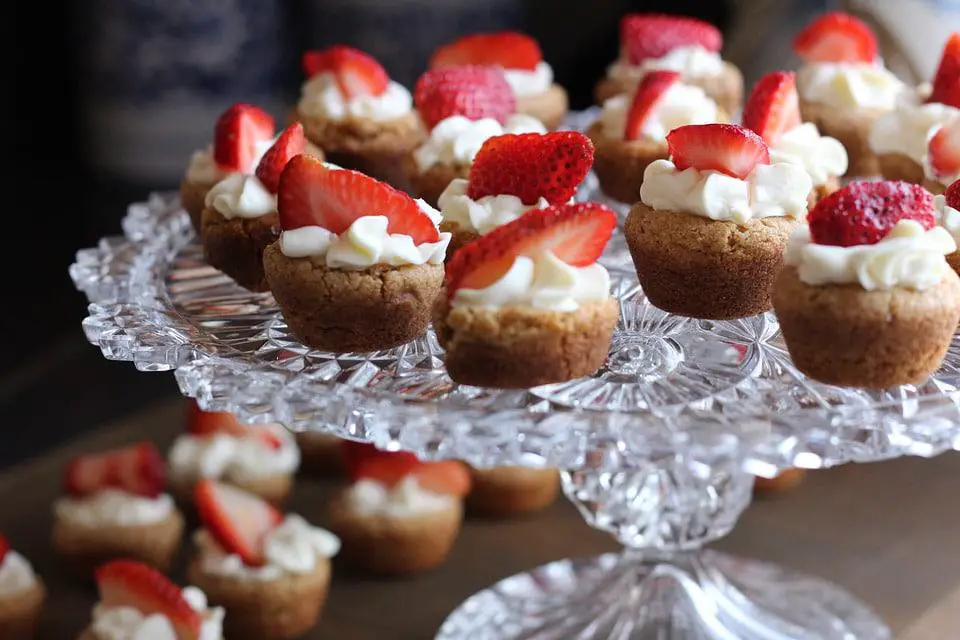 Image by HomeMaker from Pixabay
It's important to remember that you don't need fancy snacks for a ridiculous party. The whole point is having fun and keep things light. There are some fantastic trays that everyone uses as a go-to option. Consider meat and cheese tray, a fruit tray, a veggie tray, and a sandwich tray. That will certainly cover all your bases.
If you're feeling fancy, you might even add a fondue dipping station with a tray of goodies to dip in melted chocolate or cheese. But dips or cheeseballs are perfect options too because they are so easy to whip up ahead of time. Some group favorites are buffalo chicken dip, bacon cheddar ranch dip, and spinach dip. Throw in some chips and crackers, and you'll have some merry guests.
[amazon box="B073Z4MJZZ,B07684YT34," grid="2″]
Dessert Ideas
Making cute desserts to fit the holiday doesn't need to be a pain. There are fabulous ideas for many clever desserts. You can even spice up normal desserts with holiday decorations like these cupcake wrappers with ugly sweater toppers. What could be more perfect for an ugly sweater party after all? Or make ugly sweater cookies and leave them blank for the kids to decorate.
Holiday desserts ideas for a party

:
Rice crispy wreaths
Christmas tree brownies
Christmas light cupcakes
Melted Snowman cupcake
Reindeer Chow
Gingerbread cookie bars
Penguin Christmas cookies
Rudolph mint stuffed cookies
These are some adorable holiday desserts, but there is no limit to what you could make. You don't even need to stay on theme because your guests only care if it's tasty. You just get bonus points for making it cute.
[amazon box="B0176PFLPU,B01M3UE5PY," grid="2″]
Adult parties call for adult drinks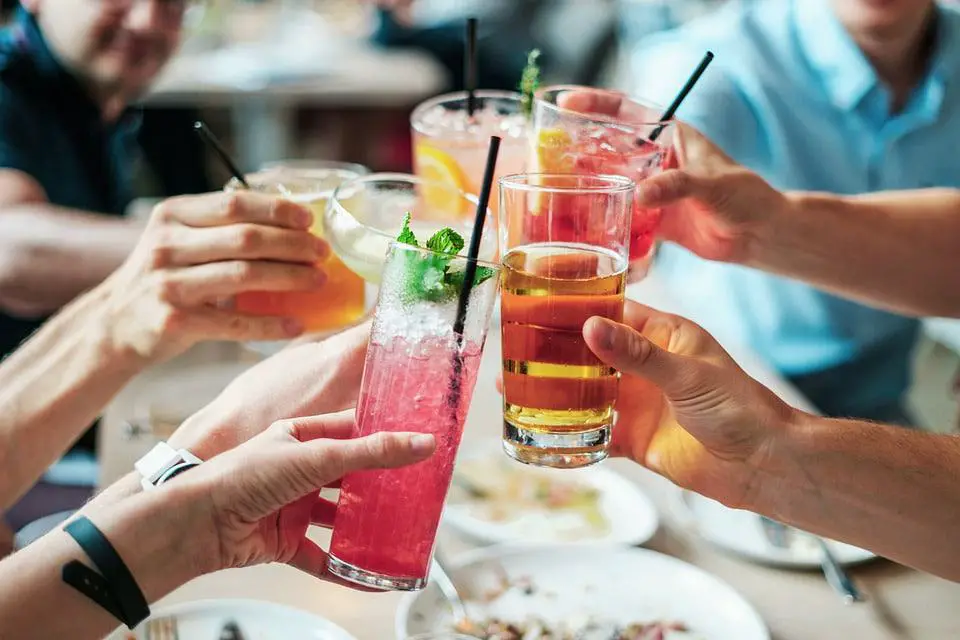 Image by bridgesward from Pixabay
Now, not every party needs to be fueled by alcohol. We all like to think our party days are long behind us. But it can be fun to have cocktails as an option at an ugly sweater party because it's a nice way to wind down for a second during all the stress of Christmas. Plus, only the people who want to drink are going to drink. So it's nice to give them the option or let them know if it will be a bring-your-own event.
You also don't have to stick to holiday drinks. They tend to lean towards minty or sugary concoctions. As a person who isn't very fond of either, I highly recommend choosing drinks you love. Although, I've never known a person who turned down a delicious spiked apple cider. Christmas wine glasses and shot glasses are a fun way to decorate and all you need to keep your drinks looking festive.
[amazon box="B0767R41CJ,B01M3S4DSD," grid="2″]
Make a hot chocolate bar
If you are going to have kids at your party, it's nice to give them something to be excited about too! Although if you're honest with yourself, you know you're just as excited about this suggestion. Making a hot chocolate bar is simple. You could even consider making your own hot chocolate that people can mix together for themselves. That is a great way to avoid too much waste at the end of the night.
Make sure you give them everything they could possibly need. It is a bar after all. So you will want to include marshmallows, crushed peppermint candy canes, sprinkles, whipped cream, and hot fudge. Add whatever else you can think of so people can get as creative as they want!
Activities Will Put Your Ugly Sweater Over the Top
The real fun at an ugly sweater party comes with the games. Keep in mind that you don't need to have any if you think it will be too much trouble. Everyone will understand how many other things you have to focus on at this time of year. Getting all your loved ones in the same place for some lighthearted fun will already be a blast.
But if you start planning early enough, there are plenty of games that you can include in your festivities without having to stretch yourself too thin.
Group games
Group games are always fun because the only time you ever have enough people to play them is at a party. There are classics like charades or card games, but it would certainly add to your party to have some holiday games.
[amazon box="B005HUWKAG,B07NTQCYGB," grid="2″]
Ugly gift exchange
Let everyone know in the invitation if you will be playing this game. It's as simple as it gets, but you will need everyone to bring something. You probably don't want to pay for all the gifts yourself, since that can seriously add to the cost of the party.
Get everyone to bring a gag gift and have it wrapped before the party. Then have everyone sit together in a circle. Each person will choose a gift to steal and swap their gift with the person they stole it from. Once each person has had a chance to steal, everyone can open their presents to see that they ended up with.
This game is great for an ugly sweater party because it is just supposed to be funny. No need to worry about getting the perfect gift for anyone in specific like you would in a secret Santa gift exchange.
[amazon box="B07G7D6CWV"]
Christmas trivia
If you have a bunch of friends who love trivia games, you could include this Christmas trivia game. You will need to do a little bit of preparation because you will need to either print out a game or make some note cards. The link provided has a mix of questions, and they vary in their levels of difficulty, but if you split the groups into teams, it should be fun and fairly easy.
via Giphy
[amazon box="B00003GPDC"]
Gift wrap relay
I know this might seem like a just a kids game, but it can be fun for adults too. All you're going to need are some boxes, wrapping paper, and some tape. Then have everyone split off into pairs. Each pair will tie one of their hands to a hand of their teammate. When everyone is ready, set two teams against each other. The goal is to work together to wrap a present faster than the other team. You can even make it a contest and move through the ranks until there is an ultimate winner!
Christmas version of Family Feud
Once I threw a baby shower for my sister, and I thought it would be fun to play a version of Family Feud. For that, I was able to find resources to give me baby specific questions and answers. It was fantastic, and almost everyone loved it. At least, everyone except that one Aunt who's always overly competitive and challenges all your answers. But besides that, it was the best party game I had ever put together. I also found that there are many useful links to the holiday version of Family Feud. So you wouldn't even have to overthink the questions, just copy them. Plus, this is the perfect ugly sweater party game.
Based on my experience I would recommend picking about eight questions from the website and setting up a poster board. Limiting the categories will keep the game from going on forever. Use a large piece of poster board to set up the game. Write all the questions and their top five answers in a grid. Then cover the answers with thick paper cutouts that have been attached with double-sided tape, I used cardstock. At the ugly sweater party, you will need one person to act as the game host and split everyone else into teams. After that, you can play like a normal game of Family Feud.
[amazon box="B014JP0SSU"]
Games just for the kids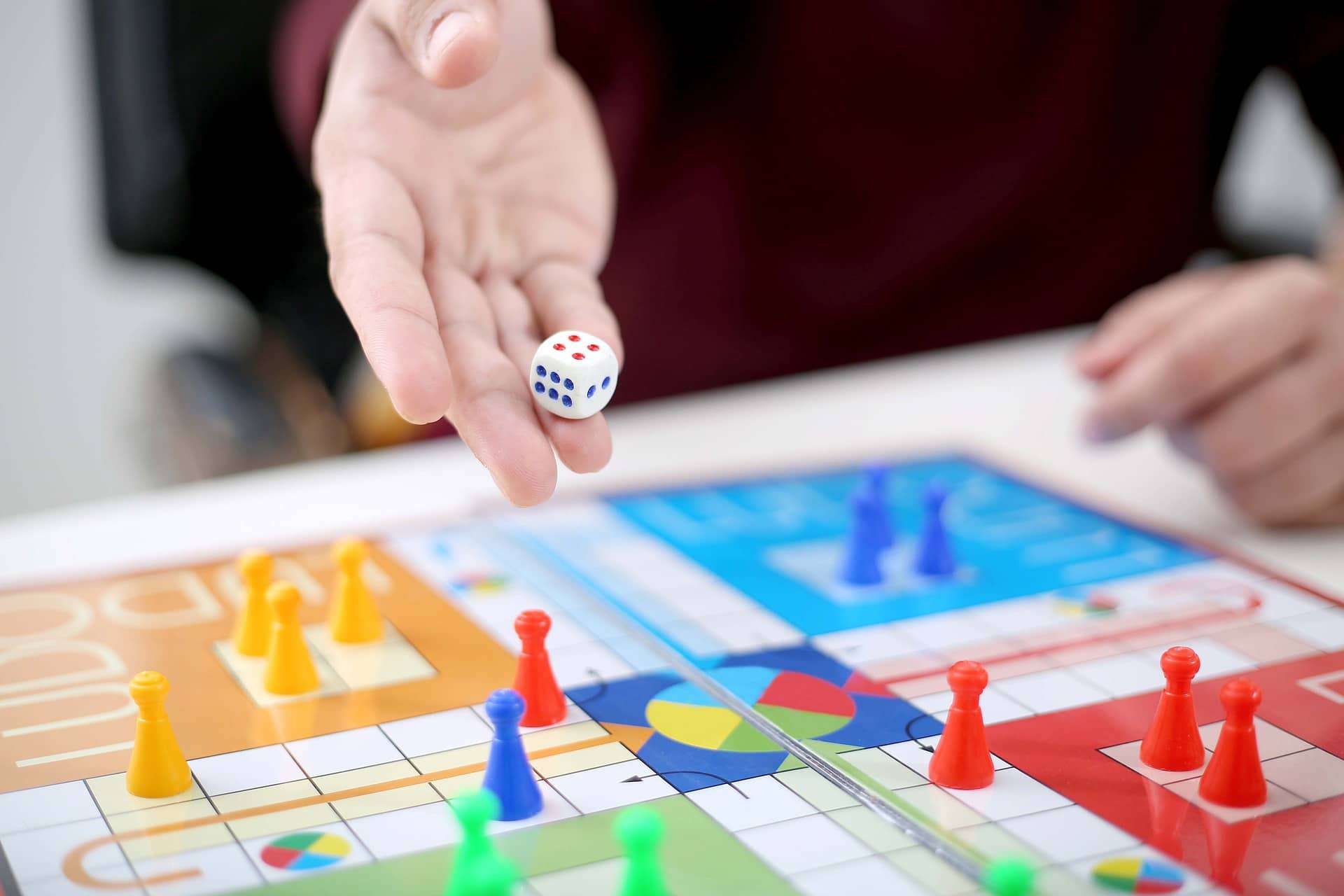 Image by F1 Digitals from Pixabay
The games listed above are a little advanced for younger kids, but the older kids might enjoy them. For younger kids, consider having simple games with a Christmas twist. Such as playing spoons with candy canes, musical chairs with Christmas carols, pin the nose on Rudolph, or Christmas bingo. You can get creative and turn kids games into the perfect games for an ugly sweater party.
[amazon box="B002NGZ9J6″]
Time to Throw Best Ugly Sweater Party of All Time
We are here to give you the best ideas you can use for your ugly sweater party. There's no rules or guidelines to follow. It's supposed to be a fun time to catch up with friends and family. So bust out the funniest or most horrendous ugly sweater you can find, make some awesome food, play some fun games, and blast those Christmas carols.
Have fun with it and don't worry about the little details. While it might be your dream to throw an epic party with a little bit of everything, the real key is getting a fun group together. You can't go wrong with a great group of friends.
Have you thrown an ugly sweater party? We would love to hear about your favorite food, games, or ugly sweater ideas in the comment section below.
Featured Image: Image by Annalise Batista from Pixabay