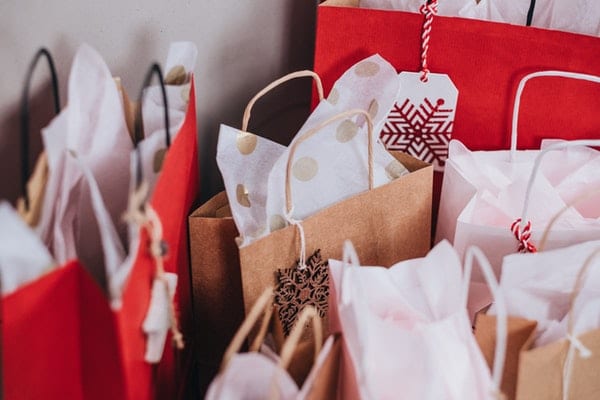 Finding that special person who is your best friend is one of the greatest gifts in life. They have been with you through thick and thin. Through each celebration or crisis, your bestie cheers you on and rides it out. So, how do you find the perfect presents for best friends?
Notably, you want to give your BFF something that is meaningful and sentimental, but also something that isn't going just to be put away for safekeeping, only to be found again years from now. No! You want a gift that will be seen and used every day. Whether your best friend is a guy or a gal, a unique little bobble that will remind them daily how much they mean to you. But, that's a tall order!
Presents For Best Friends: For Her
Think about your best friend. She is your rock and your partner in crime. What do you give someone who knows you so perfectly, as you do her? Well, let's see if we can help a little with that. Here are our top picks for presents for best friends — our best girlfriends.
Blankiegram I Love You Throw
First, for the best friend who prefers a cup of coffee, a good book, and a cozy spot to unwind, the Blankiegram I Love You Throw may be the perfect present for best friends. Generally ranging in price, it's like hugging your dear friend, even when you aren't there.
Next, the Willow Tree keepsake box is a creation by Artist Susan Lordi, creator of the beloved Willow Tree collectibles. Considering that inside the box has the beautifully written message, "Forever true, forever friends," your best friend will know exactly how you feel about her.
Now listen, your best friend likely takes her keys with her everywhere she goes, right? That is to say; she uses her keys nearly every day. Well, you could give her the Best Friend Keychain with the message, "Not Sisters by Blood but Sisters by Heart."
"Knock Knock Why You're My Bestie" Fill In The Love Journal
So, this gift may get put away on a bookshelf, but the Knock Knock Why You're My Bestie Fill in the Love Journal will help you tell your best friend exactly what you want her to know. This journal is one of the best presents for best friends because she can read it over and over again!
Special Friend Butterfly Suncatcher
Next on the list of best presents for best friends is this beautiful suncatcher that will add a little color to any sunny window.
Aprilis Large Bath Bombs Gift Set
The gift of relaxation! Who doesn't love a bath with bath bombs? All the rage, the Aprilis Large Bath Bombs Gift Set will make your best friend rejoice!
Essential Oil Diffuser Bracelet
Essential Oils are gaining in popularity, and while most people diffuse them, there is another convenient way to enjoy aromatherapy. Perhaps your best friend would love the Essential Oil Diffuser Bracelet. This present for best friends will allow her to take the scents of lavender, jasmine or any of her favorite essential oils on-the-go.
Flower Glass Tea Mug With Spoon
If your BFF loves tea, then this Flower Glass Tea Mug with Spoon may be the best present for her. It's just not possible to have a cup of tea in this ornate cup and not feel appreciated and loved and most importantly, that's the message this beautiful set will send to your best friend.
You Are The Monica To My Rachel Coffee Cup
Friends fans unite! The You Are the Monica to My Rachel Coffee Cup is such a fantastic present for best friends that it comes in a set of two. Therefore, it's one for your bestie and one for you!
Owl Pot Ceramic Flowering Succulent Pot Set
Last but certainly not least, one of the best presents for best friends is the Owl Pot Ceramic Flowering Succulent Pot Set. It includes six small pots that will look adorable in a kitchen or bathroom window.
Presents For Best Friends: For Him
He's the guy you call at 3 a.m. when no one else will understand. Notably, it's sometimes difficult to truly express to your best buddy how much he means to you. Therefore, we have it covered. Here are the best presents for best friends — our guy friends.
Whether your best friend likes his whiskey neat or on the rocks, this Whiskey Stones Gift Set will fit the bill. This set says class with crystal whiskey shot glasses, eight whiskey stones, a velvet bag, and a beautiful wooden box to keep it neatly together.
Cereal Killer Weapon Of Choice Spoon
Cereal for breakfast, dinner, snacks — does this sound like your BFF? If so, give the cereal connoisseur in your life this hilarious spoon. The Cereal Killer Weapon of Choice Spoon will brighten your best friend's day or night.
Another present for best friends that will leave a lasting impression is this gorgeous Leather Journal Gift Set. Give him the gift of a journal so he can jot down great ideas, his to-do lists, drawings, and more.
Does your BFF love to grill at his house? If the answer is yes, then it is clear; the BBQ Grill Tool Set is a perfect option as a present for best friends. This complete set will launch his grilling game to a whole new level.
Did no shave November come and go, and your best friend held on to his beard? If so, he will appreciate this Beard Grooming Kit that includes all the goodies. It includes shampoo, oil, balm, a brush, a comb, and scissors – all bundled in a handsome metal gift box, with a few bonuses!
Next, bring the galaxy that is far, far away into your best friend's kitchen with this Cosmos Kitchen Knife Set. Each knife is a stunning display of the universe.
Eat, Drink, And Be Mad Libs (Adult Mad Libs)
Remember sitting and laughing with friends over the silliness of Mad Libs? You still can! The Eat, Drink, and Be Mad Libs still have the humor and fun.
Ventless Indoor Tabletop Fire Bowl
Oh, this one has the cool factor. Imagine your buddy's reaction when you give him the Ventless Indoor Tabletop Fire Bowl. In the center of a coffee table or even outdoors on a patio, this tabletop fire bowl uses bioethanol and does not need a vent. Furthermore, the flame will warm a room up to 250 square feet, so this is not only beautiful, it is functional, too!
Last but certainly not least is the very popular Himalayan Salt Lamp. There is much talk about the holistic benefits of Himalayan salt in our homes. However, even if the only advantage is aesthetics, the glow of these lamps are warm and cozy.
Giving Presents Is Good For Your Wellbeing
Also, there is another reason for showing your friend appreciation by giving them a present for best friends. Research shows that your best friend is not the only benefactor of your gift giving. Studies show that giving presents to loved ones is good for our health. In other words, it's a pure win/win that spreads a little more happiness.
All in all, that's good for everyone. Accordingly, what is the favorite present for best friends you've ever given or received? Tell us in the comments.
Last update on 2021-12-09 at 04:32 / Affiliate links / Images from Amazon Product Advertising API