*This post may contain affiliate links. As an Amazon Associate we earn from qualifying purchases.
Nothing calls for a big party like New Year's Eve. One night a year, it becomes completely acceptable to stay up way too late. In fact, staying up past midnight is mandatory. So is finding someone to kiss when the clock strikes 12. Choosing from the most successful New Year's Eve party themes will help you throw a party that your friends and family will remember throughout the coming year.
Planning a party can be a pretty daunting task. The moment we celebrate the new year has its own traditions: confetti, kisses, noisemakers, and popping champagne bottles. However, entertaining a house full of guests for the preceding three or four hours takes careful planning and some forethought.
People remember New Year's Eve moments. It may be a significant night with a special someone, or the only time your friends have a chance to gather together at once. Many people consider it a way to say farewell to an unforgettable year. Planning a party with New Year's Eve party themes will help you create those lifelong memories for your guests.
What Are New Year's Eve Party Themes?
New Year's Eve party themes can be any party theme at all. Many classic themes feature elegant cocktails, over-the-top food, and dressing up. You could also plan something more laid-back, like a bonfire night under the stars to ring in the new year. One of the tricks to throwing amazing parties is to create anticipation in your guests, and choosing a fantastic theme does just that.
Throwing a Party Right
Most New Year's Eve parties will require some commitment from your guests. They'll need to find the right outfit, and perhaps the right babysitter, in order to attend. Many people start planning their New Year's Eve right after Thanksgiving. So, make sure you chose any New Year's party themes early enough for your guests to plan. Get your friends on board early to stir up some excitement.
Have a Plan
Far too many parties die before they ever begin because of poor planning. Try to remember the little things that will make a big difference come party time. For example, call your neighbors and let them know about your plans. Better yet, invite them, so you don't make any enemies.
Take a few minutes for common sense planning about logistics like parking, coats, and designated drivers. Ask close friends and family to volunteer to help or even take over a few tasks. You can never plan too far ahead or be too prepared. The less you have to do when the guests start arriving, the more time you'll have to interact with your guests and have some fun yourself.
Part of planning your party means making time to get plenty of pictures and video. Many hosts set up photo background or a photobooth for their event so that all the guests have a chance to take souvenir pictures at the big blow out. You can even set up a webpage that hosts the invitations and any photographs. Your guests can then access the site to upload and share images. Look at websites like PictureX, DropEvent, or even Facebook. One advantage to Facebook is that it can also send your invitations, keep track of guests, and let you notify them if any of your plans change.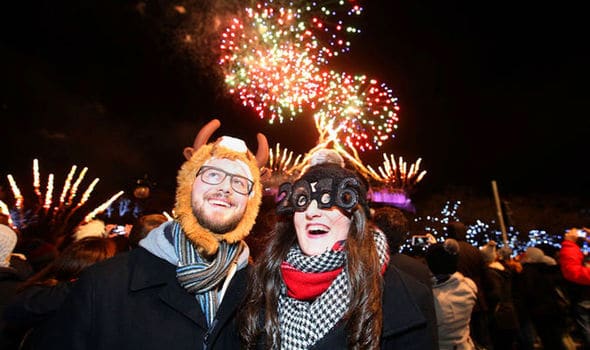 Consider Your Guest List
A New Year's Eve Party requires a lively atmosphere. You may already have a list in mind, but don't be afraid to invite people you might normally pass over. Consider new co-workers who haven't had a chance to make friends yet. Working moms and dads may appreciate a night away from the kids. Even your older family members might love a rare night out.
Whoever you do invite, remember to keep all of your guests in mind when deciding which of these New Year's Eve party themes to use. If you have a mixed crowd of adults and children, make sure you have a way to amuse over-tired and bored youngsters. If you're inviting elderly relatives, make sure they have somewhere relatively quiet to sit and chat or play cards until the big moment.
Choosing the Menu
Unless your guests are very close friends and family, you may not know what they can or can't eat. So, try to select a variety of menu items that are universally appealing. You may be using one of those New Year's Eve party themes that dictates a particular menu. However, whichever one you choose, consider adding a vegetarian option, along with some sugar-free or gluten-free items so everyone can indulge.
And speaking about indulgence, remember to cater to your designated drivers. These volunteers should be the real VIPs at your New Year's Eve party. So, make sure you have a selection of non-alcoholic drinks and even hot coffee and cocoa to bolster these everyday heroes before they face a cold night's work shuttling party guests home safely.
4 Best New Year's Eve Party Themes
Finding the best choice from a list of New Year's Eve party themes will depend on the kind of guests you're planning to invite. Consider their ages, interests, and lifestyles. Also, consider their hopes and dreams. Remember, you're building a party that leads to a moment you want people to think of fondly forever.
New Year's Eve often conjures at least one moment that stands out in everyone's memories. Whether you had your first kiss with the person of your dreams at midnight, kicked off a really amazing year, or just went to an unforgettable party, being able to attach it to something like New Year's Eve makes it all the more special. Whichever theme you choose, remember that your staging that special moment for every one of your guests.
Times Square
For more than 100 years, the ball has dropped from a rooftop on Times Square, signifying the start of the new year. There are probably few things more recognizable in American culture.
The Times Square party is perfect for those who love the excitement of the big city. When you think of New Year's Eve at Times Square, you think of people bundled in the cold, waving at the camera. For your home party, you can recreate that feeling without having to endure seven hours in the sub-zero temps.
As for lighting it up like Times Square, you'll go far with multi-colored Christmas lights. 'Tis the season, after all, and in Times Square, colorful is everything. Add to the ambiance with photo backdrops featuring this iconic neighborhood in Manhattan. Dedicate a TV to the NYC live cam feed, as well as the network feed, so you can catch all the real-life street action. The network feed, of course, will be on the main screen.
The beauty of the Times Square party theme is that you're part of something iconic in the very moment it's happening. People who have dreamed of living that night under the shimmering lights on Broadway will get to enjoy the next best thing.
Baby New Year
This is one of the top New Year's Eve party themes because you can add a little twist. Everyone knows that over the course of the year, Baby New Year becomes Old Man Time. And for your party purposes, it's a fantastic theme. Your guests come dressed as someone famous from the year they were born. If you've given your guests enough time to plan ahead, those with similar birth years will find things in common and coordinate outfits or props.
To get conversation going, have them bring pictures of themselves through childhood. Set up a board with a timeline and labeled years or decades where your guests can display their pictures.
If your guests know each other pretty well, have them bring baby pictures to display, and have your guests try to guess which baby is which guest. You can also create a slideshow that features images of famous people and events throughout the years.
This is one the best New Year's Eve party themes for creating interaction between your guests. And once you've just created a situation where your guests can find common ground, there will be no shortage of conversation.
Singles Only
Are you single? Do you know a lot of single people? In an age when people spend more time looking down at their phones than they do connecting with each other, a singles party might be just what the doctor ordered. How easy is a singles party? Pick any of the New Year's Eve party themes and attach the words "singles only" to the invitation.
Your goal is to throw a party that makes people smile and keeps them engaged. A house full of single people all staring at each other isn't going to do anyone any good. You'll end up watching the ball drop all by yourself, sad that your last guest had to get home to her labradoodle. Although it sounds silly to find party games for grownups, they do exist and can help break the ice. Keep your guests in mind, however, and be aware of their boundaries. It's best to start off with some "clean games" to be safe. Let the crowd decide for themselves what is and isn't too personal.
A singles party takes attention and finesse to pull off. You'll need to be ready to make introductions and direct conversations. It's a good idea to choose light finger foods so your guests won't have to juggle plates and forks as they try to mingle. Also, make sure you have flattering lighting as well as seating areas that offer some privacy so your guests can talk together quietly if they like.
My Favorite Year
Along with welcoming the incoming year, why not celebrate your favorite year? With this theme, have your guests dress from their favorite year. They can choose to dress from an era from the past or even their own lives. They can choose a known figure from an important historical event or even come as themselves during their senior year in high school. It may sound a bit disorganized, but think about how much of your friends will have trying to guess which year the others have traveled from in time.
As the host, you can choose whichever year is your favorite for the food and decor. Love the '70s? Don't forget the jello salad! Have a thing for the '40s? Set up a martini bar and wear a sharp, broad-shouldered suit. With New Year's Eve party themes based on years or decades, people can have a lot of fun showing up as anyone from the distant past.
The Most Important Element: Have Fun!
Great New Year's Eve party themes get your guest talking and interacting, whether they are feasting, dancing, or hitting the karaoke machine. Your success depends only on your commitment to showing your friends, family, and coworkers a genuinely good time.
As parties go, you can't beat Baby New year. People from all walks of life will love meeting with others the same age and talking about their memories growing up. My Favorite Year allows your guests to reveal a secret side of themselves. Who knew that Joe in Accounting was just a fan of Lord Byron? As far as a Singles Only party, you can have fun playing matchmaker. And who knows, you may find yourself with a date for Valentine's Day by the end of the evening.
When you put your heart into it, whichever of these New Year's Eve party themes you choose on will be an exciting adventure. And the ambiance you've staged for that that all-important New Year's Eve moment will reward you, your friends, and your family with memories that will last a lifetime.