*This post may contain affiliate links. As an Amazon Associate we earn from qualifying purchases.
If your house is anything like mine, Minecraft is often the go-to option on a rainy Saturday. My kids create and build in virtual worlds among cliffs and oceans. Minecraft is beloved by kids of all ages, and for many, it's their favorite game. If that's the case in your home, then it's of little surprise that you're looking for Minecraft party ideas. Picking an interest of your child's as a party theme is always a good idea.
Honestly, when my children started playing Minecraft, I was skeptical about the benefits of a video game. However, after a little research and watching them play, it was evident this isn't a standard game. Later, I even discovered that our public library is on board, offering Minecraft coding classes for children over summer vacations.
Why Minecraft?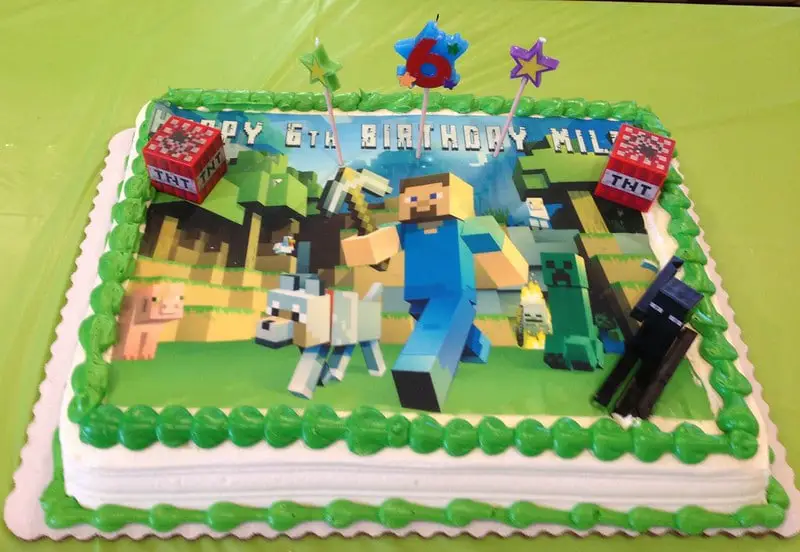 image source: flickr.com
Minecraft stands out among other video games because of its broad educational applications. Some teachers are even recognizing the benefits of using the video game for STEM activities. Of course, when it comes to kids, they love the game. But parents, rest assured, this one is a little different. Researchers say Minecraft has "been shown to have benefits for both learning and emotional growth."
So go ahead, plan that Minecraft party!
19 Minecraft Party Ideas For Your Little One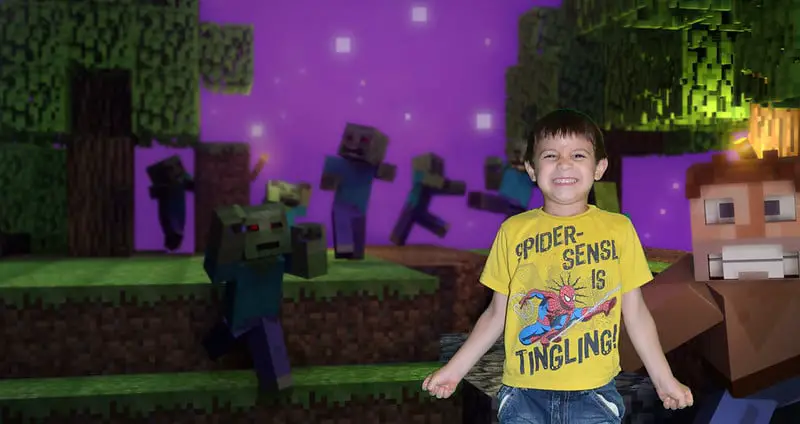 image source: flickr.com
There are so many great items on the market for Minecraft party ideas, from basic supplies and decorations to little party favors and games, and, of course, food, you will be able to transform your party place into a pixel wonderland that is sure to please your miner.
Minecraft party ideas: supplies and decorations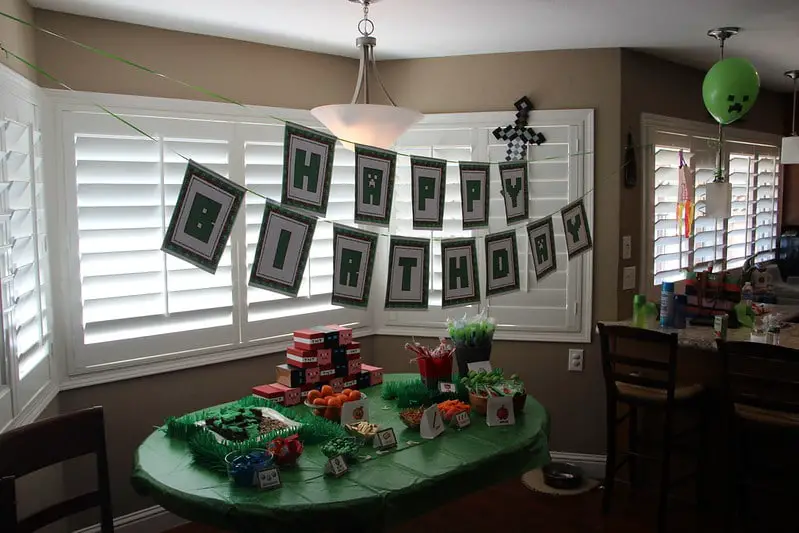 image source: flickr.com
First, you need the basics. Fortunately, there are plenty of products available when it comes to Minecraft party ideas.
1. Pixel Party Large Invitations
First, we will start with the invitations. Pixel Party Large Invitations measure five inches by seven inches and are printed on matte paper, making them easy to write on without streaks. You'll receive 12 invites and 12 envelopes.
2. Blue Orchards Mining Fun Standard Party Pack
Next is the tableware for your Minecraft party! Our favorite is this Blue Orchards Mining Fun Standard Party Pack, which includes dinner and dessert plates, cups, and napkins for 16 party goers.
3. Pixel Mine Crafter Style Party Tablecloth
You'll also need a fun tablecloth to round out your table settings. This plastic covering measures 108 inches by 54 inches, which provides ample coverage for a large table. 
4. Pixel Cupcake Toppers And Wrappers
Whether you bake cupcakes, make some rice crispy treats, or go the store-bought cupcake route, these Pixel Cupcake Toppers and Wrappers are a Minecraft party idea sure to please everyone. This set includes 24 wrappers and 24 toppers.
5. Pixel Style Miner Party Balloon Pack
What's a party without balloons? The Pixel Style Miner Party Balloon Pack is perfect for your Minecraft party. This pack includes 25 pixelated balloons measuring 12 inches in diameter.
6. 'TNT Party' Hanging Swirl Decorations
Finally, no party room is complete without decorations hanging from the ceiling. Skip the solid-colored streamers and check out these 'TNT Party' Hanging Swirl Decorations. The package contains a dozen pieces, which includes 6 foil swirls without cutouts, 3 swirls with 7-inch cutouts, and 3 swirl decorations with 5-inch cutouts.
Minecraft party ideas: party favors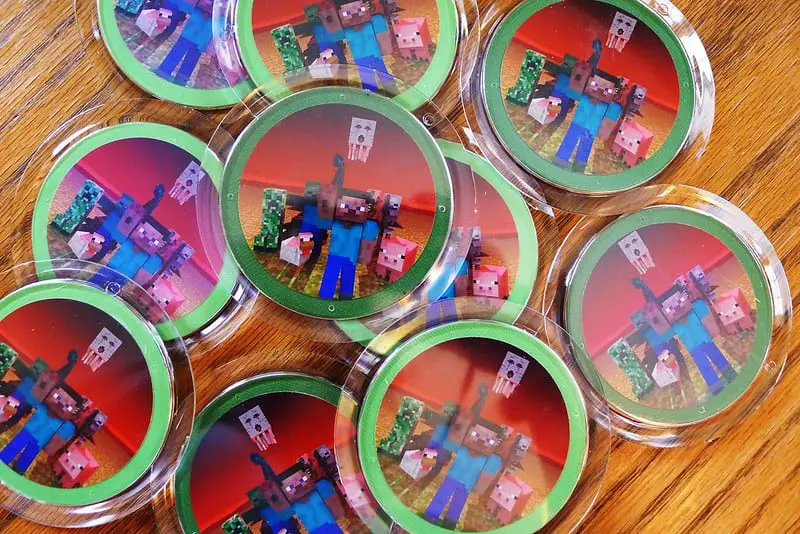 image source: flickr.com
The next Minecraft party idea is all about the party favors. Kids love them, and they add to the aesthetic of your party. We found these cute options that are sure to put smiles on the faces of everyone in the room.
7. Pixel Mining Inflatable Pickaxe Birthday Party Toy Favor
Equip your little miners with these cute inflatable pickaxes. These come in packs of 8 and measure 15 inches long by 10 inches wide. Your invitees will be very excited to have their very own pickaxe, just like they use on the video game!
8. Katzco Pixel Sunglasses
Next, pixelated sunglasses are a great Minecraft party idea! Pass them out to the kids and watch their cool factor go through the roof.
9. Pixel Mine Crafter Style Character Wristbands
Spiders, skeletons, creepers, and diamonds, oh my! Pass out these Pixel Mine Crafter Style Character Wristbands to your little partiers, and they will be wearing them long after the party is over. These bracelets come in packs of eight, and each package includes two of each style.
Minecraft party ideas: activities and games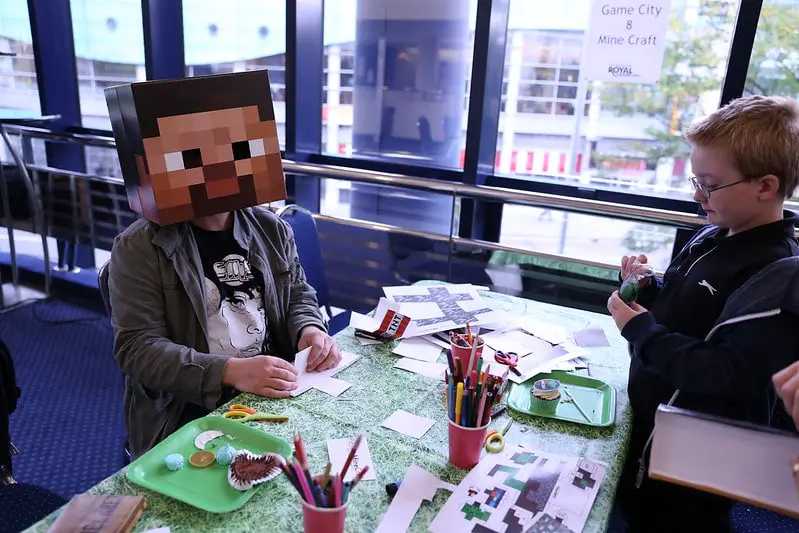 image source: flickr.com
Next, party games keep your invitees entertained and happy. You can modify and theme many traditional party games for Minecraft party ideas. To get you started, here are a few Minecraft party ideas.
10. Birthday Galore Mining-Pixel World Photo Booth Props Kit
Photobooths are all the rage and will create memories to last a lifetime. Mining-Pixel World Photo Booth Props Kit will match your photos with your party theme. Imagine looking back on cute pictures of your Minecraft party with your littles and these adorable props.
11. Pin The Tail On The Pig
Do you remember playing pin the tail on the donkey as a child? Well, this game is Minecraft-themed as Pin the Tail on the Pig! Reviewers made a point to mention that the poster is on the small side measuring 13 inches by 19 inches. It also includes 12 little tail stickers.
12. Minecraft Animal Scavenger Hunt
With a Minecraft Papercraft Animal Mobs Set, you can hide the crafted animals and have the children find them. Or, go more advanced and create a custom scavenger hunt. The children can also use them for their intended purpose and build them during the party.
13. Minecraft Musical Chairs (Musical TNT)
The folks over at The Spruce have a long list of Minecraft inspired games to play with kids of all ages. "Musical TNT," which is musical chairs with a Minecraft twist, is one of our favorite Minecraft party ideas.
In this game, you will label one chair "TNT" and keep it in play the entire time. You will remove a single chair at the end of each round. Then the person stuck in the TNT chair is "out." It's also suggested to hide the TNT label on the bottom of the chair and to shuffle the chairs each round, which adds the element of surprise.
14. Mining For Diamonds
Another creative Minecraft party idea from The Spruce is to freeze small gemstones in ice cubes and give the kids spoons. They can chip away at the ice "mining" for their diamond. Plastic gems like SunRise Acrylic Diamond Shape Pirate Treasure are available through online retailers like Amazon.
15. Candy Scavenger Hunt
The blog Moms & Munchkins featured some adorable Minecraft party ideas including a fishing game and hidden chests. However, the candy scavenger hunt is by far our favorite.
To make this scavenger hunt, you will print a small "inventory" card and place it in a small pail. Then, you hide candies that look like key elements of Minecraft around your party area. Next, the kids search and fill their buckets with all the items listed on the card. You will notice that favorite candies like Dots, Swedish Fish, dark green jelly beans, watermelon fruit slices, and Robin Eggs are just a few things you can use to as inventory items.
Minecraft party ideas: food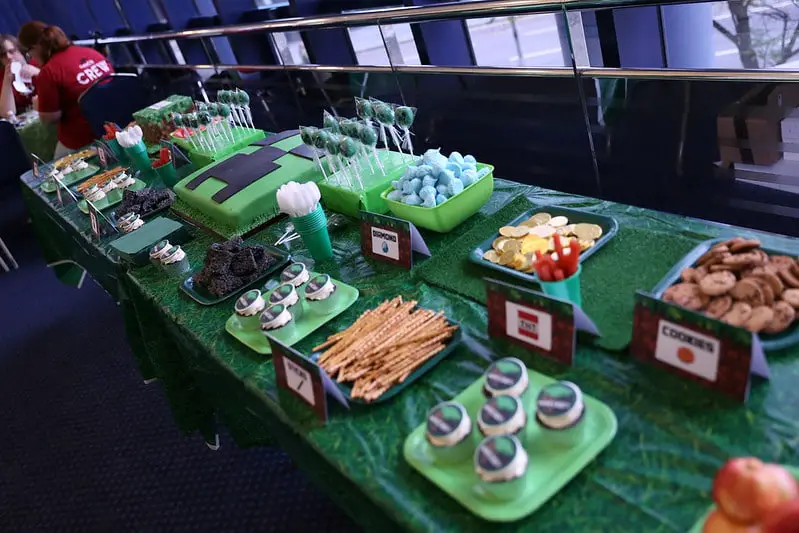 image source: flickr.com
Finally, it's all about the food! You can have fun making party foods, but Minecraft party foods take that creative inspiration to the next level. There are a plethora of things you can do for Minecraft foods, but these are a few of our favorites.
16. Minecraft Rice Krispies Treats
First, The Chic Site has a perfect Minecraft party idea. You will thrill your party guests with these Rice Krispy treats made to look like blocks of ground from Minecraft. Ingredients are as simple as Rice Krispies, Cocoa Krispies, miniature marshmallows, butter, and food coloring.
17. Minecraft Elements Table
Next is your main food table. Snacks and treats at your party can be easily made to look like elements from Minecraft gameplay. DIY Inspired has some creative and fun ways to create those elements with food. For example, rock candy can pass for coal. Dirt finds a spot on the table as brownies. Bars of gold and iron are simply Hershey's Nuggets. Twizzlers candy makes perfect sticks of TNT that can be bundled or boxed. Our favorite is water represented by blue Jello — so cute!
Also, the blog Catch My Party has free adorable tented food card printables for an elements table as a final touch.
18. Creeper Punch
Now, you can't have a party without some party punch. Creeper Punch is a recipe shared by the blog Totally the Bomb and is a take off a traditional party punch, except this one is creeper green! You will need three simple ingredients for this recipe: Sprite, Lemon-lime Kool-Aid, and lime sherbet. Can you just imagine the looks on their faces when they see this?
19. Minecraft Birthday Cake
Last, but certainly not least, what birthday party is complete without a birthday cake? And what Minecraft birthday party is perfect without a birthday cake that looks exactly like the cake block in the Minecraft video game?
So, if you're feeling especially adventurous, check out the tutorial on Eating on a Dime. With square cake pans and a free afternoon, you'll be able to whip up this stunning birthday cake that is sure to be a fan favorite.
Party Time!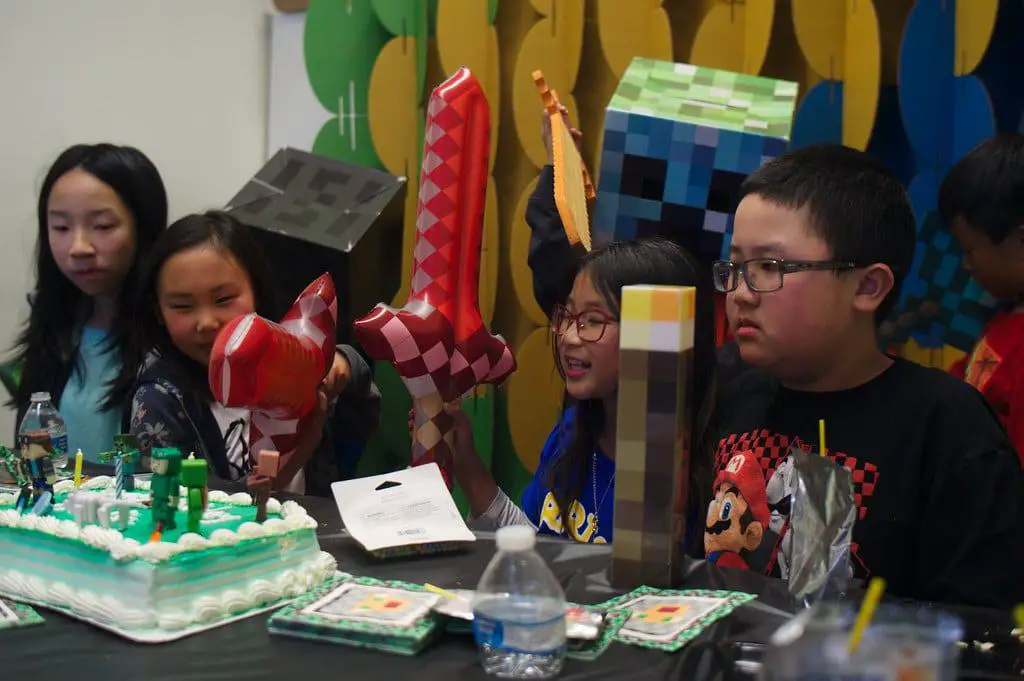 image source: flickr.com
Whether you go full-on "creative mode" and build a candy scavenger hunt for 12 or you're in "survival mode" and store-bought activities out of the box are just the right kind of magic — your Minecraft party will be pixel perfect. In other words, get creative, let the kids get creative, and have a blast!
Most importantly, you're giving them a party they will remember for years to come, and that's what it's all about.
What are some of your favorite Minecraft party ideas? Share them in the comments below!