*This post may contain affiliate links. As an Amazon Associate we earn from qualifying purchases.
The world's gotten creative with house party themes over the years. Just look at the Real Housewives of Wherever and see! Imagine a party where everyone's dressed up like it's Halloween. Visualize all the finger food decorated to remind you of your favorite TV show. Or think of your venue decorated with plants, animals, and vines, as if you were in a jungle.
Throwing a themed party is a great way to celebrate various events like school reunions, birthdays, graduations, and even weddings. But planning house party themes may be overwhelming. You might think it's too costly or extravagant with the costumes, decorations, and food, but it doesn't have to be. A lot has changed in hosting themed house parties.
In this age of information, there is plenty of free and easy access to instructions for do-it-yourself arts and crafts that narrow down your budget and helps you create the theme party of your dreams.
What is a House Party Theme?
A house party theme is a customized and stylized blowout planned and arranged in the comfort of your or someone else's home. Themes are in place to entertain the partygoers. Additionally, attendees comply with the terms of attending with a dress code. The best part? The overall experience of the theme from stage or venue decorations and design, cute food arrangements, exciting games and other dressed up party-goers.
Why You Should Consider A House Party Theme
The essence of a party is the celebration of milestones and building lifetime memories. A themed event is way better than a typical party because they can transport you in different kinds of world or era. Furthermore, throwing a themed party not only challenges your creativity but also tests your guests to socialize and mingle under certain conditions. Keep your guests happy with a themed party.
How To Throw A Themed House Party
Top of the list is your guest list and the setting of the scene. Choose where you're hosting. Is it your living room, dining room or your backyard? Whichever you pick, it must answer how do you maintain the genuineness of your desired theme.
When it comes to food selection, don't forget the picky eaters so try to put as much variety on your table as possible. Also, keep in mind your theme and align the food and drinks to be served. Never forget to serve easy to eat and delicious food for your guests to enjoy. You can play along with your creativity and create food stations and drink bars.
Do not forget the music; your music will not only rely on the theme you picked for your party, but you can also play songs that your guests are familiar. Lastly, never forget the entertainment part of the event. Research activities on the internet such as games, quizzes, a test of skills in singing, dancing and many more to engage your guests.
Overall Price Range of House Party Themes
The decorations (from fabric to hanging items) and likely the food will heavily depend on your expenses. Moreso, the outfits would incur much.
You don't have to worry much about the prices of your outfit or the overall atmosphere your venue will bring. It's easy to find what to wear; sometimes you can skim through your closet for a costume. Also, decors are DIY, and food selection is mostly finger food.
10 Awesome Ideas for House Party Themes
Now that you already decided to host the party in your home, the food that you'll be serving and got the guest list is in check; it's time to pick the best theme of your party.
1. Game night house party theme
Spend a night with your friends after a tiresome work week with beers and chips. Add some competitive atmosphere to spice up the night! Bring out the child in you and enjoy fun games like Monopoly, Scrabble, and Clue. Not into board games that much? Then invite your friends to play Uno or the classics: Black Jack or Poker. 
Catch your game loving friend's attention with fun-looking invitations such as a poker chip or an Uno stacks/card-inspired invitation. Another is a print-out of a miniature gameboard with the party details on the back. Definitely enough to invite your competitive guests. 
There is no need to spend much on decorations for this one. You can create banners out of game money, bingo cards, and playing cards.
There's nothing more perfect than pizza, chicken wings and chips when it comes to food. Don't forget the soda!
[amazon box="B00CV5PN2W,B00NQQTXU8,B07BGB7PN4″ grid="3″]
2. Wands and magic by Harry Potter
Pick up your wands and dawn your robes because we're casting a magical spell. Muggles are also welcome! Give your invitations a wizardly twist. Create a Hogwarts acceptance letter or a Hogwarts seal stamp. Your invitations will surely stand out from the rest.
If setting up an extraordinary world with a castle, floating candles, moving staircases, magical portraits, and flying brooms isn't possible, keep it low-key by buying toy owls to be placed in the best part of your home. Purchase fabrics in colors of red, green, yellow and blue to commemorate the Hogwarts houses: Gryffindor, Slytherin, Hufflepuff, and Ravenclaw.
Provide your fellow wizards and witches some Hogwarts inspired treats like Mrs. Weasley's corned beef sandwiches or Hagrid's rock cakes. Pair it up with the famous Harry Potter's butterbeer.
[amazon box="B00DU6BREY,B01MQY3UCQ,B0173NBNZC" grid="3″]
3. Luau fun house party theme
Grass skirts on as your place becomes the perfect tropical getaway. Sit back and relax by the lawn chairs or maybe show off your dance moves with the Macarena.
Advise guests that outfits must be floral patterns, both in dresses and polos. As the host, you must prepare leis of tropical flowers, or if you're on a tight budget, you can improvise by making hand-crafted leis with Japanese papers.
A Luau-themed party can be made either inside or outside an event place. Make it warm and colorful by having lots of flowers decorated in the venue, some coconuts, and the sea drawn on the walls and spiced up with the soft tropical paradise tunes played on the speakers. If you prefer the outdoors, do not forget to prepare tiki torches and colored lights.
The best menu for this kind of party includes grilled foods and those that mixed up with pineapples. As for drinks, you must not forget to serve tropical cocktails for adults and fruity shakes for the young at heart.
[amazon box="B072Q9XHMF,B07417WF8D,B000QVCXP8″ grid="3″]
4. Saving the day as a Marvel Avenger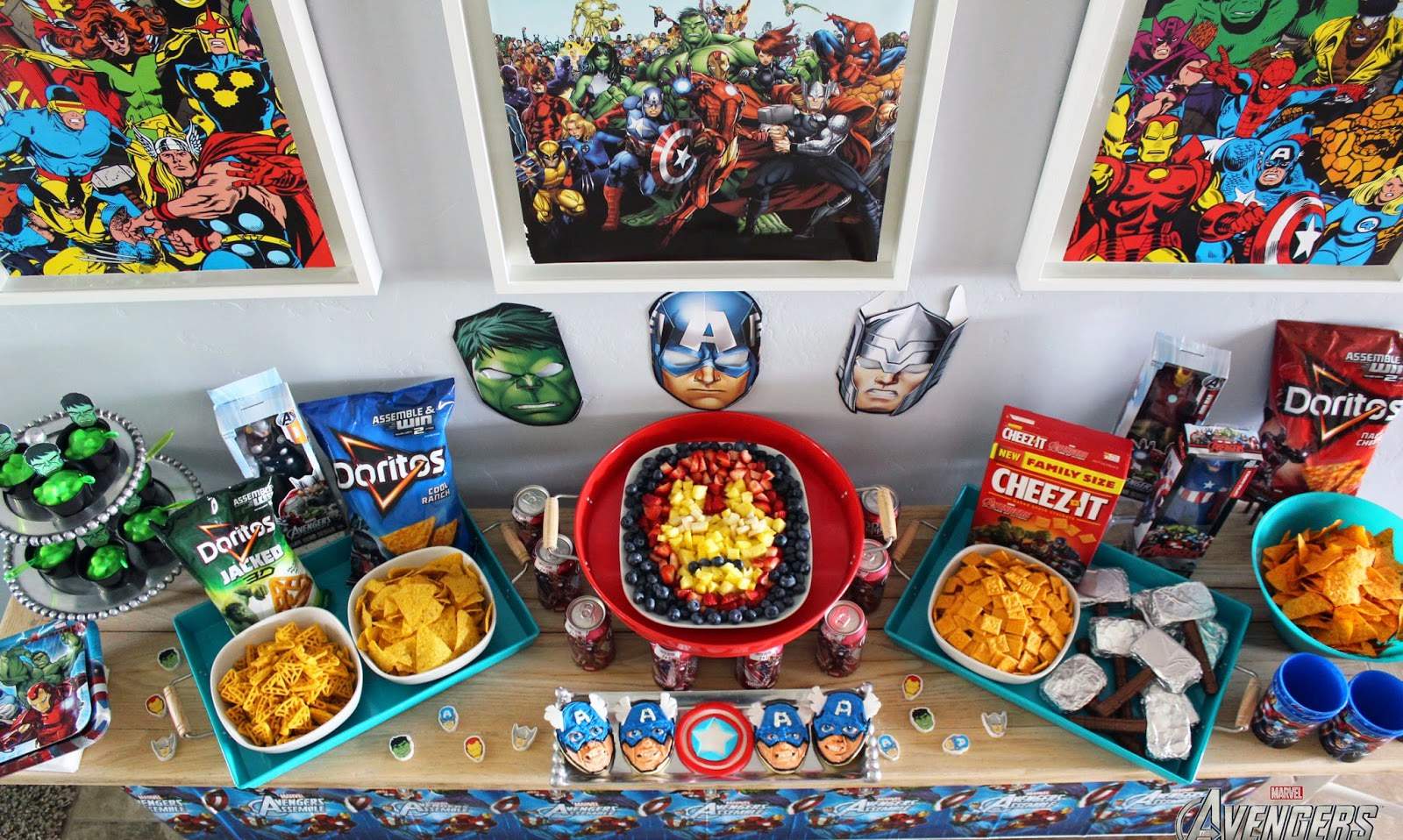 Gather your fellow heroes and villains alike for a momentous occasion filled with some action-packed games! Show off your Hulk-like strength by popping the balloon the quickest or top Captain American by using his shield to shoot down the cans. 
Guests must dress up as a hero in the famous Avengers Marvel film. Make invitations out of printed out pictures of the Avengers Heroes. You can get creative and set the tone of the invitation in matters of urgency and immediacy to make them at least feel like a superhero.
Bring out your collectibles or action figures to decorate your home. If you don't have any trinkets to use for decorating then go to your local toy store and look for anything Avengers themed. As a famous theme, recipes of Avengers-inspired food are everywhere. Some of these are Captain America s'mores, Ant-Man cupcakes, Thor cupcakes, Baby Groot sandwiches, and Black Panther cookies.
[amazon box="B011YZ795S,B007CLA2JE,B0108J0G6K" grid="3″]
5. Going Greek with a toga party
When you hear "toga party," people will usually link it up with drunken frat boys and sheets for clothes. However, the toga party we're talking about is one of the oldest themes and a favorite among guests with its classic Greek-and-Roman theme. 
The emperor needs to send out his messages! Do this by just grabbing a piece of paper for the invitation and roll it up topped with a ribbon to tie it all together, making it look authentic. You can take your toga party to the next level by using cushions instead of chairs and a low coffee table instead of your dining table. And of course, don't forget to decorate with white and gold trinkets.
The food for this themed party is relatively easy. Since you're seated comfortably on the ground, you can serve light snacks (add grapes and food for the gods on the menu) and cold drinks (like wine) to keep the guests happy.
[amazon box="B004UUJLQU,B01DY05SCM," grid="2″]
6. A day in Hollywood
Roll out the red carpet and make way for the stars! Dress like a celebrity like Marilyn Monroe and Charlie Chaplin, or dress to impress like Johnny Depp and Natalie Portman. 
Invite your friends in style with custom-made cards made into clapperboards. What's a Hollywood themed party without an iconic red carpet? Ask some volunteers to play as the paparazzi and take pictures of your guests as they walk down the red carpet. Push the party even further by preparing simple Ho​​llywood-themed snacks.
[amazon box="B000GHDHBG,B07575RLXP,B002DQBUW6″ grid="3″]
7. The Great Gatsby
Been itching to throw an extravagant party with your friends? Feel like a business tycoon and celebrate in luxury! Travel back to the roaring '20s and dress in glittered attire and feather headbands. Gents put on your best coats and shine your fanciest leather shoes. Your friends will surely feel classy and luxurious while attending The Great Gatsby.
Been itching to throw an extravagant party with your friends? Feel like a business tycoon and celebrate in luxury! Travel back to the roaring '20s and dress in glittered a​​ttire and feather headbands. Gents put on your best coats and shine your fanciest leather shoes. Your friends will surely feel classy and luxurious while attending The Great Gatsby.
Expect drinks, exquisite food, and a room full of friends dancing the night away! Practice your calligraphy skills and get ready to write those invitations. You can use gold or white marker and write out the invites on a black piece of colored paper.
Adorn your home in black and gold, glittery backdrops, and fresh white flowers. You can even recycle your old white Christmas lights and use that to line the walkway. Make your guests feel as if they're going back in time in style! Lastly, serve some champagne or tea and small finger foods such as macaroons, cupcakes, and brownies.
[amazon box="B01C08M7UA,B07CKJX3BT,B01HZ8KWUC" grid="3″]
8. Mexican Fiesta
Ariba! Ariba! Let your creative juices flowing with this colorful theme. Have a spicy eating contest and find out who can down a jalapeño better than the rest. Wear you sombreros, muchachos, and invite your amigos and amigas to this festive party!
The most colorful of the house party themes, make sure you get the Fiesta colors of green, yellow, and red in your invites. Add some hanging crepe paper and make it festive. Consequently, decorate the place with paper flowers and tiny piñatas. Add papel picados, colorful lanterns, and Mexican flags.
Don't leave your friends hungry. Serve tac​​os, quesadillas, sugar cookies, and burritos. Serve some enchiladas and tamales, so they experience the beauty of a Mexican themed party.
[amazon box="B01EK8C73A,B00BBKBZN4,B01L7X6HTG" grid="3″]
9. A throwback to the '80s
Experience what it was like to be at the peak of pop culture. The era of funky fashion, greasy hair, and timeless songs. Blast out some good oldies like Michael Jackson or ABBA. And if you want to let loose in the dance floor, then put on your dancing shoes and dance to the beat of Footloose.
Bring your friends back to the time of big hair and neon fashion. Use bright colored invitatio​​ns. Don't forget to add some groove and funk.
There are different styles to use for your 80s themed party. Going with a classic neon theme is nice. Dress the part and borrow your mother's leg warmers and spandex and get ready to disco. To top it all off, whip out your dad's old shades and shoulder pads. Serve some good old sloppy joes, hot wings, and pot pie.
[amazon box="B07665BH7S,B01AQVQDW6," grid="2″]
10. Masquerade glam house party themes
A timeless classic! Wear your fanciest gown or slip on your slickest tux because we are celebrating a chance of a lifetime. Dance with a stranger (or friend) into the night. Will you know who they are before the clock strikes midnight? Masks up my weary friends!
First of all, be sure to use a theme of black and a metallic color like gold or silver. Add glitters if you must and keep the invites as mysterious as your guests should be. Feast your eyes on a theme so elegant; it would knock your guest's socks off. Prepare to decorate your home with strings of black, sil​​ver, and gold. Other than using masks to conceal your identity, you can also recycle masks into centerpieces.
Top the night off with light main courses and captivating appetizers. What better way to prepare for the most glamorous event than with skewers, wine, and cheese.
[amazon box="B078MJ394J,B00N5L6J2O," grid="2″]
Which of These House Party Themes Should You Host NExt?
There are the best house party themes for different age groups. Firstly, the best for teenagers is Saving the Day as a Marvel Avenger. Teens watch a lot of movies and series shows, creating this group called a fandom. No one could relate more to these but teens.
Secondly, the best for ages 20 to 30 among the house party themes is by far the Luau Fun. Workaholics and busy parents need a break from time to time, and what better way than to relax is in style. The Luau's comforting atmosphere, chill music, and pineapple cocktails make it perfect.
Next, the most fitting for ages 30 and above, is the theme Throwback to the 80s. Bringing them back to their teenage years (more like a high school reunion), it's nostalgic. Finally, among all the house party themes, Masquerade Glam stands out for all ages because everybody wants to feel like they're living a fairytale from time to time (even guys are up for some mystery.)
But of course, age doesn't matter. You can enjoy these different house party themes however you like.
Have you hosted anything similar to the listed house party themes? Let us know in the comments.