*This post may contain affiliate links. As an Amazon Associate we earn from qualifying purchases.
The mysterious Gatsby was renowned for throwing extravagant parties at his mansion every weekend. "The Great Gatsby" is a classic piece of American literature, telling the story of Nick Carraway, whose life changes when he meets his affluent neighbor, Jay Gatsby. While we don't all own lavish estates, that's no reason we can't all host delightful Gatsby-themed parties. These tips for throwing a great Great Gatsby themed party will transform your next gathering from just another dinner party into a Roaring Twenties extravaganza your friends will be talking about for years to come.
Just because Gatsby had a seemingly limitless budget doesn't mean you have to. Our tips for throwing a great Great Gatsby themed party are cost-effective ways to transform your home into a high society meeting place of which Gatsby himself would be envious. If you're ready to throw the best Gatsby party around, these tips will help you create a party to remember.
The Great Gatsby
A nearly ever-present member of any list of greatest American novels of all time, many consider "The Great Gatsby" to be the best novel ever written. The plot sees Carraway drawn into Gatsby's fantastic world, but soon things begin to spiral out of control. Before that happens, however, the plot heavily features Gatsby's many well-attended parties. These parties serve as the inspiration for many a home gathering, and the popularity has only increased in recent years. A 2013 theatrical release featured Leonardo DiCaprio in the titular role and brought with it renewed interest in '20s-themed parties.
Why You Need Tips for Throwing a Great Great Gatsby Themed Party
Hosting a Great Gatsby themed party lets you spend an evening indulging in the glitz and glamour of Gatsby. As a historical period-specific theme, Gatsby parties are fun for your guests as they give an excuse to dress up and try out looks they wouldn't get to wear otherwise. Simply put, a Gatsby Party provides an entertaining and escapist theme for an evening with friends or family.
Tips for Throwing a Great Great Gatsby Themed Party
There are many facets to throwing a party on the level with one of Gatsby's. You can't overlook any details. From suggested attire to the table settings, the more you and your guests get onto the theme, the more immersive your night will be. That extends to what you serve on the tables and even in the glassware. Gatsby wasn't a hotdog and soda kind of guy, and neither should your Gatsby party be. These tips for throwing a great Great Gatsby themed party has you covered at every base, so no "i" goes undotted, and no "t" goes uncrossed.
Decoration ideas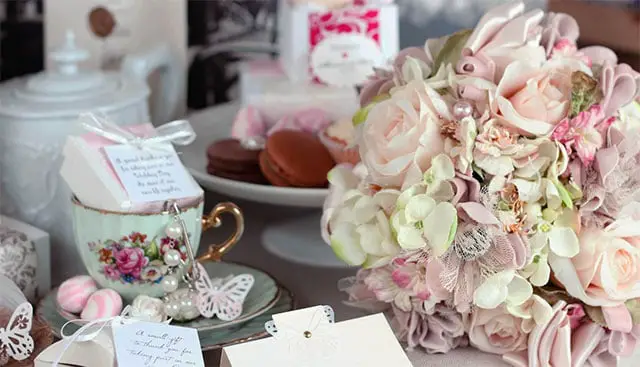 Image source: Pixabay
The first thing anyone will notice when they show up for your Gatsby party is how everything looks. Creating the right first impression is vital to establishing an effective mood for the party. Fortunately, the 2013 film makes your task even simpler. No longer do you have to rely on the words on the page and your imagination. We've already seen highly paid, and acclaimed professionals translate Fitzgerald's version of Gatsby's party into the real world on the big screen. Several times. You can channel the 2013 version, the 1974 iteration starring Robert Redford and Mia Farrow. Or even the 1949 version, starring Alan Ladd. When in doubt, just pull up screenshots from any of the three films to seek out inspiration.
[amazon box="B078J1YLYK,B01822X5JK," grid="2″]
Color schemes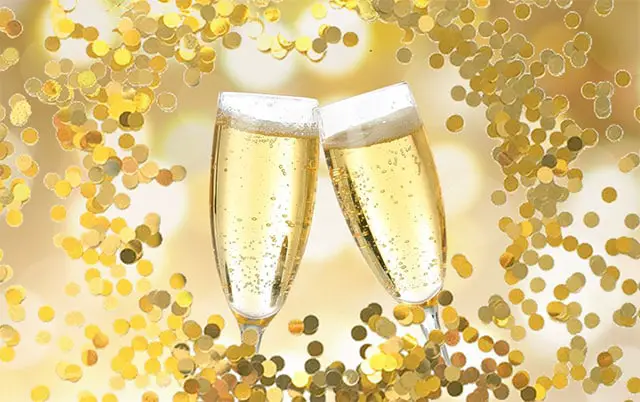 Image source: Pixabay
Planning the colors for your party is made particularly simple by Gatsby. You will want to keep the colors almost exclusively to whites and blacks. You'll then augment the colors by the addition of metallic accents in gold and silver. The more of these four colors you get out in your decoration, the more gripping your theme becomes. When in doubt, add some more elements in this same color scheme.
Feathers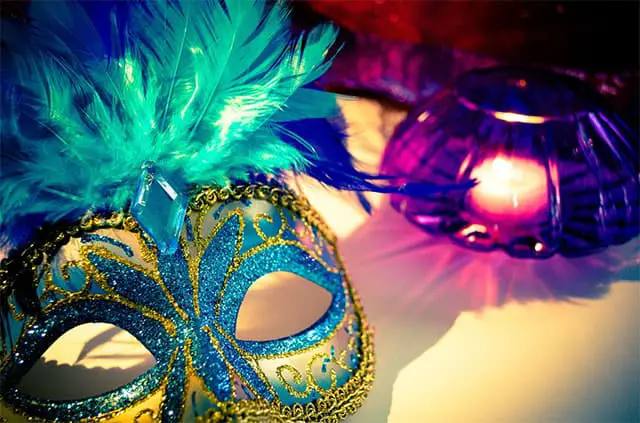 Image source: Pixabay
When Gatsby and company decorated, feathers and fringe were very much in fashion. From table centerpieces to accent on clothing or worn in the hair, feathers dominate the look. If you can't decide between two feather options, remember that bigger is almost always better. Gatsby was all about being over-the-top, and you should be too.
[amazon box="B07M81B6DF,B00NP34VKE," grid="2″]
Balloons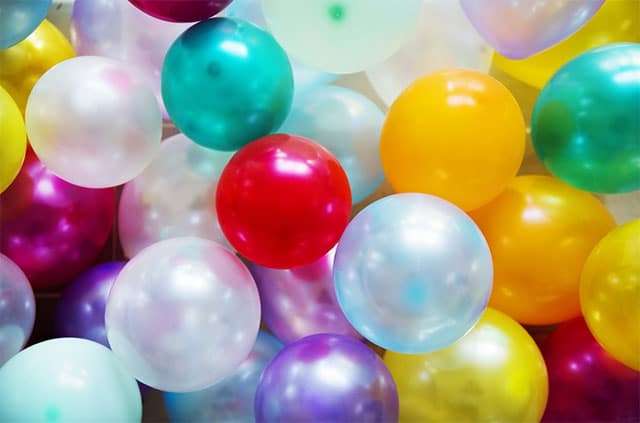 Image source: Pixabay
An easy way to get your colors out is through balloons, and thankfully they also fit the motif of Gatsby bashes exceptionally well. Provide a mixture of helium-filled balloons dragging shimmering ribbons and air-filled balloons bouncing around on the ground. For a particularly brave designer, try a balloon arch or get a pair of champagne bottle balloons and create a chain of gold balloons "pouring" out of them at your entryway.
[amazon box="B07DGS235F,B078WW7Y9K," grid="2″]
Outfit ideas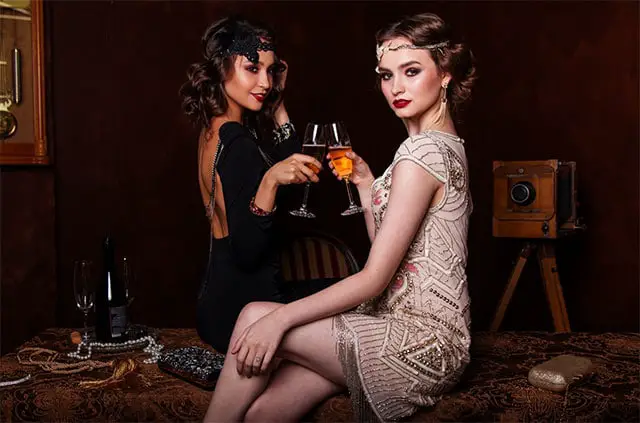 Image source: Pixabay
Nothing tends to excite guests of a Gatsby party more than the opportunity to dress up. When sending out invites, include some suggestions for your guests on what to wear. It'll help out guests who don't know what the right style is, and makes their lives easier. They'll appreciate your extra effort.
Tips for men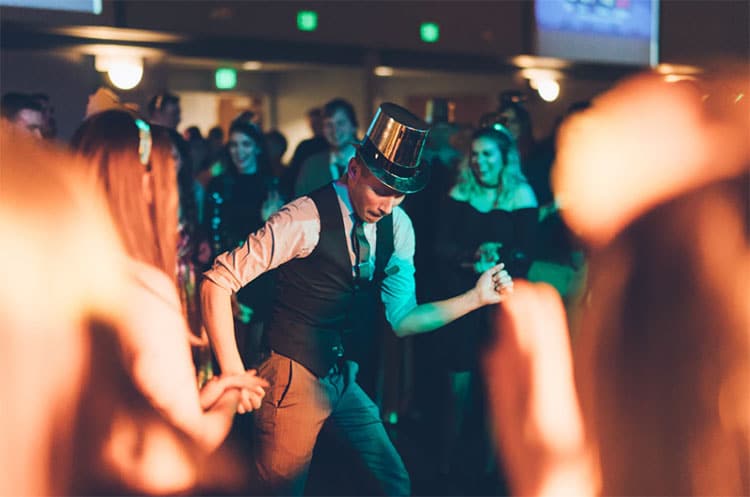 Image source: Unsplash
A Gatsby-approved man is ready for a gala event. A black tie-ready ensemble is right up Gatsby's alley, but for guests on a budget, it's not a requirement. A crisp and clean suit, paired with an attractive vest, is enough to get the right feel for a roaring twenties party without breaking the bank. Don't shy away from going white with the suit, either, and accenting with gloves or a cane. As with the decorating scheme, gold is a powerful and thematic accent color for any suit combination.
[amazon box="B00TDW92GO,B002DMTHEI," grid="2″]
Tips for women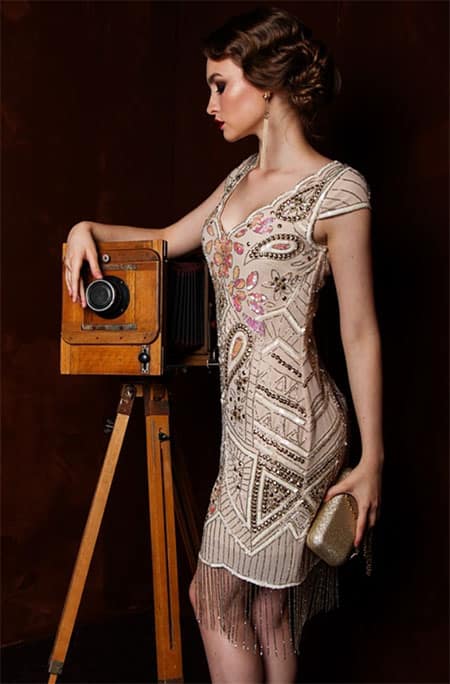 Image source: Pixabay
The flapper style is a fun look for women to wear to your Gatsby party. As mold-breakers who rejected traditional beliefs of what was appropriately feminine behavior, flappers were apt to find a Gatsby party as quite the compelling event. Flappers utilized more daring lines than were traditional and added in eye-catching fringes. Headwear was also fashionable in the twenties, with feather-adorned headbands, or cloches with rose-like ribbons serving as excellent accents to a flapper dress.
[amazon box="B01ITBCJ9G,B01NCB3MDJ," grid="2″]
Food ideas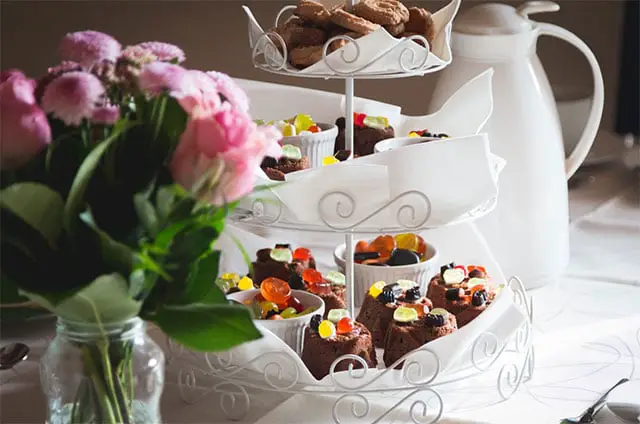 Image source: Pixabay
Providing delicious food for your guests to enjoy is necessary, which is why these recipes and recommendations are a vital part of our tips for throwing a great Great Gatsby themed party. From starters to the main course and through on to dessert, there's something special you can offer to bring your party's theme to the next level.
Hors-d'oeuvres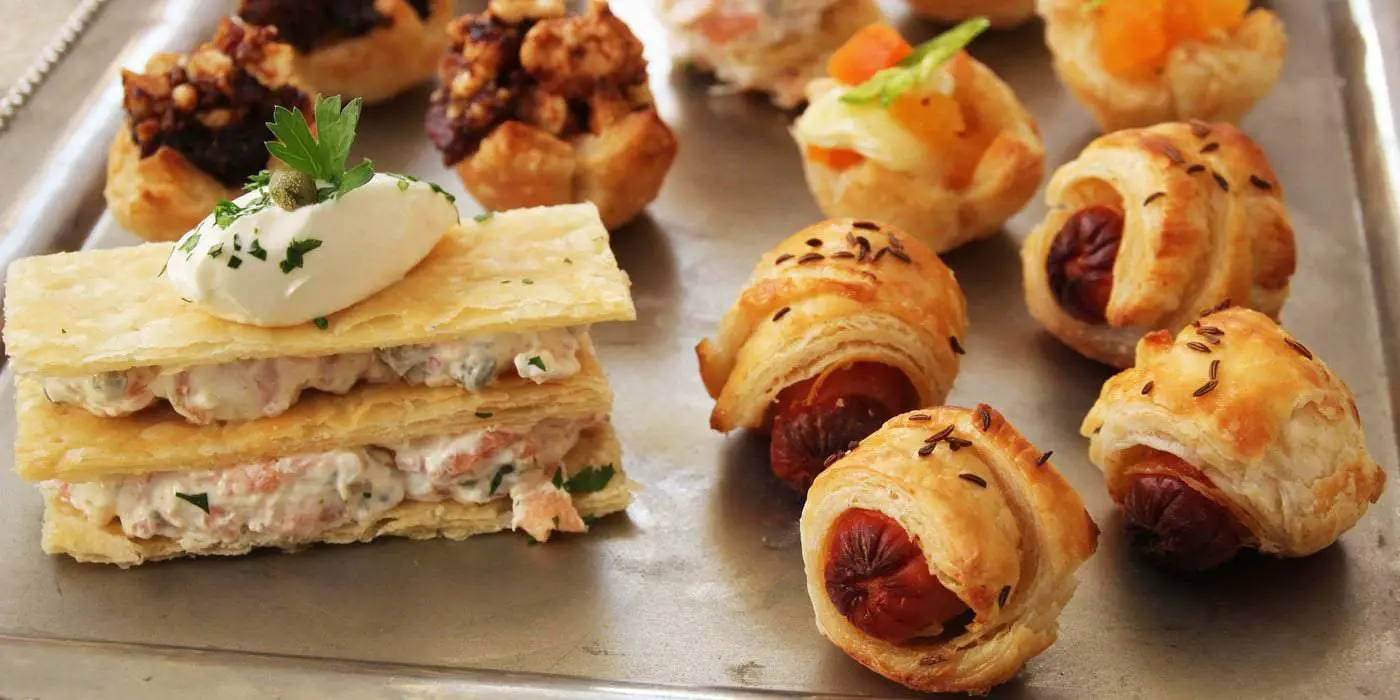 Image source OregonLive
Every great cocktail party needs a selection of finger foods for guests to dine on with their drinks. With so many great options, feel free to choose hors d'oeuvres you enjoy and that you think will please your guests. Some excellent options include oysters and stuffed mushrooms. You may not think of pigs in a blanket when picturing a fancy soiree, but the pastry-wrapped sausage was a traditional party nosh for twenties bashes.
Baked ham entree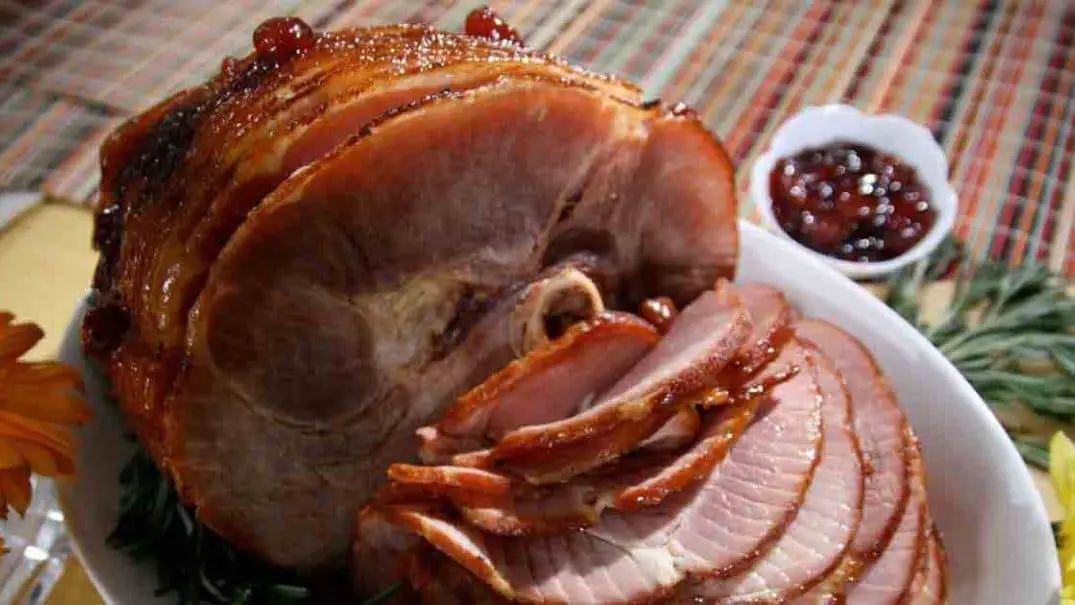 Image source Hungry Forever
If you're planning a sit-down dining portion for your party, baked ham is a delicious and Gatsby-approved entree. A nice bourbon glaze completes the thematic feel.
Ingredients:
1 cooked bone-in ham

3/4 cups bourbon

2 packed cups brown sugar

1 tablespoon ground mustard

1 tablespoon orange marmalade

1/8 teaspoon ground coriander
Preheat the oven to 325 degrees as you complete your ham prep. Scour the outside of the ham by carving one-half-inch-deep slices in the ham, and aligning the slices to create a series of diamonds. Brush the surface of the ham with two tablespoons of bourbon. Bake the ham for two hours with no cover.
Combine brown sugar, mustard, marmalade, coriander, and bourbon in a bowl while the ham cooks, stirring until the sugar dissolves and the mixture is smooth. Remove the ham after cooking and spoon the mixture over the ham. Bake for an additional half hour. Allow the ham to sit for 15 minutes after cooking before slicing.
Lemon cakes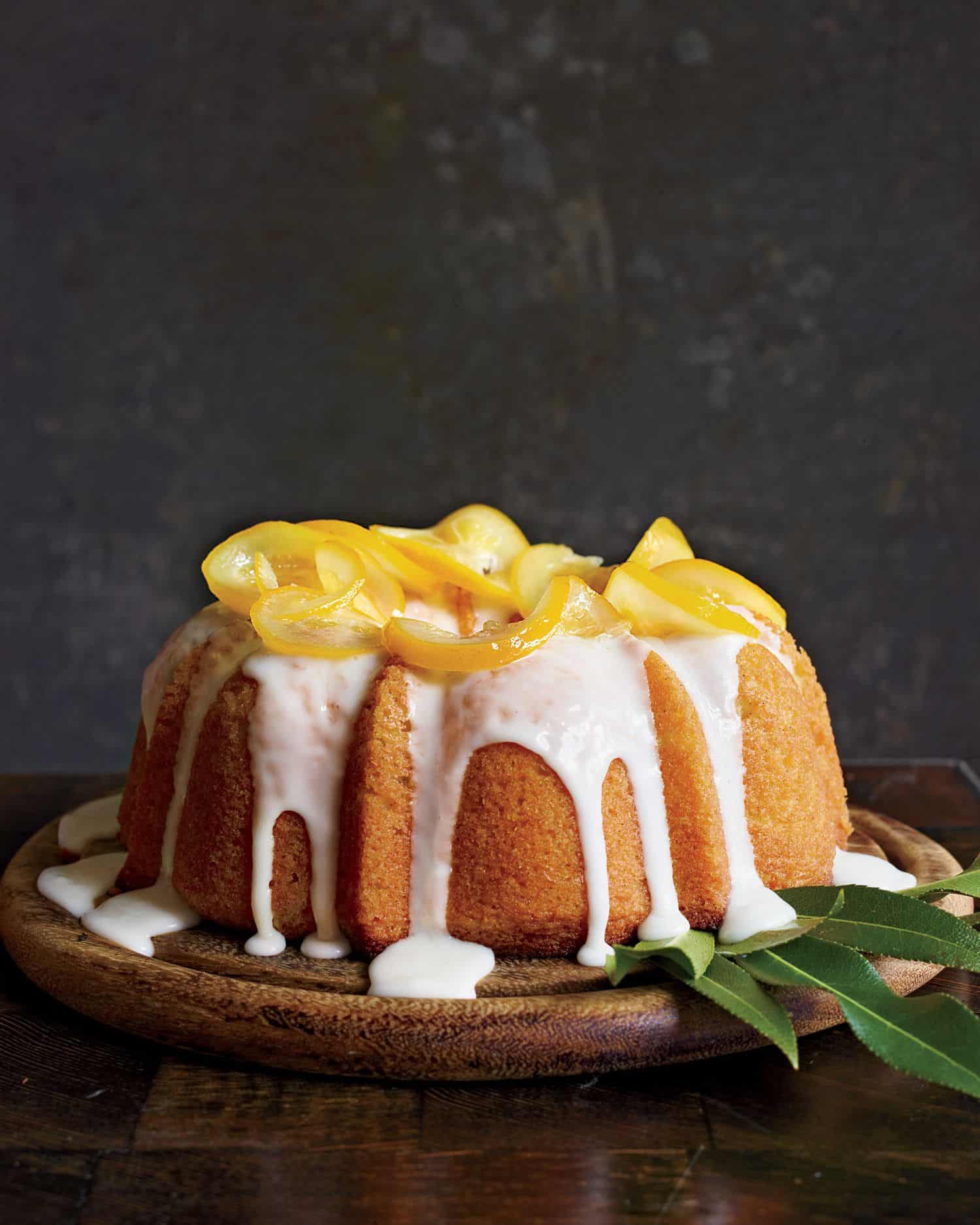 Image source Pinterest
Gatsby loved serving his guests tasty lemon cakes. They're the perfect dessert option for your Gatsby themed get-together.
Ingredients:
1 stick butter, unsalted

Butter or non-stick spray

1-1/13 cups sugar

2/3 cups water

2 lemons

1 lime

2 eggs

1 cup all-purpose flour

1/4 teaspoon coarse salt
Preheat the oven to 350 degrees and complete prep while it warms. Zest and juice both the lime and one lemon individually, gathering one teaspoon of zest and one teaspoon of juice from each. Mix two-thirds of a cup of sugar, the stick of butter, and both zests in a large bowl until creamy. Add the juices and eggs and beat to combine the mixture.
Mix the bowl on low while adding flour and salt in small amounts until the batter is uniformly blended. Grease the cups of a 24-cup mini-muffin pan with the additional butter or non-stick spray, then pour one tablespoon of batter into each. Bake the batter for 15 minutes.
Slice the remaining lemon into thin slices, and remove any seeds. Pour the remaining sugar and the water into a pan and combine over medium heat until dissolved. Simmer the lemon slices in the mixture for approximately five minutes until syrup thickens.
Poke a hole in each baked cake, then drizzle one-half teaspoon of syrup over each. Garnish the cakes with a lemon slice on top before serving.
Drink ideas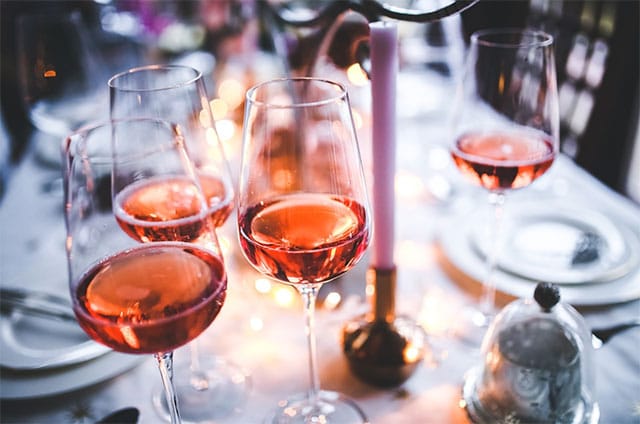 Image source: Pixabay
A party isn't a party without drinks, and a list of tips for throwing a great Great Gatsby themed party isn't complete without drink recommendations. As with clothing and dining, Gatsby's parties were all about style and elegance. Steer clear of everyman brands, and bring an air of sophistication to the affair instead.
Simple drinks
Your Gatsby themed party is not the night to bust out the latest microbrew you picked up from your local brewery. For ready-to-pour offerings, stick to what high society in the Roaring Twenties drank. That means hoppy beers are out, but bubbly champagnes are very much in. In addition to the glamour of fine champagne, offer a selection of wines as well, providing variety for guests without breaking out of the mold of high society affairs.
[amazon box="B00SCHOXJM"]
Gin Rickey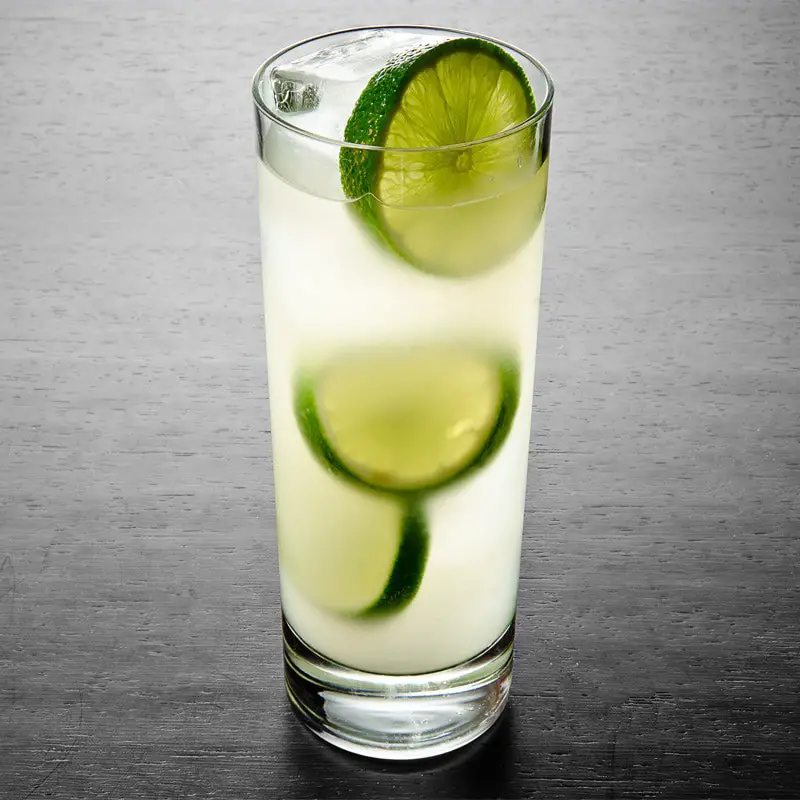 Image source Liquor.com
Pay tribute to author F. Scott Fitzgerald by serving gin, his favorite liquor. The Gin Rickey fits right in at any twenties-styled bash and leaves your guests delighted.
Ingredients:
2 ounces gin

1 lime, juiced (or 2 ounces bottled lime juice)

4 ounces club soda

1 lime wedge

Ice
Fill a 9-ounce glass with ice, then pour the gin and lime juice into it. Fill the glass with club soda. Place the lime wedge on the rim of the glass for garnish.
Mint Julip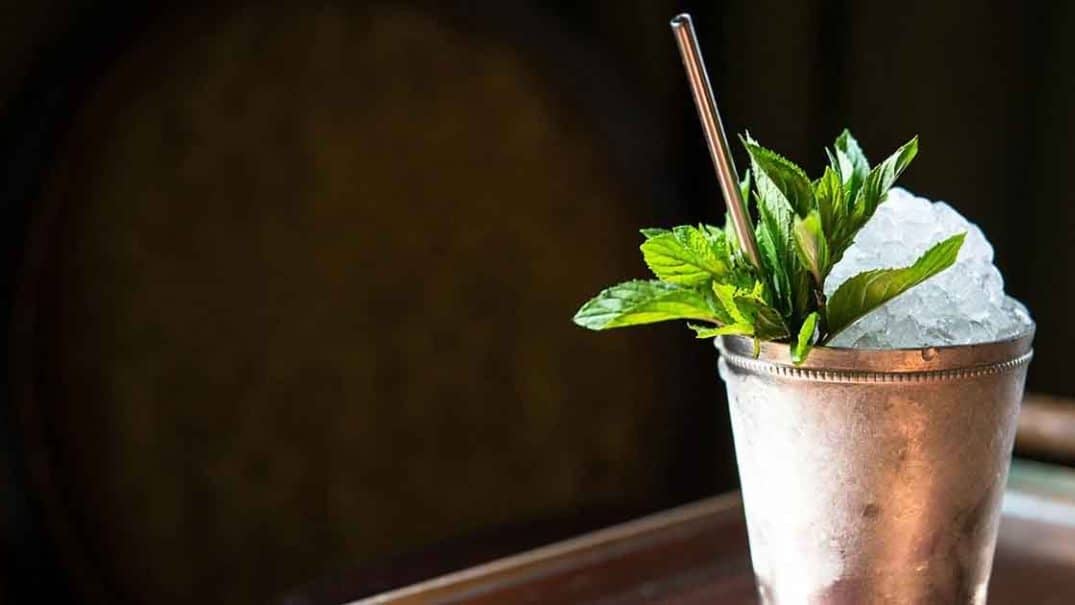 Image source Hungry Forever
A staple of the Roaring Twenties, the mint julip also features prominently in a key scene in "The Great Gatsby."
Ingredient:
1 teaspoon sugar

1 teaspoon Water

8 fresh mint leaves

1 cup ice, crushed

1/3 cup bourbon
Stir the sugar and water together in an 8-ounce glass until the sugar fully dissolves. Place the leaves in the glass and gently muddle, setting the sprigs aside. Fill the glass with crushed ice. Pour in the bourbon, then stir until the glass frosts over. Place the mint sprigs atop the drink for garnish before serving.
How to Combine These Tips for Throwing a Great Great Gatsby Themed Party
At the end of the day, the most important key for any party is making sure that you and your guests have fun. The more tips for throwing a great Great Gatsby themed party you're able to incorporate into your party, the more complete your immersion experience becomes. Whatever elements you choose to incorporate into your theme, make sure one critical thing when the night of the big event arrives — enjoy yourself! Don't spend the whole night obsessing over keeping every balloon in just the right place. If you followed these tips, your guests are bound to have a great time, so join them!
Do you have any tips for throwing a great Great Gatsby themed party which we missed? Tell us all about them in the comments below.