*This post may contain affiliate links. As an Amazon Associate we earn from qualifying purchases.
Being an adult can be hard. We have all these responsibilities, and not as much time to ourselves. That also limits the time we have for our friends and family. What better way to blow off a little steam than with a good party? There are certain times of year that we throw most parties, but they're always the same. Everyone has Christmas parties or New Year's Eve get-togethers, but few bother to be creative. Once we get past those sweet 16 parties, we feel like there is no need to have a theme. If you're tired of the same old thing every year, you might want to check out the best party themes for adults.
Picking the perfect theme will take your party to the next level. We're not talking about a black tie event with fancy food and boring business talk. If you want fun, you need to get creative.
The Best Party Themes for Adults During the Holidays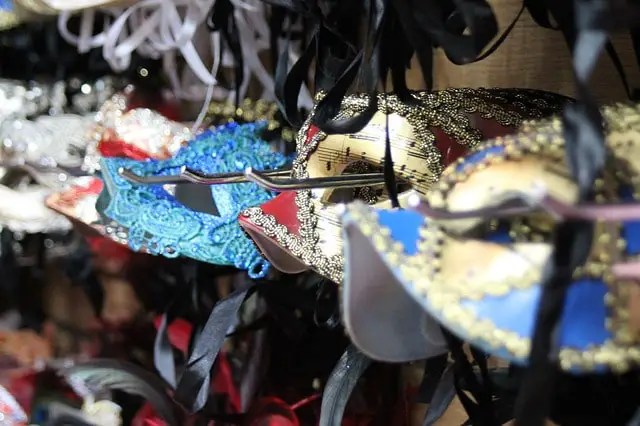 Image by lisa runnels from Pixabay
Every holiday deserves a good party, but there's no need to stick to the same plan every time. There's always room to add a twist with a good theme. Picking some of the best party themes for adults can add to the fun. Plus, if you pick something utterly ridiculous, you will have everyone laughing all night.
You also don't always have to include the kids. Taking a break from parenting every now and again can be refreshing. All you have to do is plan a sleepover for the kids with their friends or grandparents. There is no need to feel guilty about having a good night when they're having some fun of their own.
Mardi Gras Party
[amazon box="B072Y55XPX,B00AJX1ELW," grid="2″]
Mardi Gras is already one big party, so it's easy to make it one of the best party themes for adults. There are plenty of fantastic ideas for throwing an epic Mardi Gras party in the comfort of your home. Most holidays need a twist to set them apart, but Mardi Gras doesn't need much more to make it unique. All you need are some beads and decorations to set the mood. Ask your guests to get involved by getting into costumes for the party. Make sure to get what you need to play some games.
The next step to taking your party to the next level is making the perfect treats for the occasion. Make them festive and colorful. The primary colors for a typical Mardi Gras are yellow, purple, and green. There are some great desserts, appetizers, and drinks to add the right touch for your blowout.
Halloween Masquerade
Halloween is the perfect time of the year to go completely over the top. Usually, you might have a straightforward costume party and hang a few plastic bats for decoration. However, why stop there when it's the perfect opportunity to have a Halloween masquerade? After all, everyone likes an excuse to be extravagant once in a while.
[amazon box= "B008UFBQNC,B07BK56XDV," grid="2″]
First, we found great invitations that will get your guests excited enough to get to the dancehall on time. Make sure to send them out at least four weeks ahead of time to give everyone ample time to prepare. Let them know that you expect them to dress to kill with the best masks and costumes. Hold a costume contest for the best dressed to give them a little motivation.
[amazon box= "B07FWC2J34,B07DKY929H,B00EM7C89I," grid="3″]
Once everything is in motion, you need to prepare. There are great decoration ideas you can steal to make your party look incredible. We even found these gorgeous black tablecloths and lights for your refreshment tables to set the mood.
Make sure you get the perfect sound system and music list to keep your friends dancing the night away. And remember that all the dancing will probably make your guests hungry for some spooky food and drinks!
New Year's Eve Casino Theme
New Year's Eve is all about bringing in the new year. That's why you should bring it in with some fun and games. What's a better party theme for adults than a casino game night for New Year's Eve? We figured this would be a nice break from any costume nights. They're so much fun, but if you need a costume for every party, your closet is going to fill up with ridiculous getups before you realize what's happened.
[amazon box= "B000HX1K36,B0015VHF56,B001JSX7KW," grid="3″]
For a casino night, you will require plenty of casino games. First of all, you will need cards and chips, which you can find in full sets on Amazon for small parties and large parties. You could also take your home casino even further with a roulette wheel. Although, you could also choose this shot roulette wheel to make things even more interesting. Make sure to load up on playing cards as party favors as well.
[amazon box= "B071G7Y3XL,B07DRXCPJW,B01DOLHJZK," grid="3″]
There are simple decorations you could add to your party if you want to go the extra mile. For instance, we found these poker chip plates, playing card balloons, and streamers. Add some photo props like this set, or this one. Then you can take fun pictures to remember how much fun you had for the new year. Plus, casino night snacks are pretty simple. Get creative and make dice-shaped jello shots, a casino cake, and domino brownies. You could also throw in classy cocktails to make it feel extra fancy.
[amazon box= "B00DT56IUO,B011AAXQW2,B01M64FLBE," grid="3″]
The Best Party Themes for Adults: Birthday Parties
Birthday party themes don't ever have to stop. Feel free to keep the party rolling no matter how old you get. If you're throwing a surprise party for a friend, there should always be a theme. It can be one of their favorite things or just hilarious and fun.
A Red Solo Cup Surprise Party
What is a better way to commemorate a college buddy's birthday than with a red solo cup party? It definitely isn't a theme for kids, because it is the perfect time to hold the beerlympics in your backyard. We even found a flask that would be an ideal prize for the winner.
[amazon box= "B07MGS4GK8,B07C1CK7JR,B01LXL0F5G," grid="3″]
Decorating is more straightforward than you might think. We found the perfect mini red solo cup shot glasses for jello shots and red solo cup wine glasses for the classier ladies. There is even a red solo cup cake you could make for the special guest — as well as some red solo cup lights if you're feeling especially festive. Food can be super simple if you make it into a potluck and ask guests to bring side dishes or casseroles. Then you can focus on being a grillmaster.
[amazon box="B00CSSHAPU"]
A Decade Party Theme
Everyone I know seems to have their favorite decade. My mom tells me all the time that she wishes she could go back to the '80s. According to her, it was the best decade in history. It doesn't matter which decade you choose, because they all make fantastic ideas for the best party themes for adults. Plus, you can either choose one or have everyone dress up as someone from their favorite decade.
[amazon box= "B00ESY6TKY,B07559SKRT,B07GGDR2FV," grid="3″]
The 1920s will give you a chance to have a Great Gatsby-style party. Ladies can wear flapper dresses, and the men can dress up as gangsters. For the 1950s, you could throw a Grease-themed party with women in poodle skirts and the men in greaser costumes. The 1970s is a perfect setting to throw a disco party, while the 1980s will give you a chance to have a retro dance party.
[amazon box= "B079P9BZ8B,B00WKOWT2Q,B005EZZJR0," grid="3″]
It doesn't matter which decade you choose because they all make fabulous themes for adults. Just have fun with it and feel free to go a little crazy.
The Best Party Themes for Adults This Summer
Summer is the best time to get all your friends together. Space won't be so limited, because you can move the event to your backyard or a park. The thing is, everyone has picnics or potlucks, but adding in a theme will make things a little more exciting. You can have the same kind of parties but enhance the fun. Themes aren't just for holidays and birthdays, after all!
Luau Cookout Party
A luau is one of the best party themes for adults in the summertime. Planning the perfect luau is pretty straightforward, but you'll need a great menu. It's the best time to make kabobs, Hawaiian chicken, and roasted veggies on the grill. There are some fantastic fruity drinks you can make to go with dinner, like pina coladas, sangria, or margaritas. Plus, the best thing about most mixed drinks is the fact that you can find great mocktail recipes for anyone who can't drink.
[amazon box= "B072MX8F6P,B07F7YSZ6V,B07DPDWPTH," grid="3″]
You can also grab some grass skirts and Hawaiian necklaces on Amazon for your guests. We even found the perfect banner, tiki torches, and table decorations to make your theme shine.
Overall, a luau party theme for adults will take a traditional cookout to the next level. What you want to do at the luau is entirely up to you. There are some great games you can play, or you can kick back, relax around the fire, and have an incredible time with your friends.
[amazon box= "B01F2M90J2,B071J84628," grid="2″]
National Food Night With A Travel Theme
Another fantastic way to make a regular cookout interesting is to add a travel theme. Instead of cooking regular dishes, have all your friends bring their favorite recipes from around the world. They can order food from restaurants or prepare the food themselves. It's a great way to add some culture to an ordinary cookout. There are some fantastic recipes you can try if you decide to cook instead of ordering food. Then again, if you live near a variety of ethnic restaurants, it could be an excellent opportunity to try them out.
[amazon box= "0528994719,B01JVT3D2W," grid="2″]
There are fabulous travel-themed party decorations that you can make yourself using affordable maps on Amazon. However, if you don't have enough time to make decorations, we also found a beautiful banner, cupcake decorations, and table settings. If you want to, you can even add drinks or cocktails from around the world for people to taste test. Get everyone who is bringing food to bring a drink to pair with the country of their choice.
[amazon box= "B07GVRV6HV,B06ZYGP6S7," grid="2″]
Outdoor Theater Movie Night
There are so many drive-in movie themes for kids parties, but why should we be left out of the fun? A drive-in movie is one of the best laid-back themes for adults. It gives you a chance to get together with your friends without extensive planning or crazy decorations. There are also some great resources that teach you how to set up an outdoor movie theater. But before you can set it up, you are going to need to get a movie projector. The GooDee video projector is perfect for outdoor movies, and it connects with an Amazon Fire Stick. All you will need to do then is get all your friends to vote on a film to watch.
[amazon box= "B07HF7ZNPM"]
You can also make a concession stand for this theme. Get an air popper to make a bunch of popcorn, a variety of popcorn seasonings, and all the best candy choices. Make sure you let them know they will need to bring some lawn chairs or blankets to get comfortable.
After the movie, you can also have a bonfire and play some games. It's fun to watch movies as a group. But it's also important to take the night past the makeshift silver screen for some quality time with your friends. You can roast food over the fire and set up camp in the backyard. There's no need to cut the night short when you can turn it into an all-night event.
[amazon box= "B00OAGCKVW,B01CRXAFAC," grid="2″]
For the Best Party Themes for Adults, Think Outside the Box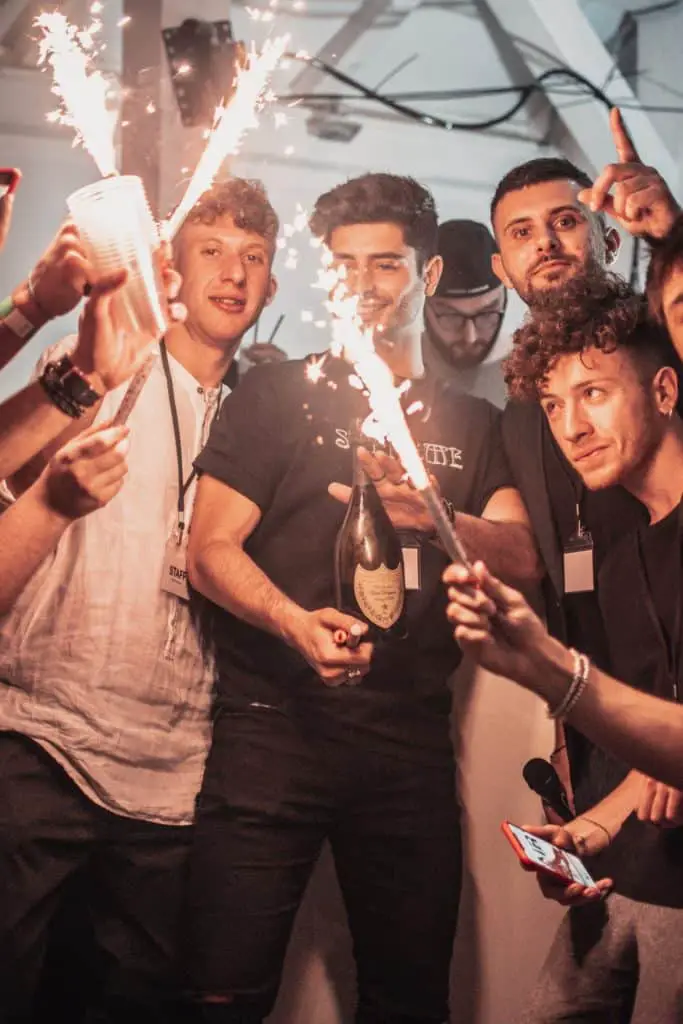 Photo by Giorgio Paradisi from Pexels
When it comes to finding the best party themes for adults, you need to think outside the box. Get creative and have fun with it. We listed some exciting ideas, but there are endless themes you could choose from. It all depends on what you and your guests would like and the time of year. Summer parties are so much fun because you have a bit more freedom if the weather is nice. However, it doesn't matter what time of year you decide to throw a party. No matter what, it will be a nice break from everyday life. It's especially fun to add a surprise theme to a birthday party. So next time your loved one has a birthday, remember that party themes are for adults, too!
If you have any unique ideas for the best party themes for adults, we would love to hear about it in the comment section below!
Featured Image: Photo by Trinity Kubassek from Pexels