*This post may contain affiliate links. As an Amazon Associate we earn from qualifying purchases.
So you're going to throw an '80s theme party? That's totally radical! But before you get freaked out trying to figure out how, let us help you. We here at The Party Theme scoured the web for props and decor that can make your '80s theme party super gnarly. After all, when it comes to parties, we're totally, like, awesome.
So, what makes or breaks an 80s theme party? We had to think hard about our successes and our failures, and we realized that there were four things that defined the 1980s and '80s-themed parties. Those were music, fashion, technology, and pop culture. Nothing sums up the 80s better than the "Goonies" movie. It has Cory Feldman wearing a sweatband while Cindy Lauper plays in the background. Keep that image in mind as you plan your very own 80s theme party.
Your '80s Theme Party Comparison Table
[amazon box="B004W18MTO, B004WGVK4I, B06XXF425D, B003G8C65A, B016TUKXQK, B01NC3AHEJ, B005GUQ2OW, B011AA4GG2″ template="table"]
Your '80s Theme Party: All About the 1980s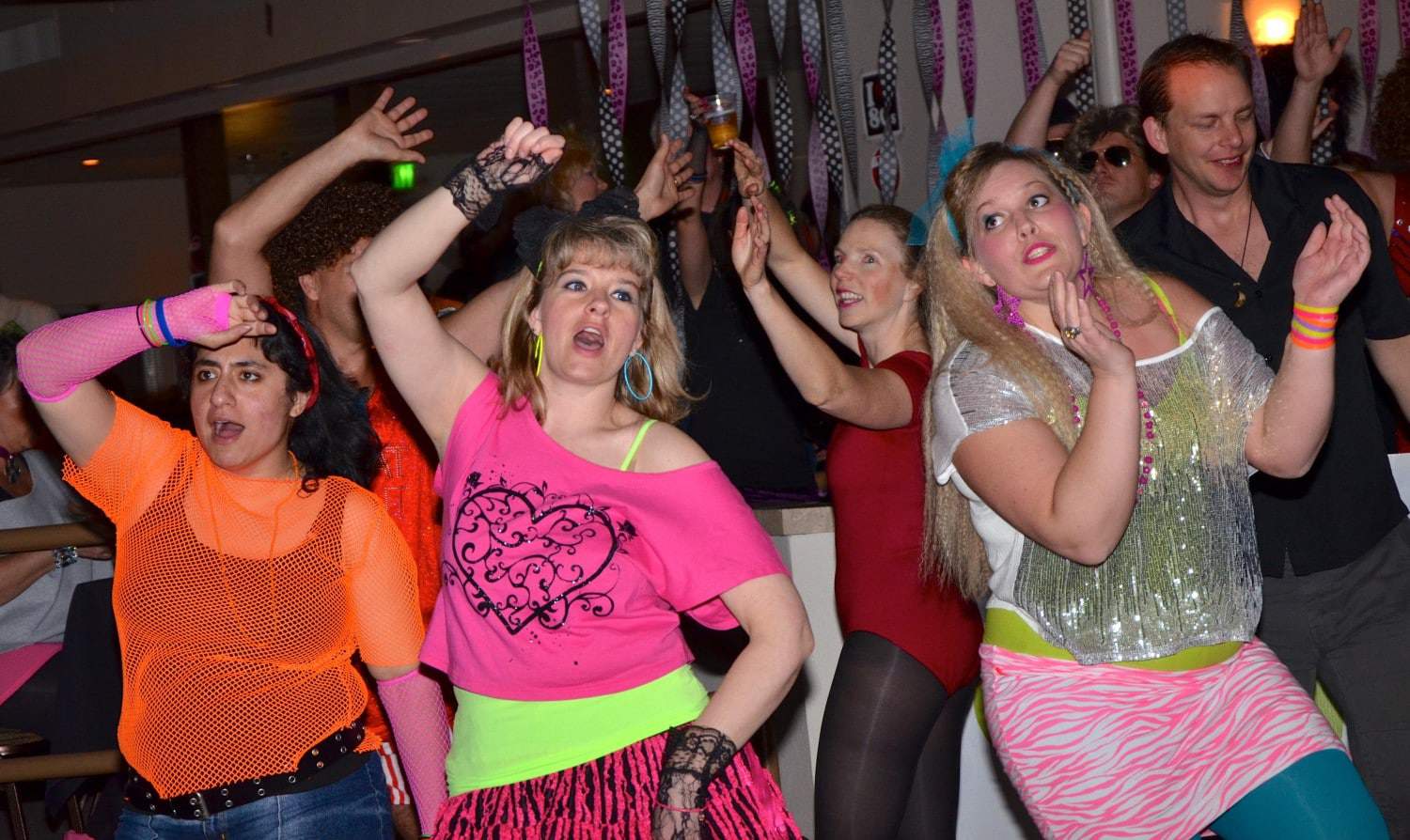 For those of us who remember the '80s, it was just life as we knew it. In fact, we see the music and technology and fashion of today as nothing more than the evolution of what we had in the '80s. On the other hand, if you were a baby in the 1980s or born after, then the entire decade seems hilariously fun. Or even just hilarious. Like, what's with that hair? Nevertheless, the 1980s were a great decade filled with promise. There was so much optimism in the '80s.
You can feel this optimism in the popular music of the time. The era of disco came to an end, and pop music reigned supreme. Technology became the domain of the consumer, and companies like Microsoft and Apple took off. Even the fashion displayed confidence. How else can you explain neon tiger striped pants and four gallons of hairspray? And of course, who can forget the movies of the '80s? Most of them are still worth watching today!
The first thing you need to think of for your '80s theme party is the fashion and what you and your guests will wear. For the youth of the '80s, loud was cool. That means bright, clashing colors and lots of neon. Also, women's shoulders were all the rage, whether it was showing them off with a wide-necked shirt slouched partway down one arm, or with massive shoulder pads. Skirts were hot, too, especially with pink or purple tights. For the most part, women's fashion in the 1980s dictated that women show off everything from the shoulders up.
Men also had style rules to follow. While men's hair wasn't as extreme as it was for women, there were still some classic '80s looks. For instance, the mullet and rat tail were all the rage for boys, while the bad boys sported shoulder-length hair. For the ultimate '80s look, men could go with a David Bowie mane or glittery Prince curls.
'80s Music
Of course, what's a discussion about the '80s without the music of the era? More than anything else, music defined the 1980s. It launched with New Wave and ended with Dance Pop. You'll want plenty of '80s hits on your party playlist.
Most pop music was heavily synthesized, but it wasn't all electronic in the 1980s, and rock and roll enjoyed plenty of successes. There's a reason the term "Eighties hair band" exists. Def Leppard and Bon Jovi are two of the most prominent big-hair rock bands of the decade. And new genres of music also came to light, including rap, techno, alt-rock, and Goth stuff from The Cure, The Cult, and Nine Inch Nails.
[amazon box="B001I861CO,B00004TDSO," grid="2″]
'80s Technology
If you look around you right now, you'll most likely see a cell phone, a computer, and probably a flat-screen TV or computer monitor. You can thank the 1980s for all of those things. This was the age of rapid advances in technology. And you'll want to incorporate this technology into your party theme by displaying flat-screen TVs or computer monitors playing music videos. Because even 30 years later, we still want our MTV.
'80s Pop Culture
Lastly, the one thing that dominated the '80s was the overall pop culture of the era. Whether that was Max Headroom on TV or the Ghostbusters on the big screen, people were influenced by the entertainment industry. Michael J. Fox, Arnold Schwarzenegger, and Tom Cruise were the biggest stars in Hollywood. Dieting, exercising, and healthy eating also took off during the 1980s, too, thanks to celebrity workout videos. But so did fast food.
Those are the four things to keep in mind when planning your '80s theme party. If you include something from each of those categories, you'll be off to a great start. And that's totally bodacious.
[amazon box="B00005JNU5,B01I2FFJW8," grid="2″]
How We Reviewed
Did you know that we found a ton of '80s stuff for your '80s theme party on Amazon? It's true! In order to help you put on the best '80s theme party anybody has ever had, we took our four categories and went searching online for all the tools, props, and decor you'll need.
We broke these down into four categories: music, fashion, technology, and pop culture. Then, we dug through Amazon for each category and found a few items that you can use to make your crib most excellent. To help us choose which items you should consider, we read through Amazon customer reviews. This gave us an idea of how customers enjoyed the product. Those that people didn't like didn't make it in our review. They were so bogus.
What's Your '80s Theme Party Needs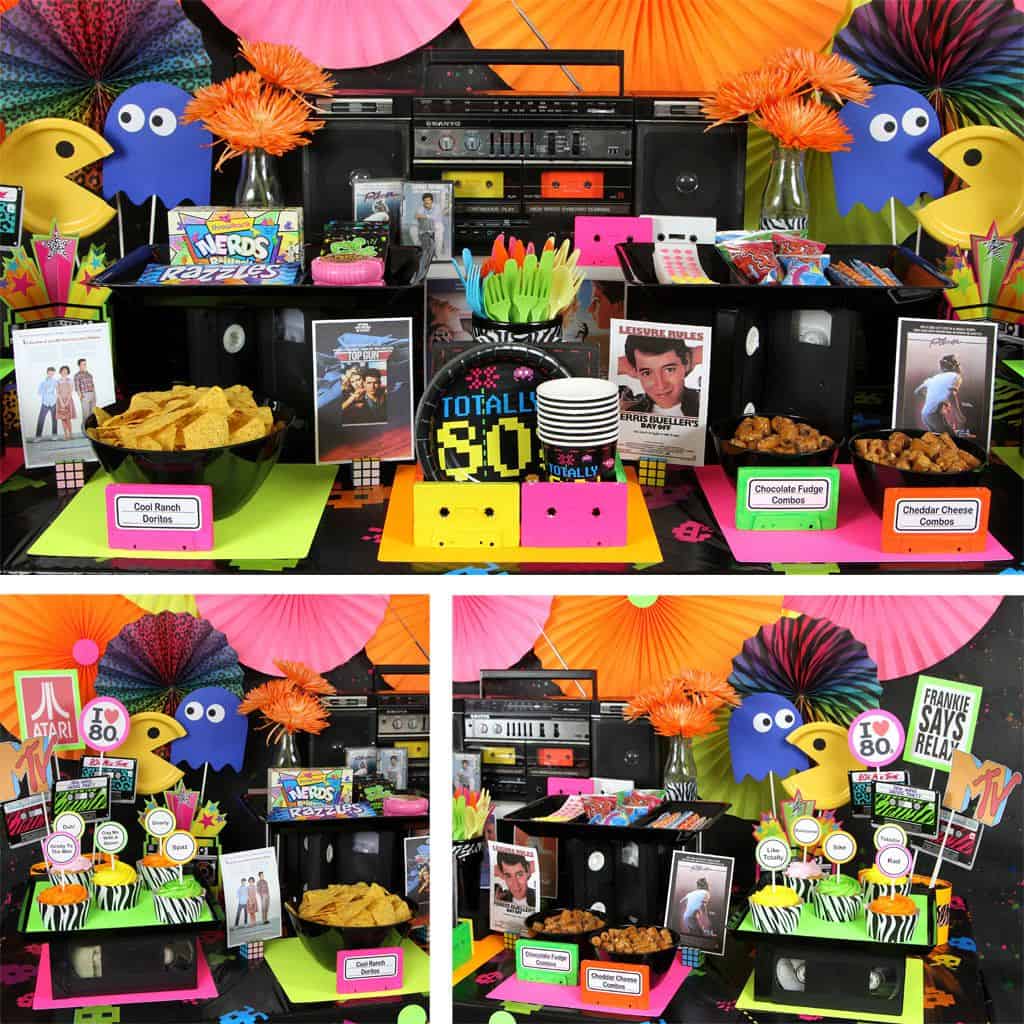 Because the '80s were such cool beans, we put together some of the coolest items you can get for your '80s theme party. Whether it's a Bluetooth-enabled '80s-style boom box, or photo booth props, or a David Bowie wig, we've made sure that your '80s theme party will for sure be fly.
Music
Don't forget to stock your party with the sounds of the '80s. You can fire up Apple Music or Spotify and find plenty of '80s playlists. But if you want a specially-curated list of the best songs from the decade, then look no further than here.
NOW That's What I Call 80s Hits
[amazon box="B004W18MTO"]
You can buy this either as a CD or just download the album as an MP3. For 20 years, NOW's been giving us mixed music CDs, showcasing the greatest songs of any given year or decade. This compilation will bring the 1980s to life for your party. With most people saying it has all the '80s music you need. One person said it was a "one stop shop for '80s nostalgia."
Pure '80s Dance Party CD
[amazon box="B004WGVK4I"]
Next is the "Pure 80s Dance Party" CD, which will spark your '80s theme party with non-stop dance hits from Men At Work, Miami Sound Machine, The Pointer Sisters, and more. This is a four-disc CD set, so you'll get an entire evening's worth of music in one easy purchase. Customers wrote that it has every '80s song they need, and one person even said that they used it for their '80s theme party and it was a success.
Fashion
You can try and dress up using what's in the very back of your closet, or you can dive deep into the 1980s with specialty clothing and accessories just for this occasion.
Leapparel Neon 3D Jogging Pants
[amazon box="B06XXF425D"]
Nothing screams "Eighties" like a pair of neon-striped sweatpants that balloon at the waist. These pants have a certain nostalgic look about them, but they are also comfortable to wear any time. A polyester and spandex mix makes them soft to the touch. Best of all, you can choose between two dozen color combinations. With most people saying the fabric feels silky smooth, and they look just like something from the '80s!
David Bowie Mullet Wig
[amazon box="B003G8C65A"]
If you want to go all in for your '80s theme party, then greet your guests wearing a David Bowie mullet wig. You'll just like the Goblin King. The hairs on this wig are nylon, so you don't temper them with anything over 180-degrees. There's an elastic hair band inside the wig that you can adjust to fit your head.  Customers loved it and praised the high-quality build of the wig.
Technology
After you've set the mood with music and done yourself up in 1980s attire (don't forget the shoulder pads), it's time to turn back the clock on your home. You'll need to put away any 21st-Century conveniences, such as a 4K TV or a MacBook, and put up some of these items instead.
SuperSonic Retro Collection BoomBox
[amazon box="B016TUKXQK"]
This boombox is surely going to be a conversation piece at your '80s theme party. You can play cassettes if you still have any laying around. Or, you can blast music through BlueTooth or through a USB port. It also has a couple of SD card slots tucked away. Just because it looks like the '80s, doesn't mean it gives up modern conveniences. Customers on Amazon praising the faux-wood and metallic look and saying it pumped out decent sound.
Rubies Costume Company Giant Inflatable '80s CellPhone
[amazon box="B01NC3AHEJ"]
If you thought that Samsung Galaxy Notes were big, you haven't seen an 1980s cell phone. These things were massive! You can recreate that image with this gigantic inflatable cell phone, which is certain to provide laughter and hilarity as well as hundreds of photos for your '80s theme party. Also, many of them said that the phone is hilarious and well-made.
Pop Culture
Lastly, you'll need to capture the essence of the '80s through decor and props. Thanks to the modern miracle that is Amazon, you can bring your guests back to 1987.
Totally '80s Door Cover
[amazon box="B005GUQ2OW"]
Why not set the mood for your '80s theme party before your guests even enter your home? With the Totally '80s door cover, you can set the mood. This features some awesome Atari-level Space Invader graphics, with a bit of Pac Man mixed in. Bright neon colors on a black background leave no doubt about what to expect inside. Most people said it captured the '80s perfectly, although several complained that it doesn't cover the entire door.
Big Dot of Happiness Retro '80s Photo Booth Props
[amazon box="B011AA4GG2″]
Lastly, the ultimate fun for your guests will be taking hundreds of photos in your '80s theme party's own photo booth. Set this up on a table in a corner somewhere and let people have fun. It comes with cardboard cutouts of '80s items that you attach to wooden dowels (included). Hats, phones, wigs, a Rubik's cube, and other items are included.  Almost everyone said the kit was top-quality and that the props are well-made. This was the most-talked-about feature of several people's '80s parties.
We Pity The Fools Who Don't Do '80s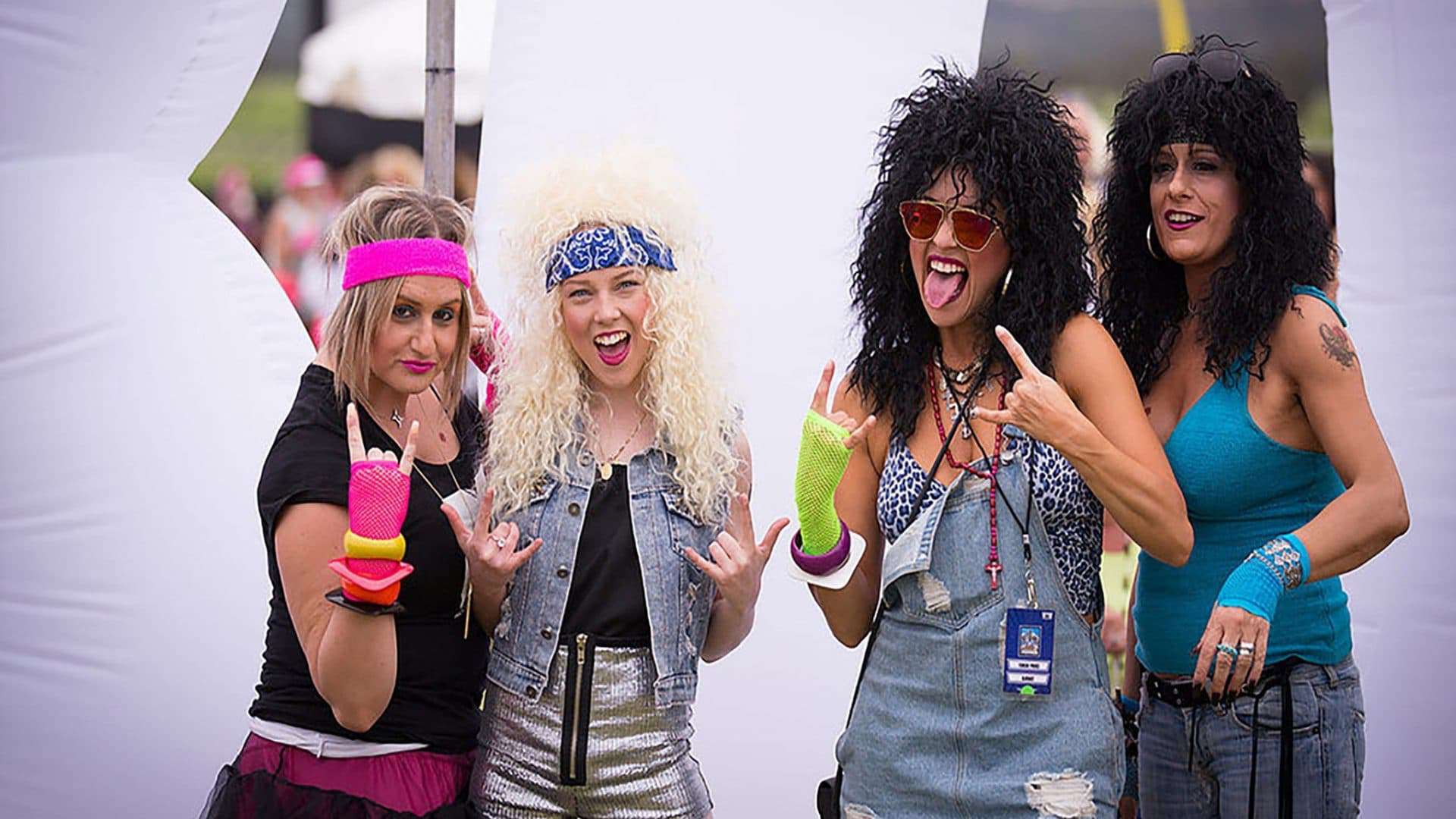 Once you've set up your '80s theme party with all the props, set the mood with the music and decor, and dress yourself up till you look totally bitchin', then, you're ready to roll. Remember to hit the four main themes that made the '80s so great: the music, the fashion, the technology, and the culture. If you get those four things right, your party will be a success faster than someone can say, "What you talkin' about, Willis?"